Grindelia hirsutula
Hairy gumplant or hairy gumweed (Grindelia hirsutula Hook. & Arn. 1833) is a herbaceous species belonging to the Asteraceae family.
Systematics –
From a systematic point of view it belongs to:
Eukaryota Domain,
Kingdom Plantae,
Magnoliophyta Division,
Magnoliopsida class,
Subclass Asteridae,
Asterales Order,
Asteraceae family,
Genus Grindelia,
G. hirsutula species.
The following terms are synonymous:
– Donia glutinosa Hook .;
– Grindelia acutifolia Steyerm .;
– Grindelia arenicola Steyerm .;
– Grindelia blakei Steyerm .;
– Grindelia bracteosa J.T. Howell;
– Grindelia brownii A.Heller;
– Grindelia camporum Greene;
– Grindelia hill J.K.Henry;
– Grindelia columbiana (Piper) Rydb .;
– Grindelia discoidea Nutt. 1840 not Hook. & Arn. 1836;
– Grindelia fastigiata Greene;
– Grindelia hallii Steyerm .;
– Grindelia hendersonii Greene;
– Grindelia humilis Hook. & Arn .;
– Grindelia inornata Greene;
– Grindelia integerrima Rydb .;
– Grindelia lanata Greene;
– Grindelia latifolia Kellogg;
– Grindelia macrophylla Greene;
– Grindelia maritima (Greene) Steyerm .;
– Grindelia nana Nutt .;
– Grindelia oregana A.Gray;
– Grindelia pacifica M.E. Jones;
– Greene swampy grindelia;
– Grindelia patens Greene;
– Grindelia paysonorum H.St. John;
– Grindelia perennis A. Nelson;
– Grindelia procera Greene;
– Grindelia revoluta Steyerm .;
– Grindelia rubriculis DC .;
– Grindelia stricta DC .;
– Grindelia venulosa Jeps ..
Etymology –
The term Grindelia of the genus was dedicated to the Latvian David Hieronymus Grindel (1776-1836), pharmacist, doctor and professor of botany in Tartu in Estonia.
The specific epithet hirsutula is the diminutive of shaggy, hairy, bristly hirsutus: somewhat bristly.
Geographic Distribution and Habitat –
Grindelia hirsutula is a species native to North America, widespread throughout Canada and in California and Oregon.
The species is highly variable and many local populations have been named as varieties or as distinct species. All of these taxa, however, interact with each other.
Its habitat is often that of coastal brackish areas.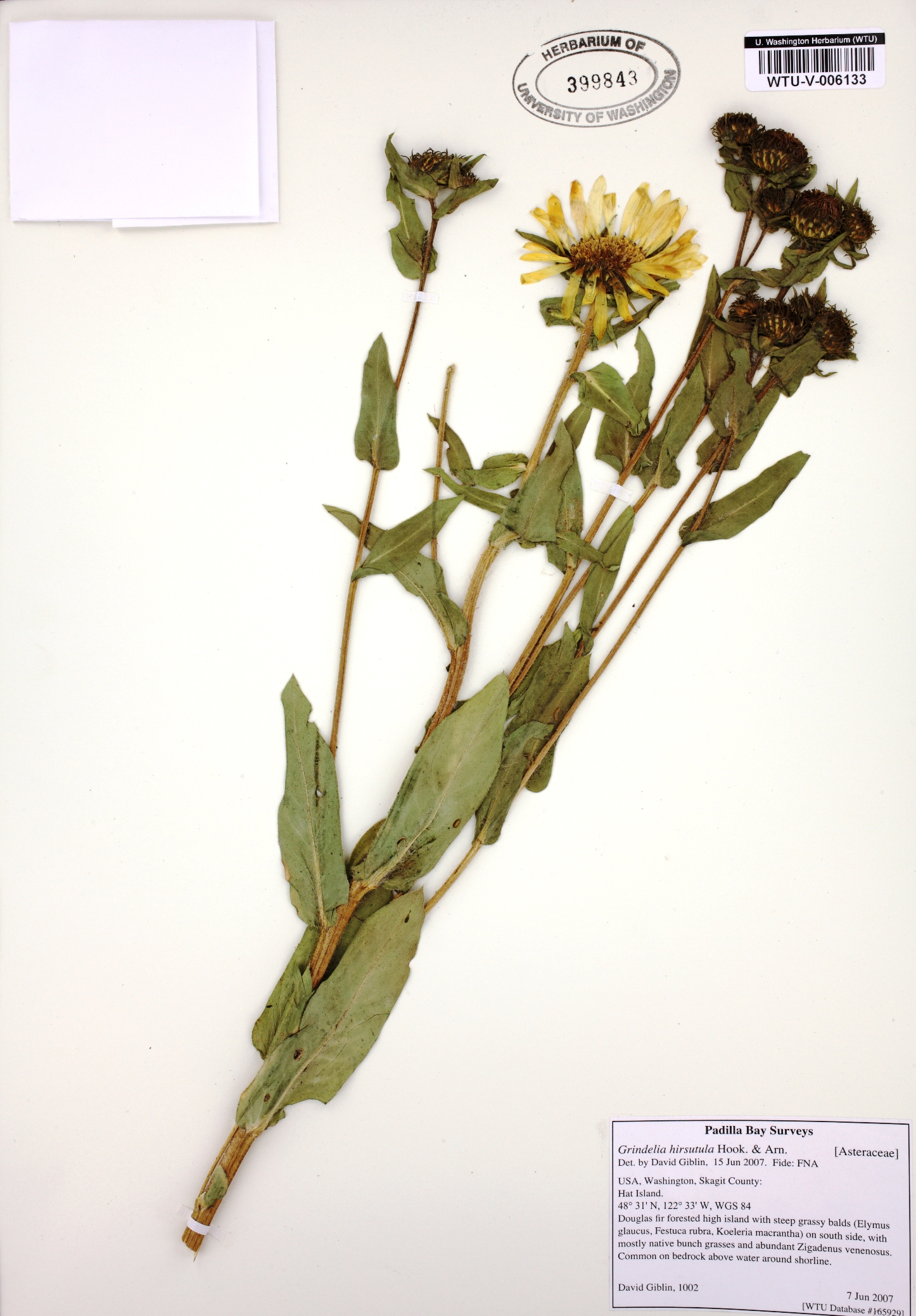 Description –
Grindelia hirsutula is a perennial ervbaceous plant, with an erect habit that can reach a height of up to 1.50 meters, and even more, even if it normally assumes smaller dimensions.
The plant is generally green in color, but the stems are often red or brown-purple and the leaves can be a little yellowish or reddish, simple and alternate.
The plant can produce numerous branched flower heads at the top.
Each flower head is 2 or 3 centimeters wide with hemispherical cups; the bracts are claw-shaped and folded away from the flowers. The center of the head is filled with many small yellow flowers surrounded by numerous golden flowers. The head produces a thick white exudate, especially in the new flower heads.
The fruit is an achene, it is called cipsela.
Cultivation –
Hairy gumplant is a perennial plant that is harvested in nature for local use as a medicine and source of materials.
It is a plant that can be grown easily in any well-drained soil and in full sun.
It grows well on dry sandy banks and poor soils; it also tolerates temperatures down to -5 and -10 ° C.
Propagation occurs by seed with sowing in autumn or spring in a cold greenhouse, with seed cover. The transplant is then carried out in their permanent positions in early summer.
Customs and Traditions –
Grindelia robusta is a plant that can find medicinal uses; the dry leaves and the flowering tops are in fact anti-asthmatic, expectorant and sedative.
The main use of this herb is in the treatment of bronchial phlegm, especially when there is an asthmatic tendency.
The active ingredient is excreted by the kidneys and this sometimes produces signs of kidney irritation.
The plant has also been used in the treatment of itchy rashes caused by contact with poison oak (Rhus spp.).
It is also a homeopathic remedy that is prepared from the leaves and flowering stems.
Among other uses it is remembered from the flower heads and from the fruits yellow and green dyes are obtained.
Preparation Method –
The dried leaves and flowering tops of this plant are used and, for some homeopathic remedies, even the flowering stems.
Guido Bissanti
Sources
– Acta Plantarum – Flora of the Italian Regions.
– Wikipedia, the free encyclopedia.
– Useful Tropical Plants Database.
– Conti F., Abbate G., Alessandrini A., Blasi C. (ed.), 2005. An annotated checklist of the Italian vascular flora, Palombi Editore.
– Pignatti S., 1982. Flora of Italy, Edagricole, Bologna.
– Treben M., 2000. Health from the Lord's Pharmacy, Advice and experiences with medicinal herbs, Ennsthaler Editore.
Warning: Pharmaceutical applications and alimurgical uses are indicated for informational purposes only, they do not represent in any way a medical prescription; therefore no responsibility is taken for their use for curative, aesthetic or food purposes.