Gnaphalium uliginosum
The Marsh Cuddweed (Gnaphalium uliginosum L., 1753) is an annual herbaceous species belonging to the Asteraceae family.
Systematics –
From a systematic point of view it belongs to:
Eukaryota Domain,
Kingdom Plantae,
Spermatophyta superdivision,
Magnoliophyta Division,
Magnoliopsida class,
Subclass Asteridae,
Asterales Order,
Asteraceae family,
Subfamily Asteroideae,
Gnaphalieae tribe,
Genus Gnaphalium,
G. uliginosum species.
The following terms are synonymous:
– Filaginella uliginosa (L.) Opiz;
– Gnaphalium aquaticum Miller (1768);
– Gnaphalium laevissimum Schur (1866);
– Gnaphalium nudum Hoffm. ex J.F. Gmelin (1791);
– Gnaphalium pilulare Wahlenb. (1812);
– Gnaphalium ramosum Lam. (1779);
– Gnaphalium rossicum Kirp. (1959).
Etymology –
The term Gnaphalium comes from γναφάλλιον gnaphállion (from γνάφαλλον gnaphallon staple of wool), the Greek name of this plant.
The specific epithet uliginosum comes from ulígo-ulíginis soil moisture: plants of humid places.
Geographic Distribution and Habitat –
The Marsh Cuddweed is a plant with an area of ​​Eurosiberian and Eurasian origin.
In Europe it is present in particular in the Alps while on the other reliefs it is found in the Black Forest, Vosges, Jura Massif, Central Massif, Pyrenees and Carpathians.
In Italy it is present in all regions.
Its typical habitat is that of humid places (even temporarily flooded) such as the edges of ponds or damp meadows, wooded paths, but also crops. The preferred substrate is both calcareous and siliceous with neutral pH, high nutritional values ​​of the soil that must be moist.
It grows at altitudes up to 900 m a.s.l. (rarely reaches 1600 m s.l.m.).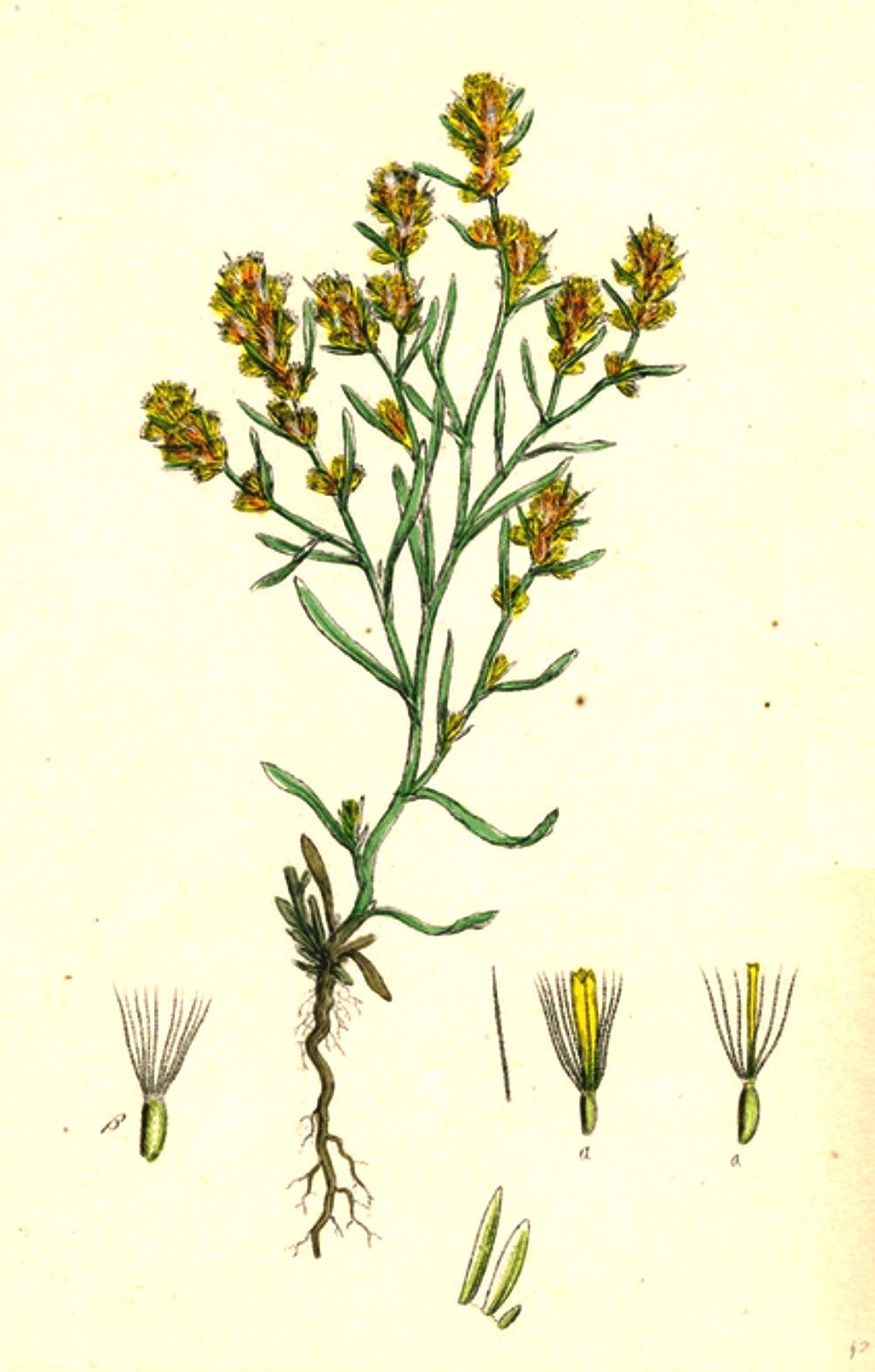 Description –
Gnaphalium uliginosum is an annual plant that grows between 5 and 20 cm in height.
It has an erect stem with gray or white down, very branched from the base.
The leaves that narrow towards the base are spatulate-linear, cottony, with a single vein.
At the extremity of the branches it carries flower glomeruli, from 3 to 10 flower heads, grouped in compact and shortened spikes, surrounded by bracts.
The flowers are white wrapped in pale brown flakes with a cottony appearance.
Flowering occurs from June to October.
The fruits are cypseles with achene of about 0.5 mm, elliptical, glabrous, dark brown, surmounted by a caducous pappus of whitish bristles, capillaries, 1.5 mm long.
Cultivation –
The Marsh Cuddweed is a plant that prefers poorly ventilated, humid soils, rich in nutritional elements, but free of limestone and with a weakly acidic to strongly acidic reaction. It is a plant that indicates soils that are easy to stagnate and to acidify.
This plant prefers a position in full sun or, at the limit, in partial shade.
Propagation occurs by seed with sowing in late spring in situ.
Each plant produces 100 to 500 seeds.
Customs and Traditions –
The Marsh Cuddweed is a plant whose food uses are not known while some medicinal uses are reported.
This plant is in fact little used in modern herbal medicine, even if it is occasionally taken for its astringent, antiseptic and anti-catarrhal properties.
The whole plant is anti-inflammatory, astringent, diaphoretic and diuretic. It can also have aphrodisiac and antidepressant effects.
According to folk medicine Gnaphalium uliginosu possesses the following medicinal properties:
– anti-inflammatory (attenuates an inflammatory state);
– aphrodisiac (improves sexual performance);
– astringent (limits the secretion of liquids);
– diaphoretic (facilitates skin transpiration);
– diuretic (facilitates the release of urine).
Among other uses, it should be remembered that yellow and green dyes can be obtained from this plant.
Preparation Method –
Gnaphalium uliginoso is a plant that is used both internally and externally in the treatment of laryngitis, phlegm, upper respiratory tract and tonsillitis, while in Russia it is used in the treatment of hypertension.
The plant should be harvested when it is in bloom and dried for later use.
Guido Bissanti
Sources
– Acta Plantarum – Flora of the Italian Regions.
– Wikipedia, the free encyclopedia.
– Useful Tropical Plants Database.
– Conti F., Abbate G., Alessandrini A., Blasi C. (ed.), 2005. An annotated checklist of the Italian vascular flora, Palombi Editore.
– Pignatti S., 1982. Flora of Italy, Edagricole, Bologna.
– Treben M., 2000. Health from the Lord's Pharmacy, Advice and experiences with medicinal herbs, Ennsthaler Editore.
Warning: Pharmaceutical applications and alimurgical uses are indicated for informational purposes only, they do not represent in any way a medical prescription; therefore no responsibility is taken for their use for curative, aesthetic or food purposes.