Garcinia gummi-gutta
Camboge (Garcinia gummi-gutta (L.) N. Robson) is an evergreen tree species belonging to the Clusiaceae family.
Systematics –
From a systematic point of view it belongs to:
Eukaryota Domain,
Kingdom Plantae,
Magnoliophyta Division,
Magnoliopsida class,
Subclass Dilleniidae,
Order Theales,
Clusiaceae family,
Genus Garcinia,
G. gummi-gutta species.
The terms are synonymous:
– Cambodia gummi-gutta L .;
– Stokes solitary Cambodia;
– Garcinia affinis Wight & Arn .;
– Garcinia cambogia Desr .;
– Garcinia papilla Wight;
– Garcinia sulcata Stokes;
– Mangostana Cambodia Gaertn ..
Etymology –
The term Garcinia of the genus was dedicated by Linnaeus to the French physician, botanist and naturalist Laurent Garcin (1683-1752) who herbalized in India, Indonesia, Malaysia, Iran and Arabia.
The sepcific epithet gummi-gutta comes from the union of the Latin words gummi, gum and gŭtta, drop.
Geographic Distribution and Habitat –
Garcinia cambogia is a subtropical plant native to Indonesia, in particular to the Garcinia region.
Its habitat is that of the undergrowth of semi-evergreen to evergreen forests, which is found both in the hilly areas and in the plains; this plant grows best along the banks of rivers and in valleys, at altitudes between 50 and 1,800 meters.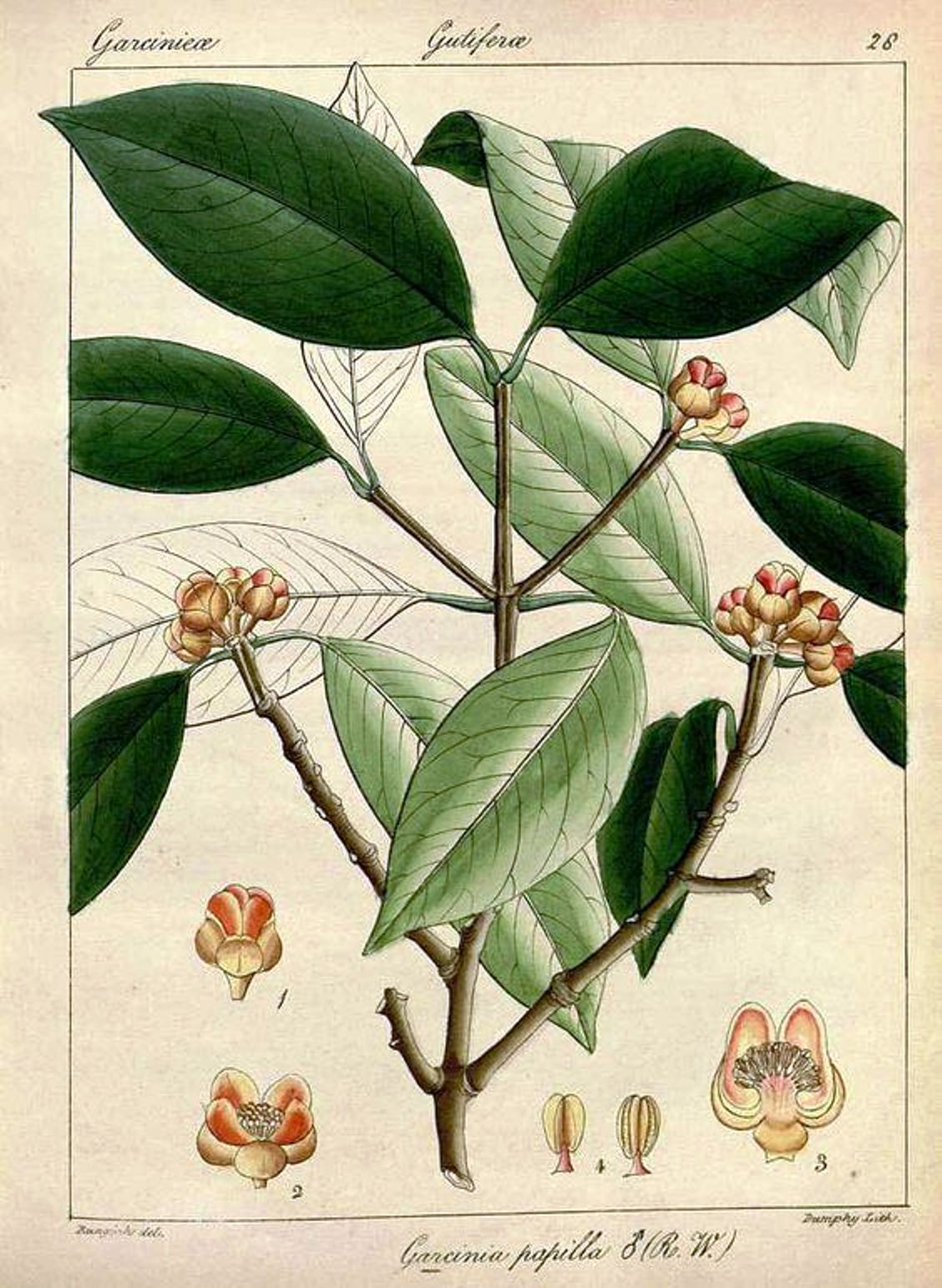 Description –
Garcinia cambogia is an evergreen tree with a rounded crown that grows from 5 to 20 meters.
This plant has a fairly rich and rounded crown, with branches that have a horizontal or hanging development.
The stem is covered with a dark and smooth bark.
The leaves are opposite, petiolate, glabrous, up to 18 cm long and up to 8 cm broad, with an elliptical or obovate shape and a bright dark green color.
The inflorescences appear in the dry season between January and March in axillary or terminal clusters and are both male and female.
The former develop in clusters of 4-20 units, they are usually red, but some varieties have yellow ones.
Each male flower is about a little over a couple of centimeters large and has 4 petals, with anthers attached to a pistil with only one non-functional stigma. The female flowers occur singly or in groups of maximum 4. They are smaller (4-6 mm), their stigmatic surface is normally enlarged.
Flowers with pistils have rudimentary and non-functional stems. Neither male nor female flowers produce nectar. They are pollinated by the wind or by insects.
The fruit is a green, ovoid berry that turns yellow or red when fully ripe, about 5 cm in diameter. The epicarp is marked by 6-10 furrows that make it look like a small pumpkin.
The fruit contains 4-8 smooth, large ovoid seeds surrounded by a succulent and very sour shell (aril) that makes up the fruit pulp.
Cultivation –
The plant is harvested in the wild for its edible fruit and gum-resin, which has medicinal and various other uses.
The tree is also grown outside its native range, especially in China, Malaysia and the Philippines.
It is a plant typical of hot, humid and tropical climates and grows best in areas where the average annual temperature is between 15 and 30 ° C and the average annual rainfall is 1,500 – 4,000 mm.
This plant grows well on both dry and occasionally flooded soils.
The seed plants start producing after 10-12 years while the grafts, carried out from the third year onwards, will reach the stage of full production at the age of 12-15 years.
Ripe fruits, when they are yellow-orange, fall from the tree or are harvested manually. In India, the fruits ripen between June and July, but in certain areas the fruiting can arrive early as early as April.
The rind is separated for processing immediately after harvesting.
The propagation of this plant can take place by seed that must be sown as soon as it is ripe, although the vitality can be maintained for 1 – 2 months in humid storage at 20 ° C.
Garcinia gummi-gutta has three varieties:
– the first, which is the most important and widespread, is Garcinia gummi-gutta var. gummi-gutta, distributed in a vast and spontaneous way in the evergreen forests of the Western Ghats between 400 and 900 m asl. It is also the most common and abundant variety in the forests of western Sri Lanka from sea level to 600m and also in Malaysia; in Kerala, it is very popular in the central areas of Travancore where the greatest diversity is seen. Cultivations are carried out in all low and medium lands of Kerala ranging from the seashore to high lands up to 600 m.
– the second is the conicarpa, which is found only at high altitudes (between 1350 and 1950 m);
– finally, the papilla which is located at an altitude between 800 and 1850 m.
Customs and Traditions –
Garcinia gummi-gutta is a plant that is grown both for its fruit and, in some cases, as an ornamental.
The fruits are eaten both cooked and raw and have a very sour taste and are used in curry.
The rinds of ripe fruits are processed and used as a condiment to give flavor and taste and to improve their conservation.
The dried seeds produce a butter rich in protein and fat, popularly known as "tuppa di tuppa".
Fruit juice or syrup is used as a refresher and would help reduce body fat.
A decoction is obtained from the plant which is used in the treatment of rheumatism and intestinal disorders.
An extract obtained from the rind of the ripe fruit, which contains hydroxycitric acid, is used as a treatment against obesity.
Although preparations of this plant have received considerable media attention, claiming its effects on weight loss, there is liver toxicity associated with commercial fruit extract preparations, with clinical evidence indicating that it has no significant effect. on weight loss.
As for fruits, although few high quality studies have been conducted to define their composition, their phytochemical content includes hydroxycitric acid which is extractable and developed as a dietary supplement. Other compounds identified in the fruit include polyphenols, luteolin and kaempferol.
For the record, in late 2012, a prominent US physician promoted Garcinia cambogia extract as "an exciting breakthrough in natural weight loss." This doctor's approval of dietary supplements that have no or little scientific evidence of effectiveness has often led to a substantial increase in consumer purchases of these preparations.
Among the side effects of using extracts of this plant, it should be remembered that hydroxycitric acid can cause dry mouth, nausea, gastrointestinal disorders and headaches.
There is also the possibility that Garcinia cambogia will interfere with prescription drugs, including those used to treat people with diabetes, asthma and bleeding disorders.
Other uses include agroforestry ones; the tree provides good shade for crops that grow well in shade such as ginger, or it can be grown in association with other field crops, including medicinal plants.
The tree can also be grown as a perennial catch crop with coconut and areca nut.
Other uses are those of the use of the rubber-resin obtained from the plant, which is used as a yellow dye, as an illuminant and in paints, watercolors, etc.
Furthermore, wood is used in construction and in the production of furniture.
Preparation Method –
Garcinia gummi-gutta is used, as mentioned, in the food sector, as well as for the consumption of fruits, for the preparation of curry. The peel of the fruit and extracts of Garcinia species are in demand in many traditional recipes, and various Garcinia species are similarly used in food preparation in Assam (India), Thailand, Malaysia, Burma and other Southeast Asian countries.
In Indian Ayurvedic medicine, "sour" flavors are said to activate digestion. The extract and zest of this plant is a curry seasoning in India. It is also an essential acidity ingredient in the southern Thai variant of kaeng som, a sour curry.
Guido Bissanti
Sources
– Acta Plantarum – Flora of the Italian Regions.
– Wikipedia, the free encyclopedia.
– Useful Tropical Plants Database.
– Conti F., Abbate G., Alessandrini A., Blasi C. (ed.), 2005. An annotated checklist of the Italian vascular flora, Palombi Editore.
– Pignatti S., 1982. Flora of Italy, Edagricole, Bologna.
– Treben M., 2000. Health from the Lord's Pharmacy, Advice and experiences with medicinal herbs, Ennsthaler Editore.
Warning: Pharmaceutical applications and alimurgical uses are indicated for informational purposes only, they do not represent in any way a medical prescription; therefore no responsibility is taken for their use for curative, aesthetic or food purposes.