Galium odoratum
The Sweet Woodruff or sweetscented bedstraw (Galium odoratum (L.) Scop.) is a herbaceous species belonging to the Rubiaceae family.
Systematics –
From a systematic point of view it belongs to:
Eukaryota Domain,
Kingdom Plantae,
Magnoliophyta Division,
Magnoliopsida class,
Gentianales Order,
Rubiaceae family,
Subfamily Rubioideae,
Rubieae tribe,
Genus Galium,
G. odoratum species.
The terms are synonymous:
– Asperula eugeniae K. Richt .;
– Asperula matrisylva Gilib .;
– Woodruff smells Salisb .;
– Asperula odorata L .;
– Asterophyllum asperula Schimp. & Spenn .;
– Asterophyllum sylvaticum Schimp. & Spenn .;
– Chlorostemma odoratum (L.) Fourr .;
– Galium matrisylva F.H. Wigg .;
– Galium odoratum var. eugeniae (K. Richt.) Ehrend ..
Etymology –
The term Galium comes from the Greek γάλα gála latte: because some species belonging to this genus were used to curdle milk.
The specific epithet odoratum comes from odóro exhale perfume: fragrant, perfumed, with a pleasant smell.
Geographic Distribution and Habitat –
The Sweet Woodruff is a plant native to Europe and western Asia and present in a vast range that includes northern and central Europe, including Great Britain and south and east to North Africa and Siberia.
In Italy it is present in all regions except Sardinia.
Its habitat is that of the undergrowth of beech woods and mixed deciduous broad-leaved woods, on humus-rich soils, with optimum in the mountainous belt where it grows between 400 and 1600 m. s.l.m ..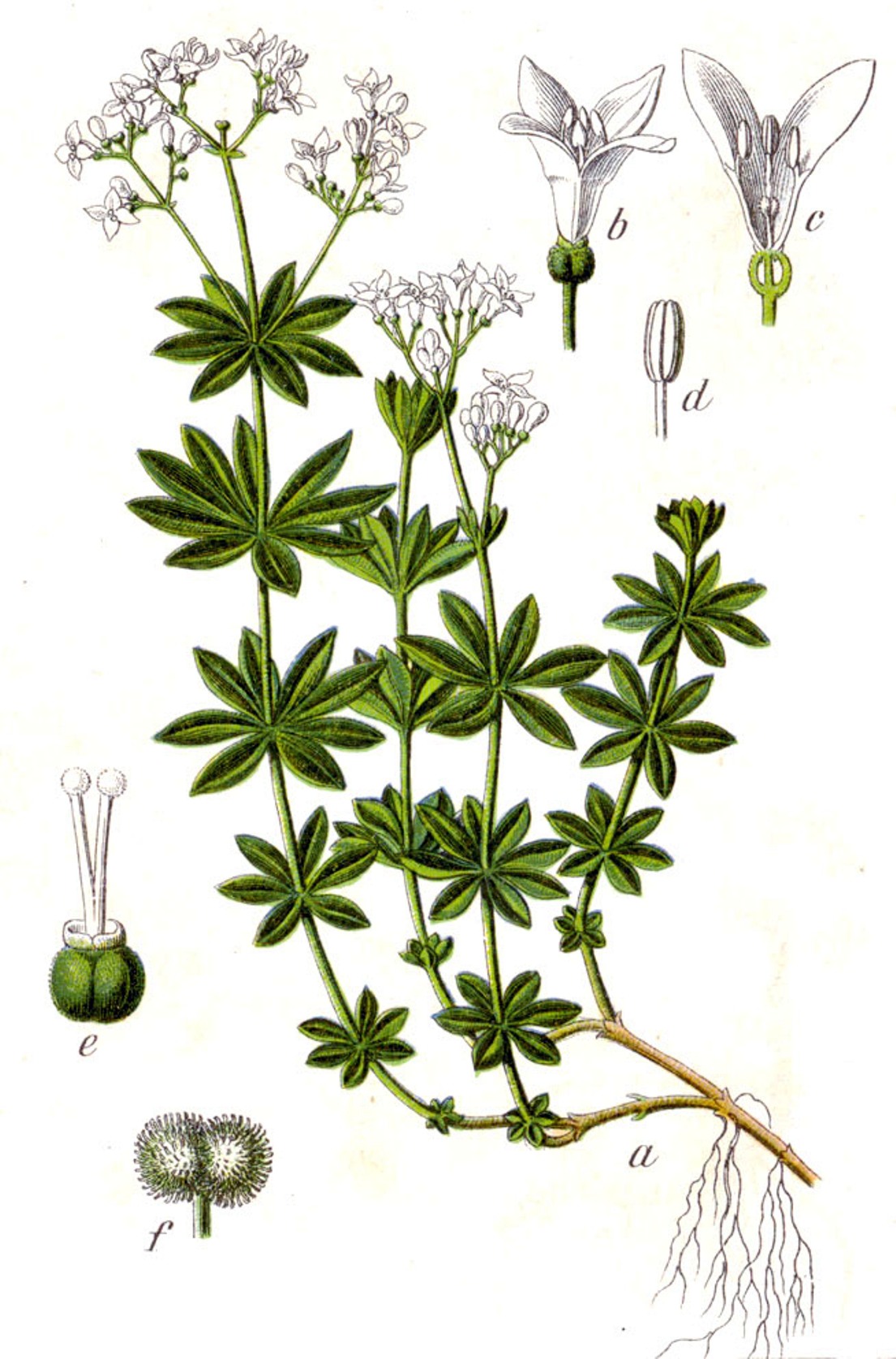 Description –
Galium odoratum is a perennial plant that can grow up to 0.15 meters in height.
It has a quadrangular stem.
The leaves are oval, rough arranged in whorls of 6-9.
The flowers, not large, are white in color and have a corolla formed by 4 petals and are gathered in inflorescences with a stem.
The schizocarpic fruit is an achenarium formed by two 2-3 mm mericarps, more or less globose, bristly due to hooked hairs.
Cultivation –
Galium odoratum is a plant that prefers moist, loose leafy soil in a shady area. It tolerates dry soils but the leaves burn quickly when exposed to the sun and, moreover, this species does not grow well in a hot climate.
From the pedological point of view, it prefers a moist calcareous soil and does not like very acid soils, preferring a pH between 4.3 and 8.3.
This species is very tolerant of air pollution and grows well in cities.
It is a very cold resistant plant, which tolerates temperatures down to about -25 ° C.
This plant is occasionally grown for its medicinal and other uses.
Propagation can take place by seed which must be sown in situ as soon as it is ripe at the end of summer. The seed can also be sown in spring, although it can be very slow to germinate.
To improve germination we recommend a vernalization period which helps to reduce the germination time. Lots of mold in the soil and shade from trees also improve germination rates.
The plant can also be propagated by division of the tufts in the spring.
The larger clumps can be replanted directly into their permanent locations, although it is best to pot the smaller clumps and grow them in a cold greenhouse until they root well.
You can also make woody cuttings after flowering, in the greenhouse.
Remember that Galium odoratum is a plant that can spread rapidly and under certain conditions become invasive.
Customs and Traditions –
Sweet Woodruff is harvested in nature for local use as a food, medicine and source of materials.
The plant, which contains coumarins, asperuloside, tannins, anthraquinones, flavonoids and nicotinic acid, was widely used in herbal medicine during the Middle Ages and until today as an antispasmodic and mildly calming; dried leaves and flowers can be used to make tea; in Trentino-Alto Adige the plant is infused into grappa giving it a delicate green color, while the root produces a red dye.
Its fragrance is typical of this plant when it is dried or withered, in fact the popular names with which it is known all refer to this characteristic.
The dried leaves are used in bags as a cabinet moth, to perfume pipe tobacco, or to fix aromas in potpourri.
In Germany it is also used in ice cream, and its syrup added to the famous Berliner Weisse and taste is known as Waldmeister.
The plant also has therapeutic properties: it is used as an antispasmodic and gastroenteric. A yellow pigment is also obtained from the root. Along the Alps it is also used to flavor grappa.
From a medicinal point of view, after its great diffusion in the Middle Ages, it is currently appreciated in modern herbal medicine mainly for its tonic, diuretic and anti-inflammatory properties.
The leaves are in fact antispasmodic, cardiac, diaphoretic, diuretic, sedative.
An infusion is prepared for the treatment of insomnia and nervous tension, varicose veins, biliary obstruction, hepatitis and jaundice.
Among the contraindications, it should be remembered that excessive doses can cause dizziness and symptoms of poisoning.
The plant is grown commercially as a source of coumarin which is used to make an anticoagulant drug.
Among the contraindications, remember not to use parts of this plant if you are taking drugs for circulatory problems or if you are pregnant with conventional medicine.
A homeopathic remedy obtained from the plant is used in the treatment of inflammation of the uterus.
Other uses include the following:
– a red dye is obtained from the root;
– some light brown and gray-green dyes are obtained from the stems and leaves;
– it is a good ground cover plant for growing on the edge of woods or in the cool shade of shrubs.
Preparation Method –
The Sweet Woodruff must be harvested just before or at the beginning of flowering and can be dried for later use.
For edible use, raw or cooked leaves can be consumed.
The leaves are scented with coumarin (like freshly mown hay) and are used as flavoring in refreshing drinks or are also added to fruit salads, etc.
The leaves are dipped in white wine to obtain "Maitrank", an aromatic tonic drink produced in Alsace.
A fragrant and delicious tea is obtained from the dried green leaves and flowers.
The fragrant flowers are eaten or used as a garnish.
Guido Bissanti
Sources
– Acta Plantarum – Flora of the Italian Regions.
– Wikipedia, the free encyclopedia.
– Useful Tropical Plants Database.
– Conti F., Abbate G., Alessandrini A., Blasi C. (ed.), 2005. An annotated checklist of the Italian vascular flora, Palombi Editore.
– Pignatti S., 1982. Flora of Italy, Edagricole, Bologna.
– Treben M., 2000. Health from the Lord's Pharmacy, Advice and experiences with medicinal herbs, Ennsthaler Editore.
Warning: Pharmaceutical applications and alimurgical uses are indicated for informational purposes only, they do not represent in any way a medical prescription; therefore no responsibility is taken for their use for curative, aesthetic or food purposes.