Justicia americana
The American water-willow (Justicia americana L.) is an aquatic herbaceous species belonging to the Acanthaceae family.
Systematics –
From a systematic point of view it belongs to:
Eukaryota Domain,
Kingdom Plantae,
Subarign Tracheobionta,
Spermatophyta superdivision,
Magnoliophyta Division,
Magnoliopsida class,
Subclass Asteridae,
Order Scrophulariales,
Acanthaceae family,
Justicieae Tribe,
Genus Justicia,
J. Americana species.
The following terms are synonymous:
– American Dianthera;
– Dianthera americana var. sub leathery;
– American Justicia var. sub leathery;
– Justicia mortuifluminis;
– Justicia umbratilis.
Etymology –
The term Justicia is in memory of the Scottish farmer Giacomo Justice who wrote the Scottish Gardener in 1754 and the English Gardener in 1767.
The specific American epithet refers to the origin of the American continent and in this case of North America.
Geographic Distribution and Habitat –
Justicia americana is an aquatic herbaceous plant native to North America.
Its habitat is that of marshy or humid and muddy soils and is found mostly in eastern and southeastern Texas, on the Edwards Plateau and in north-central Texas.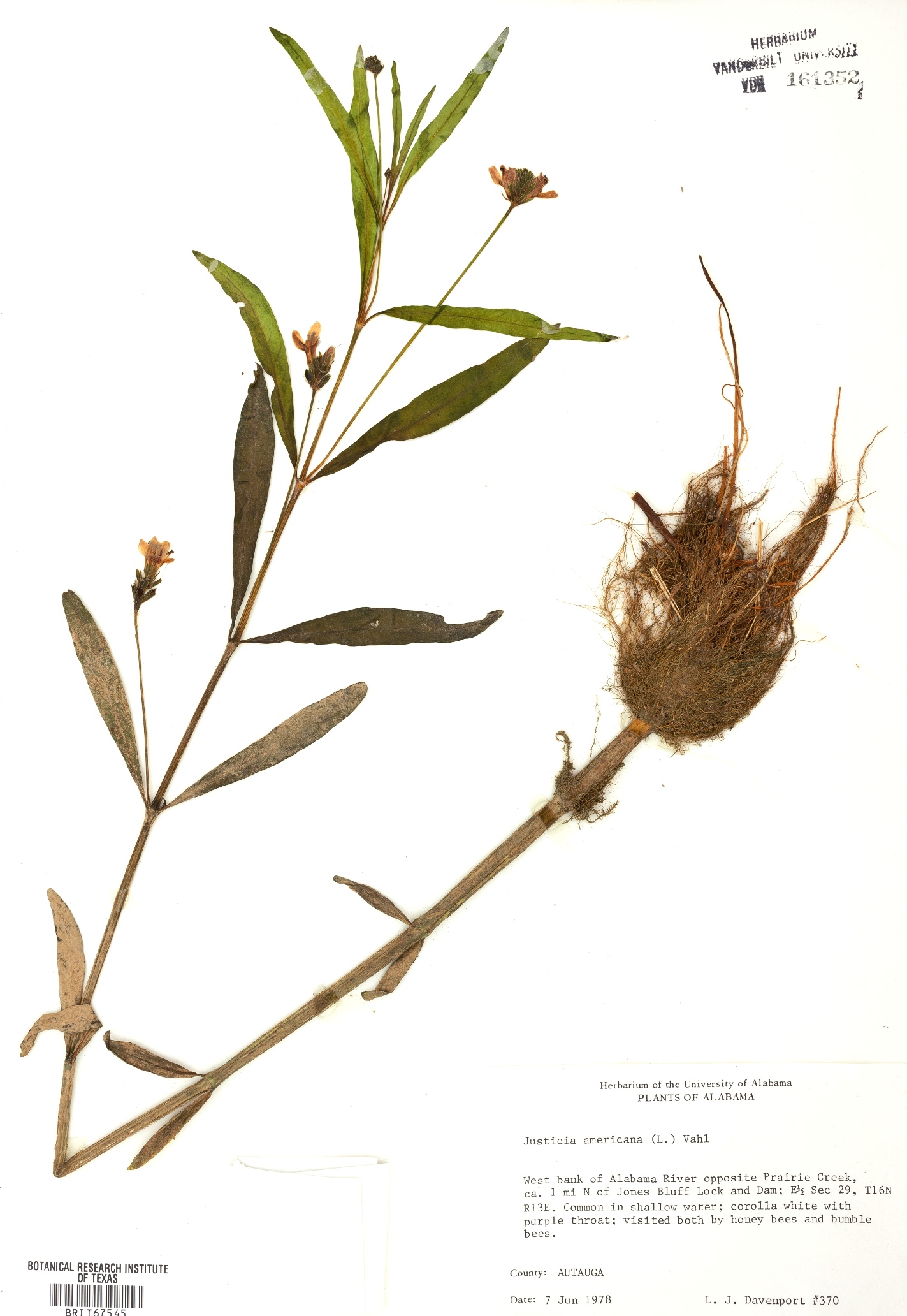 Description –
Justicia americana is a plant that has a creeping rhizome.
This plant has quadrangular green stems about 40 cm high.
The leaves are 10 cm, opposite, sessile, linear or lanceolate and slightly crenulate.
The flowers are two-colored, in opposite arrangement on 3 cm long spikes that are formed by a 10 cm long peduncle. The color varies from white to light lavender with the upper lip of the corolla light purple or white, arched over the lower lip streaked with dark purple. The lateral lobes are unadorned or slightly reddened. The anthers are purplish red instead of the usual yellow. Flowering is from May to October
The fruit of this plant is a small brown capsule.
Cultivation –
The American water-willow is a plant that needs direct sun for at least 6 hours a day to grow. It is a plant that withstands very harsh temperatures.
It generally grows both in dense submerged colonies and on the banks of shallow, slow-flowing streams and rivers.
The plant can also grow in streams where the current is rapid, on those sandy islands that sometimes form inside rivers and lakes, on muddy banks of swamps where the water level fluctuates considerably during the course. of the year.
It forms dense colonies through creeping underground rhizomes from which flexible green stems rooting at the nodes rise.
Customs and Traditions –
American Justicia is an excellent marsh plant for ponds and bio-pools and, in general, in constructed wetlands systems.
With its abundant and distinctive flowering it is a delightful addition to a small or large pond.
In general, the creeping rhizome allows Justicia americana to form large colonies on or near the coasts of still or slow waters in lakes and rivers, and on rocky and dry ebb areas of faster flowing rivers.
From the ecological point of view it is emphasized that the submerged colonies and the intricate rhizomes host and shelter small invertebrates, during the breeding season they prove to be important breeding sites for many species of freshwater fish.
Preparation Method –
No other food or pharmaceutical uses are known of American Justicia.
Guido Bissanti
Sources
– Acta Plantarum – Flora of the Italian Regions.
– Wikipedia, the free encyclopedia.
– Useful Tropical Plants Database.
– Conti F., Abbate G., Alessandrini A., Blasi C. (ed.), 2005. An annotated checklist of the Italian vascular flora, Palombi Editore.
– Pignatti S., 1982. Flora of Italy, Edagricole, Bologna.
– Treben M., 2000. Health from the Lord's Pharmacy, Advice and experiences with medicinal herbs, Ennsthaler Editore.
Warning: Pharmaceutical applications and alimurgical uses are indicated for informational purposes only, they do not represent in any way a medical prescription; therefore no responsibility is taken for their use for curative, aesthetic or food purposes.