Filipendula vulgaris
Dropwort or fern-leaf dropwort (Filipendula vulgaris Moench) is a herbaceous species belonging to the Rosaceae family.
Systematics –
From a systematic point of view it belongs to:
Eukaryota Domain,
Kingdom Plantae,
Spermatophyta superdivision,
Magnoliophyta Division,
Magnoliopsida class,
Subclass Rosidae,
Rosales Order,
Rosaceae family,
Subfamily Rosoideae,
Genus Filipendula,
F. vulgaris species.
The following terms are synonymous:
– Filipendula filipendula (L.) Voss;
– Filipendula hexapetala Gilib .;
– Filipendula hexapetala Gilib. ex Maxim .;
– Filipendula pubescens (DC.) Fourr .;
– Filipendula vulgaris Hill;
– Spiraea filipendula L .;
– Spiraea gigantea Ghent .;
– Spiraea noeana Ghent .;
– Spiraea pubescens DC .;
– Spiraea tuberosa Salisb .;
– Spiraea vulgaris (Moench) Gray;
– Ulmaria filipendula (L.) A.Braun ex Asch .;
– Ulmaria filipendula (L.) Hill;
– Ulmaria filipendula (L.) Hill ex Focke.
Etymology –
The term Filipendula comes from fílum filo and from pendulous, dangling péndulus: perhaps a reference to the long filamentous stamens.
The specific epithet vulgaris comes from vúlgus vulgo: very common, ordinary due to its widespread use, banal.
Geographic Distribution and Habitat –
Filipendula vulgaris is a species with Eurasian distribution, present from Europe to Japan.
In Europe it is present on most of the territory including Great Britain, from Scandinavia in the south and east to northern Africa, Siberia and the Caucasus.
Its habitat is that of dry pastures on calcareous or calcareous soils from 0 to 1,500 m. s.l.m ..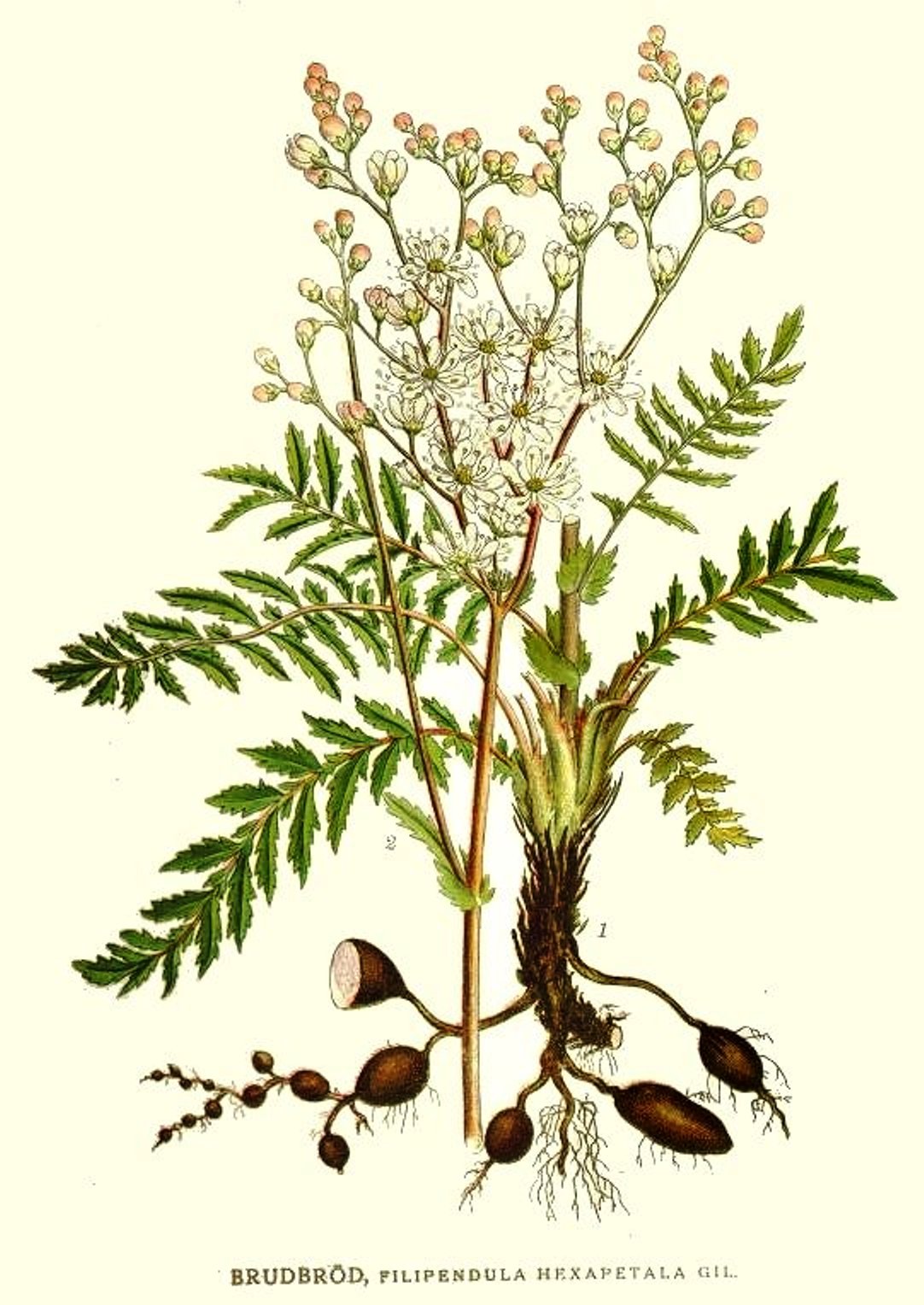 Description –
Dropwort is a perennial herbaceous plant that grows up to 70 cm with erect, streaked, hairless, little branched stems.
The leaves have stipules and are pinnate-septate or with double coarse teeth.
The flowers are hermaphroditic, creamy-white or pink in color, generally have 6 petals, gathered in apical corymbose tops.
The antesis is between May and July.
The fruits are multiple and are poliacenes with 3-4 x2-2.5 mm achenes, straight, semi-elliptical, flattened, brown with short, applied hairs and some glands. The seeds of 2.5 x 1 mm are smoothed out of a dark brown color.
Cultivation –
Dropwort is a plant that prefers well-drained soil that retains moisture and does not like shade. It tolerates dry soils and grows well on calcareous soils.
Propagation can take place by seed or by division of tufts.
In seed propagation it is recommended to sow in the fall in a cold greenhouse. The seed can also be sown in a cold greenhouse in spring, germinating best at 10 – 13 ° C.
When the seedlings are large enough to handle, they should be placed in individual pots and transplanted in the summer if they have grown enough. Otherwise, they should still be kept in a cold greenhouse for the winter and transplanted in late spring.
In the division propagation technique, the optimal period is autumn or winter. In this case the larger and easier to divide clumps can be replanted directly into their permanent locations, although it is best to arrange the smaller clumps and grow them in a cold greenhouse until they root well. They must then be transplanted in the spring.
Customs and Traditions –
Filipendula vulgaris is a plant whose flowers have a sweet scent and are very attractive to bees.
The plant has been used for both food and medicinal purposes.
Among the edible uses it should be remembered that the young leaves can be eaten both raw and cooked; these can be added to salads and soups.
The root can also be eaten, both raw and cooked.
It is a rather bitter herb, with astringent power.
This plant has represented a form of food especially in times of famine or in any case in times of food scarcity.
For medicinal uses, please note that the root is anthelmintic and lithontripic. It is used in the treatment of epilepsy, kidney and bladder stones, genital discharges and intestinal worms.
The main active ingredient is salicylic acid which, together with other components, confers antirheumatic, purifying, diuretic and astringent properties.
Among other uses, the ecological one is included as the plant, in addition to being a good mellifera, can be used as a ground cover if planted about 45 cm away from each other.
Preparation Method –
Of the Filipendula vulgaris the drug used are the flowering tops and the rhizome.
In food use, remember that the roots, like the leaves, are edible and can be used against stones and as an astringent.
Even the flowered tops can be used for some herbal teas and the preparation of infusions.
Guido Bissanti
Sources
– Acta Plantarum – Flora of the Italian Regions.
– Wikipedia, the free encyclopedia.
– Useful Tropical Plants Database.
– Conti F., Abbate G., Alessandrini A., Blasi C. (ed.), 2005. An annotated checklist of the Italian vascular flora, Palombi Editore.
– Pignatti S., 1982. Flora of Italy, Edagricole, Bologna.
– Treben M., 2000. Health from the Lord's Pharmacy, Advice and experiences with medicinal herbs, Ennsthaler Editore.
Warning: Pharmaceutical applications and alimurgical uses are indicated for informational purposes only, they do not represent in any way a medical prescription; therefore no responsibility is taken for their use for curative, aesthetic or food purposes.