Scirpus sylvaticus
The wood clubrush (Scirpus sylvaticus Linnaeus, 1753) is a herbaceous species belonging to the Cyperaceae family.
Systematics –
From a systematic point of view it belongs to:
Eukaryota Domain,
Kingdom Plantae,
Magnoliophyta Division,
Liliopsida class,
Cyperales Order,
Cyperaceae family,
Genus Scirpus
S. sylvaticus species.
The following terms are synonymous:
– Cyperus sylvaticus (L.) Missbach & E.H.L.Krause, 1900;
– Nemocharis sylvatica (L.) Beurl., 1853;
– Schoenus sylvaticus (L.) Bernh., 1800;
– Scirpus gramineus Neck., 1768;
– Scirpus latifolius Gilib., 1792, nom. inval .;
– Seidlia jechlii Opiz, nom. inval .;
– Seidlia sylvatica (L.) Opiz, 1826;
– Taphrogiton sylvaticum (L.) Montandon, 1868.
Etymology –
The term Scirpus comes from scirpus rush, in Plautus and Pliny.
The specific epithet sylvaticus comes from sylva selva, wood (less correct Latin form for silva): a plant that grows in woods, in wild places.
Geographic Distribution and Habitat –
The wood clubrush is a species with a vast circumboreal distribution widespread in Eurasia; it is very common in the European part of Russia and in southern Siberia.
In Italy it is present in all regions of central-northern Italy, in Calabria and in Sicily. The regional distribution extends from the low Friuli plain (where the species is rare) to the Alpine sector, with large gaps.
Its habitat is that of swamps and low peat bogs, in marshy meadows and humid woods, on muddy-clayey soils rich in nutrients, from sea level to about 1800 m.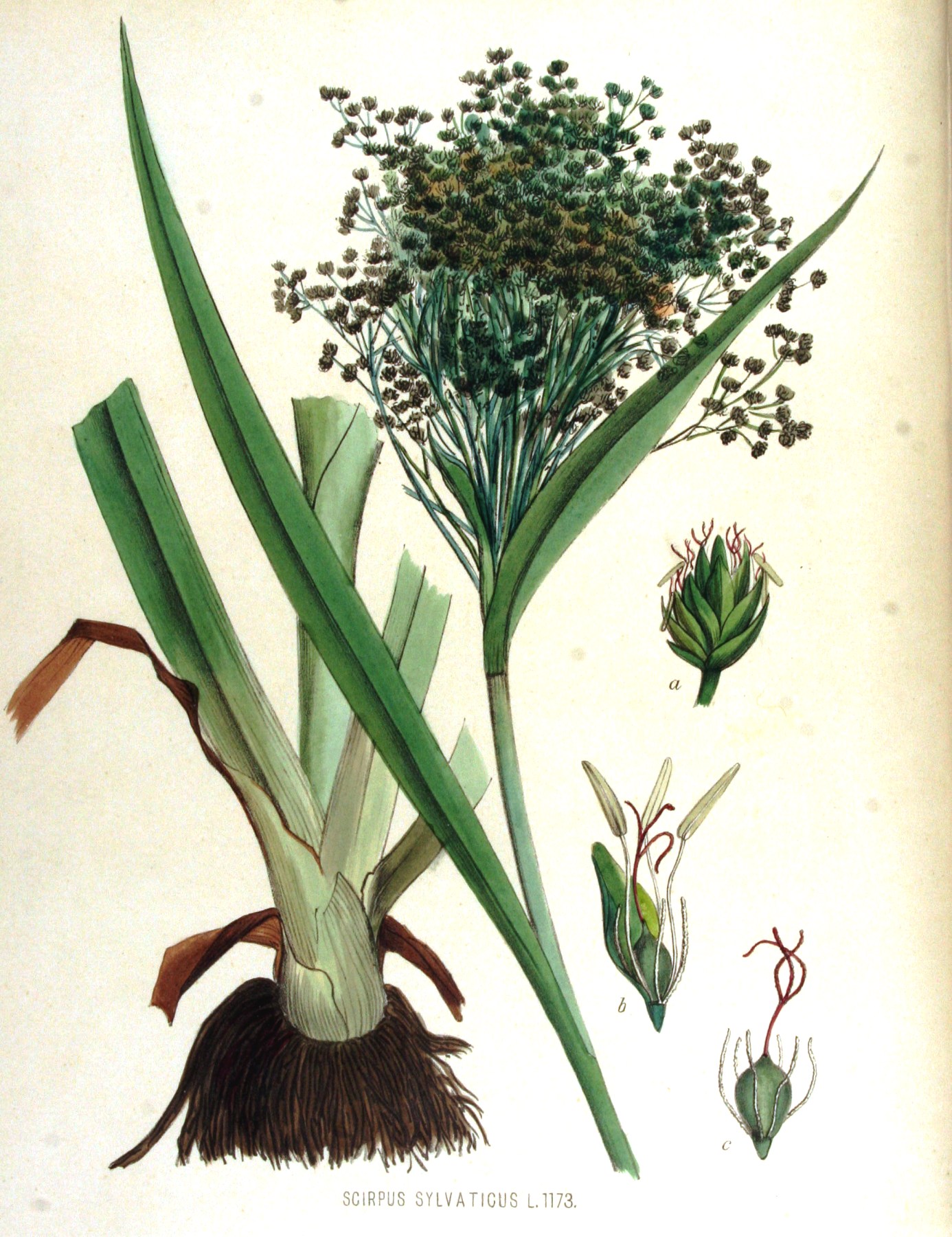 Description –
Scirpus sylvaticus is a 1 meter tall plant with triangular stems.
It is a rhizomatous geophytic species, with a particular underground stem, called rhizome, which every year emits adventitious roots and stems.
The leaves are undivided, with closed sheath, alternate, without stipules.
The inflorescence is very branched with tufts of brown spikes.
Its flowering period is between the months of June-August.
The fruit is an achene, leathery, indehiscent.
Cultivation –
Scirpus sylvaticus is a spontaneous plant that is found in humid habitats such as swamps in brackish and salt water, along swamps, along the banks of water bodies, in swampy forests and wet meadows. It is a perennial herb that grows from a rhizome system with associated tubers.
It is a plant that resists very cold temperatures and reproduces through stolons.
Customs and Traditions –
Scirpus sylvaticus is a plant whose leaves and stems were used in various parts of Europe for weaving.
This plant is excellent for use in submerged flow phytodepuration plants with a dry soil substrate and a lower water level.
Furthermore, from an ecological point of view, it is an important source of food for water birds. The seeds are food for birds and other animals, such as muskrats.
Preparation Method –
With the Scirpus sylvaticus, once upon a time, intertwining works were prepared for various artifacts.
Currently it can find excellent use as a plant for constructed wetlands.
Guido Bissanti
Sources
– Acta Plantarum – Flora of the Italian Regions.
– Wikipedia, the free encyclopedia.
– Useful Tropical Plants Database.
– Conti F., Abbate G., Alessandrini A., Blasi C. (ed.), 2005. An annotated checklist of the Italian vascular flora, Palombi Editore.
– Pignatti S., 1982. Flora of Italy, Edagricole, Bologna.
– Treben M., 2000. Health from the Lord's Pharmacy, Advice and experiences with medicinal herbs, Ennsthaler Editore.
Warning: Pharmaceutical applications and alimurgical uses are indicated for informational purposes only, they do not represent in any way a medical prescription; therefore no responsibility is taken for their use for curative, aesthetic or food purposes.