Fabiana imbricata
Fabiana imbricata (Fabiana imbricata Ruiz & Pav.) Is a shrub species belonging to the Solanaceae family.
Systematics –
From a systematic point of view it belongs to:
Eukaryota Domain,
Kingdom Plantae,
Subarign Tracheobionta,
Magnoliophyta Division,
Magnoliopsida class,
Solanales Order,
Solanaceae family,
Genus Fabiana,
Species F. imbricata.
Etymology –
The term Fabiana of the genus has no clear provenance.
The specific imbricata epithet comes from imbrex embrice, tile: due to the presence of organs arranged as overlapping roof tiles.
Geographic Distribution and Habitat –
Fabiana imbricata is a plant native to the arid slopes of the highlands of Chile and Argentina and widely present in South America.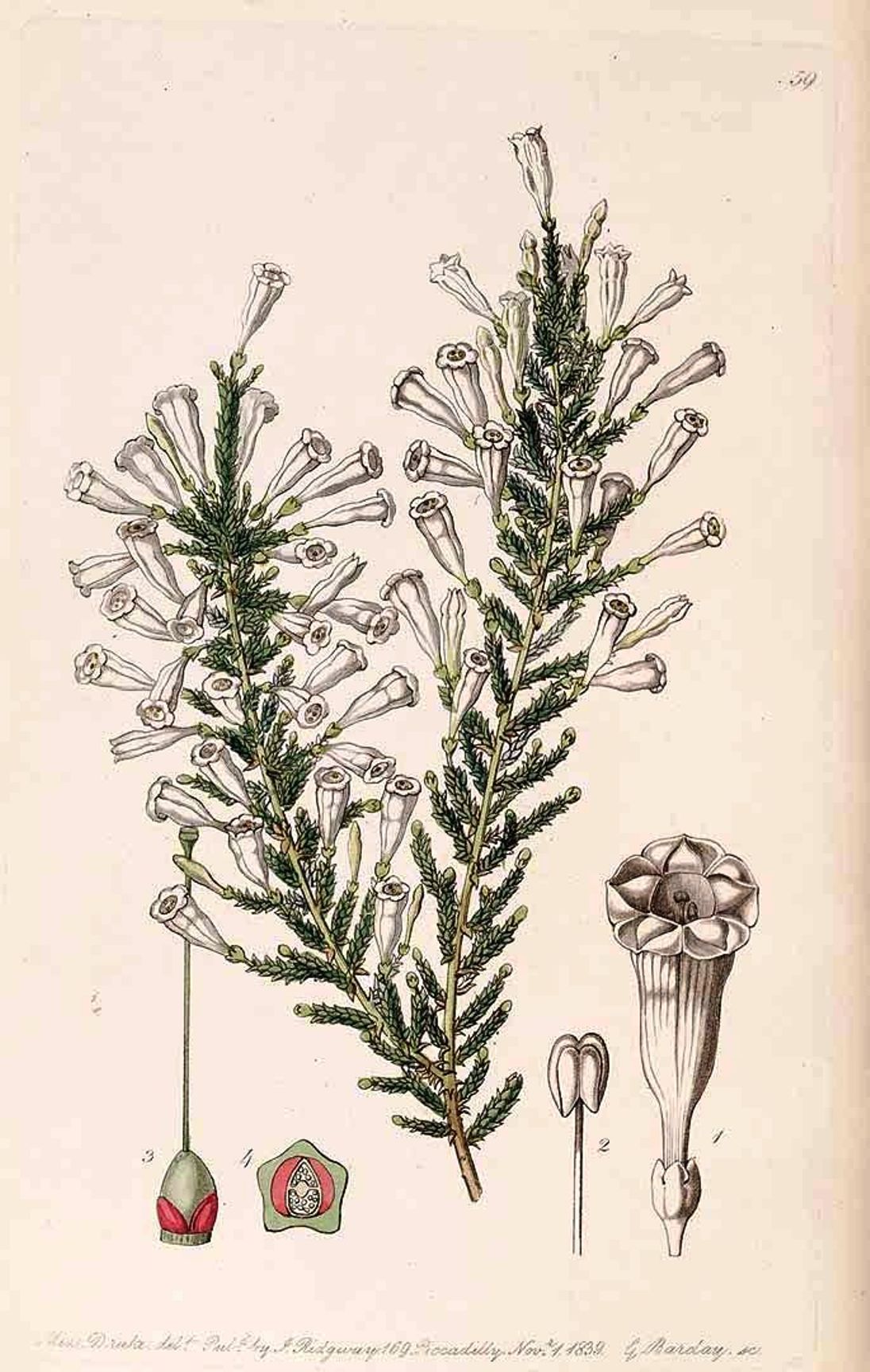 Description –
Fabiana imbricata is a long-lived evergreen shrub that grows up to 2.5m in height and width.
It has needle-like leaves.
The flowers are small and tubular of white color.
There is a purplish variety with light lilac flowers.
The antesis is at the beginning of the summer.
Cultivation –
Fabiana imbricata is an evergreen ornamental plant resistant to frost and easy to grow in the ground and in pots and, due to its resistance to brackish winds, it is also suitable for creating fence hedges in coastal gardens.
This plant develops quite well even in partially shaded places to give maximum flowering to be grown in full sun. It also tolerates brackish winds very well and can therefore also be grown in coastal gardens.
As for the soil, even if it does not have particular soil requirements, it prefers a substrate of medium texture, moist, mixed with sand and with a slightly alkaline pH (not higher than 7.5).
It needs regular and frequent watering, especially in summer and during periods of prolonged drought. The Fabiana plant can be grown in pots and in this case it must be watered constantly.
Propagation can occur by seed.
Customs and Traditions –
Fabiana imbricata, known in its places of origin as pichi, is a plant that takes advantage of the advent of fire and wind, followed by high post-fire rainfall in early spring, to colonize the environments where it grows and characterizing these ecosystems.
The foliage of this plant has traditionally been used as a diuretic and digestive, and has been shown to have a gastroprotective effect, in studies evaluating the main foliage sesquiterpene.
Interest in Fabiana imbricata has extended to the development of in vitro culture of plant tissue for the collection of secondary metabolites for further research.
In medicinal use, dry leaves and twigs are used which are cholagogues and a precious diuretic and tonic.
It is widely used in the treatment of acute urinary pus, giving very favorable results in case of urinary irritation due to stones.
However, it is contraindicated in cases of organic kidney disease.
Preparation Method –
Of the Fabiana imbricata, the dried leaves and twigs are used to prepare infusions for diuretic and tonic use.
Guido Bissanti
Sources
– Acta Plantarum – Flora of the Italian Regions.
– Wikipedia, the free encyclopedia.
– Useful Tropical Plants Database.
– Conti F., Abbate G., Alessandrini A., Blasi C. (ed.), 2005. An annotated checklist of the Italian vascular flora, Palombi Editore.
– Pignatti S., 1982. Flora of Italy, Edagricole, Bologna.
– Treben M., 2000. Health from the Lord's Pharmacy, Advice and experiences with medicinal herbs, Ennsthaler Editore.
Warning: Pharmaceutical applications and alimurgical uses are indicated for informational purposes only, they do not represent in any way a medical prescription; therefore no responsibility is taken for their use for curative, aesthetic or food purposes.