Erodium moschatum
The aromatic crane's beak (Erodium moschatum (L.) L'Hér.) Is a herbaceous species belonging to the Geraniaceae family.
Systematics –
From a systematic point of view it belongs to:
Eukaryota Domain,
Kingdom Plantae,
Subarign Tracheobionta,
Superdivision Angiosperms,
Magnoliophyta Division,
Class Rosidae,
Order Geraniales,
Geraniaceae family,
Genus Erodium,
E. moschatum species.
Basionimo is the term:
– Geranium cicutarium var. moschatum L.
Etymology –
The specific epithet Erodium comes from the Greek ἐρῳδιός erodios heron, due to the shape of the fruit, whose long tip recalls the heron's beak (hence the Italian name crane's beak).
The specific epithet moschatum comes from musk, from the Arabic musk musk, a ruminant with an odoriferous gland: which smells of musk, fragrant in the broad sense.
Geographic Distribution and Habitat –
The aromatic crane's beak is an annual or biennial herbaceous herb that is native to much of Eurasia and North Africa, but can be found in most continents where it is an introduced species. It is an entity with a range centered on the Mediterranean coasts, but with extensions to the north and east (area of ​​the Vine).
In Italy we find it in Liguria, Veneto, Emilia-Romagna and in all regions of central, southern and insular Italy (not found for a long time in Friuli Vanezia Giulia and in the Marche), but more common in Mediterranean Italy.
Its habitat is that of disturbed environments: rubble, in the uncultivated fields, in the vineyards and in the olive groves, at the edge of the roads, from sea level to about 1300 m, with optimum in the Mediterranean belt.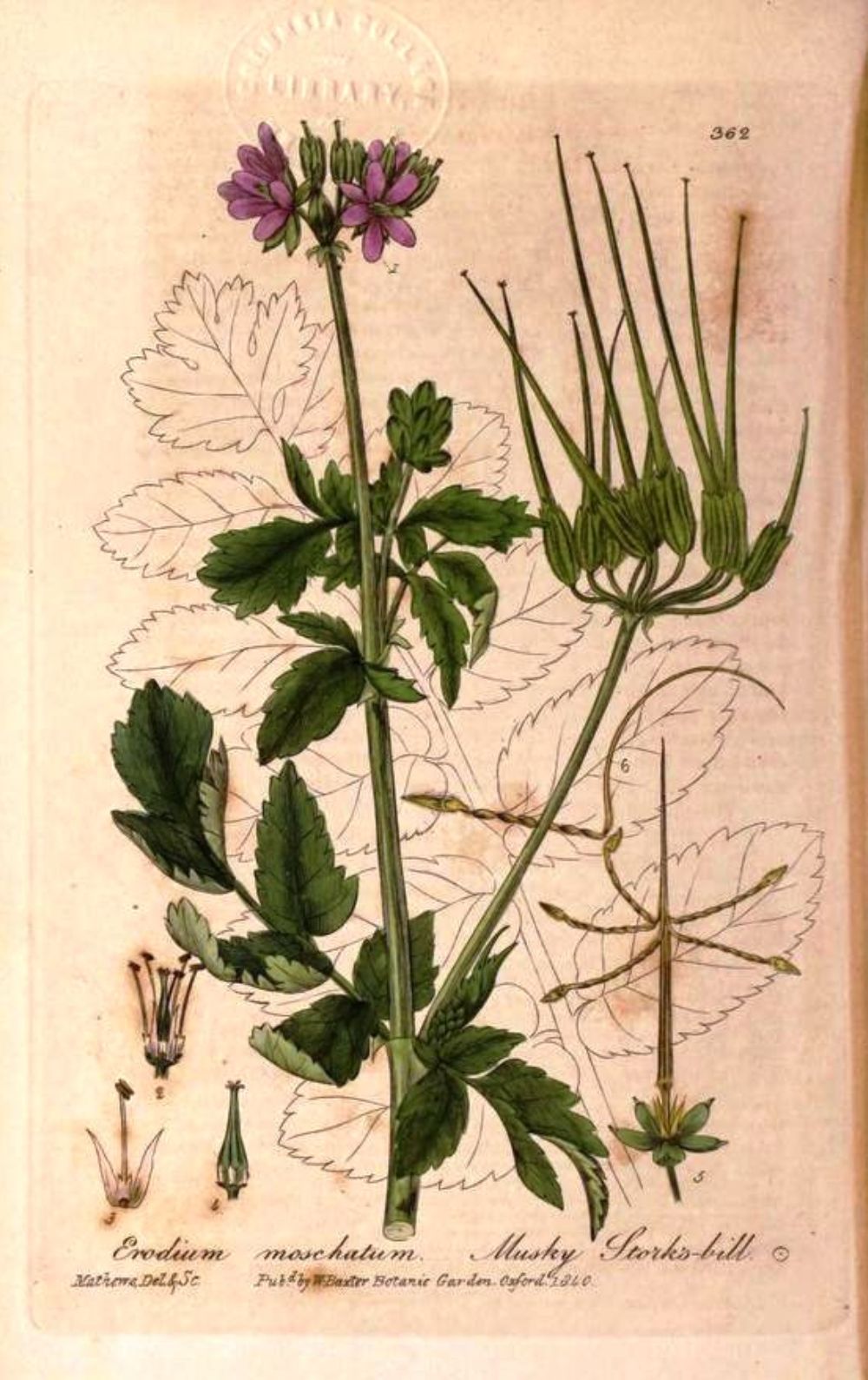 Description –
Erodium moschatum is an annual or biennial plant, with striated, ascending, densely hairy, branched stems, which reaches a height between 20 and 80 cm.
The stipules are triangular and memeum, in spite of the leaf rachis.
It has alternate leaves, slightly pubescent, with a short petiole, pinnate, with ovate or elliptical engraved-toothed leaf segments.
The flowers are collected in inflorescences in racemes of 5 – 12 elements, carried by long peduncles often folded at the apex. The calyx has sharp oblong-lanceolate sepals.
The flowers carried by peduncles of 1 cm, have 5 petals, slightly longer than the sepals, of a purplish-pink color.
The antesis is between January and May, depending on the latitude and altitude where it grows.
The schizocarpic frutus is a poliachenarium composed of 5 monosperm mericarps of 6 mm, with patented, yellowish, 0.5 mm erect hairs, 30-50 mm long beak. At maturity the mericarps separate by hygroscopic winding of the stylus, which tears into spirally twisted reste.
Cultivation –
Erodium moschatum is a plant that prefers a sunny, well-drained position and a calcareous or otherwise non-acidic soil.
Trampled or compressed leaves give off a strong musky scent.
Propagation occurs by seed; sowing must be carried out in situ as soon as the seed is ripe in the period from late spring to late summer. It usually germinates easily.
Customs and Traditions –
Erodium moschatum is a plant that has long been used for food and healing purposes.
For edible uses the leaves, both raw and cooked, are used.
From a medicinal point of view, it has proved to be a febrifuge plant.
It is used in the preparation of diaphoretic and slightly stimulating digestive functions.
A tincture can be obtained from the plant, which is used in the treatment of dysentery.
Among other uses, a green dye can be obtained that does not require a mordant.
The whole plant contains tannins, essential oils, and resins.
Preparation Mode –
The aromatic beak of grù is used in cooking using the leaves, both raw and cooked; they can also be added to salads or used as an aromatic herb.
For medicinal uses we prepare some used in the treatment of dysentery.
Guido Bissanti
Sources
– Acta Plantarum – Flora of the Italian Regions.
– Wikipedia, the free encyclopedia.
– Useful Tropical Plants Database.
– Conti F., Abbate G., Alessandrini A., Blasi C. (eds.), 2005. An annotated checklist of the Italian vascular flora, Palombi Editore.
– Pignatti S., 1982. Flora d'Italia, Edagricole, Bologna.
– Treben M., 2000. La Salute from Farmacia del Lord, Advice and experiences with medicinal herbs, Ennsthaler Editore.
Caution: Pharmaceutical applications and alimurgical uses are indicated for informational purposes only, they do not represent in any way a medical prescription; it therefore declines all responsibility for their use for curative, aesthetic or food purposes.