Doronicum pardalianches
The Leopard's-bane (Doronicum pardalianches L., 1753) is a herbaceous, perennial species belonging to the Asteraceae family.
Systematics –
From a systematic point of view it belongs to:
Eukaryota Domain,
Kingdom Plantae,
Spermatophyta superdivision,
Magnoliophyta Division,
Magnoliopsida class,
Subclass Asteridae,
Asterales Order,
Asteraceae family,
Subfamily Asteroideae,
Senecioneae tribe,
Genus Doronicum,
D. pardalianches species.
The following terms are synonymous:
– Arnica scorpioides L .;
– Doronicum cordatum Lamarck (1779);
– Doronicum cordifolium Stokes (1812);
– Doronicum emarginatum Le Grand ex Coste (1903);
– Doronicum latifolium Bubani (1899);
– Doronicum macrophyllum Bernh .;
– Doronicum matthioli Tausch;
– Doronicum procurrens Dumort. (1829);
– Doronicum romanum Garsault;
– Doronicum toxicarium Salisb. (1796).
Etymology –
The term Doronicum has a controversial etymology: it could derive from the Greek δῶρον dóron dono and from νίκη níke victory: which gives victory (according to De Theis, this was Linnaeus' opinion); or from the Arabic darawnay; or from the Arabic Doronígi or Doronidge or Doronidj (for D. Gledhill, A. Gentil, Vaillant and the FAB) or from the Arabic durungi (Zingarelli) or from the Arabic doronakh according to E. Mameli Calvino.
The specific epithet pardalianches comes from the Greek πάρδᾰλις párdalis leopard, panther and from ἄγχω àncho suffocated, strangled: choke-panther.
Geographic Distribution and Habitat –
The Leopard's-bane is a plant native to the western area of ​​Europe.
It is present in the French Alps (departments of Alpes-de-Haute-Provence, Hautes-Alpes, Alpes-Maritimes, Drôme, Isère, Savoie and Haute Savoie) and in Switzerland (cantons Valais, Ticino and Grisons) while on the other European reliefs it is present in the Black Forest, Vosges, Jura Massif, Massif Central and Pyrenees.
In Italy it is mainly present in the north-western part of the Alps.
Its typical habitat is that of ravines and woods (beech, fir, maple, hornbeam, holm oak, birch and chestnut groves). It preferably grows on both calcareous and siliceous substrates with neutral pH, high nutritional values ​​of the soil which must be moderately humid and can be found on the hills up to 1400 m a.s.l.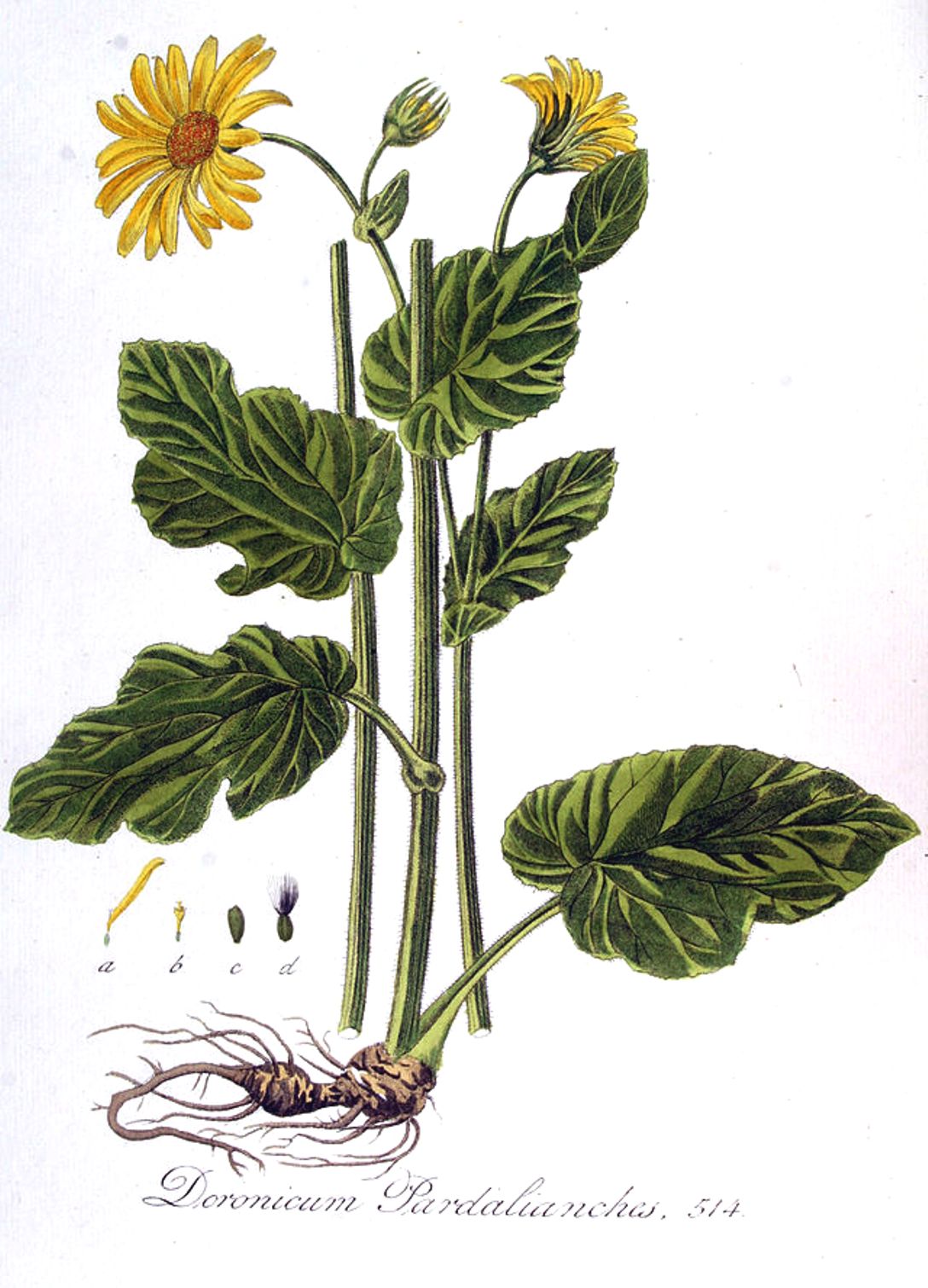 Description –
Doronicum pardalianches is a perennial herbaceous plant 30-90 cm tall, with enlarged rhizome with slender stolons, with an erect, hollow stem and branchy-corymbose striated.
The leaves have a corded oval shape, the basal ones up to 15 cm in size with a 10-30 cm petiole, the lower caulins more or less panduriform in shape, the upper ones from cordate to lanceolate amplessicauli.
The flowers are yellow in color grouped in irregular corymbs from 2 to 10 flower heads with a diameter of 3-5 cm. Flower head with disc-shaped casing and slightly enlarged scales almost to the apex; hermaphroditic tubular internal flowers, female ligulate external flowers.
The antesis is between May and August.
The fruits are Cypseles (achenes), obulong-obovoid, blackish brown, grooved, dimorphous: those with a radius of 1,5-2,5 x 07-1,3 mm, glabrous, without pappus; those of the disc of 1-2 x 0,4-0,8 mm, hairy, with pappus of white hairs of 3-4 mm.
Cultivation –
The Leopard's-bane is a plant that grows spontaneously and that can be grown in the sun or in dim light on soils that are preferably humid and rich in organic substance.
This plant prefers some protection from the summer sun and grows well in the shade of trees.
It is a cold-hardy plant and can tolerate at least -20 ° C.
It has a somewhat invasive tuberous root system that can colonize sparse woody systems and can be grown as a grass to be cut every year in autumn.
Propagation can take place by seed both in open fields and in cold greenhouses.
The seed usually germinates in 10 – 20 days at 20 ° C.
When the seedlings are large enough to handle, they can be transplanted into individual pots and grown in the greenhouse for their first winter. They should then be planted in their permanent positions in late spring or early summer, after the last expected frosts.
It can also propagate by division of the tufts in the autumn period.
Customs and Traditions –
Doronicum pardalianches, especially in the past, was commonly cultivated as a medicinal plant.
All the species of the genus Doronicum possess medicinal principles still considered valid but the medicinal uses are however reserved in particular to this plant.
The rhizome contains inulin, an ethereal oil, a bitter substance, traces of resin and mineral salts. The preparations are used as antispasmodics, astringents, sedatives, tonics and vulneraries.
According to folk medicine, the root of this plant has cardiotonic and nervine properties.
In particular, it is used for the treatment of nervous depressions. Due to its vulnerable properties it is indicated as a treatment in case of scorpion stings.
This plant, for a long time, was considered a poisonous species. Jacopo Antonio Cortusi, director of the Botanical Garden of Padua in the first half of the 1600s, assured him that he had seen a dog die in a few hours after having ingested the plant. Moreover, the same specific name would refer to these poisonous characteristics. Many other botanists, including Linnaeus himself, doubted its poisonous potential, which was later completely denied.
Preparation Method –
Leopard's-bane was used, especially in the past, in folk medicine, for its alleged cardiotonic and nervine characteristics. Both the whole plant and the rhizomes are used.
Guido Bissanti
Sources
– Acta Plantarum – Flora of the Italian Regions.
– Wikipedia, the free encyclopedia.
– Useful Tropical Plants Database.
– Conti F., Abbate G., Alessandrini A., Blasi C. (edited by), 2005. An annotated checklist of the Italian vascular flora, Palombi Editore.
– Pignatti S., 1982. Flora of Italy, Edagricole, Bologna.
– Treben M., 2000. Health from the Lord's Pharmacy, Advice and experiences with medicinal herbs, Ennsthaler Editore.
Warning: Pharmaceutical applications and alimurgical uses are indicated for informational purposes only, they do not represent in any way a medical prescription; we therefore decline all responsibility for their use for curative, aesthetic or food purposes.