Dicypellium caryophyllatum
Dicypellium caryophyllatum
The Brazil clove (Dicypellium caryophyllatum (Mart.) Nees) is an arboreal species belonging to the Lauraceae family.
Systematics –
From the systematic point of view it belongs to the Eukaryota Domain, Kingdom Plantae, Magnoliophyta Division, Magnoliopsida Class, Subclass Magnoliidae, Order Laurales, Family Lauraceae and therefore to the Genus Dicypellium and the Specie D. caryophyllatum.
The terms are synonymous:
– Acrodiclidium guianense Nees;
– Acrodiclidium guianense var. caudatum Meisn .;
– Acrodiclidium guianense var. oppositifolium Meisn .;
– Acrodiclidium guianense var. reticulatum Meisn .;
– Dicypellium caryophyllaceum (Mart.) Nees .;
– Ocotea caryophyllacea (Mart.) Kostel .;
– Persea caryophyllacea Von Martius.
Etymology –
The term Dicypellium is not known.
The specific epithet Caryophyllatum comes from the Greek καρυόϕυλλον caryóphyllon carnation: reminiscent of carnation for its appearance or perfume.
Geographic Distribution and Habitat –
Dicypellium caryophyllatum is a plant native to the Amazon basin located in the north of Brazil up to Peru.
This plant is found in its natural state only in the Brazilian states of Amazonia, Maranhão and Pará.
Its habitat is that of forests that are not temporarily flooded and is registered in the IUCN Red List as "vulnerable" and "endangered".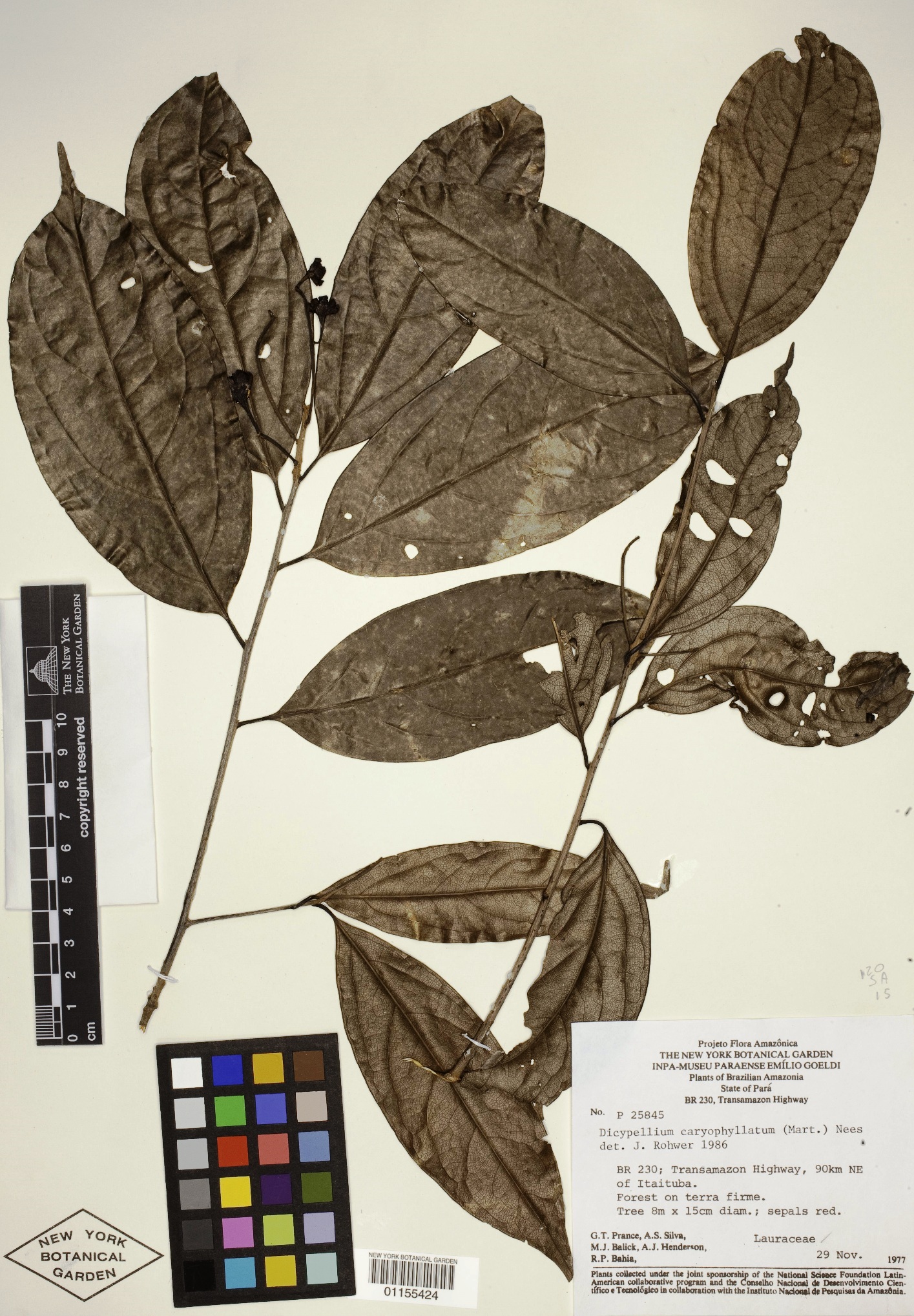 Description –
Dicypellium caryophyllatum is an evergreen tree up to 20 meters tall.
The leaves are of an elliptical to ovoid form, up to 33 cm long and 11-12 cm broad,
alternate, with short, slightly leathery and pointed peduncle, whole, simple, hairless and (initially) and slightly rust in color on the underside. They are about 13 inches long and 4-5 inches wide.
The flowers are grouped in axilla inflorescences or terminals.
The flowers have a short, small, white stem and are hermaphroditic and with a simple casing. The perianth has six petals, with similar, leathery and thick tepals in two circles. The stamens are grouped in three circles, the fourth is missing. The first circle is tepaloid, enlarged and not fertile, the second smaller and the third reduced are fertile, with very short and tepaloid stamens.
The ovary is of medium size in the shape of a narrow cup.
The fruits are small, green and egg-shaped berries, smooth and solitary, forming on a relatively flat red cup with a persistent and slightly hardened perianth.
It is an aromatic plant with cortical and leaf tissues that contain numerous muciparous and oil cells with ethereal essential oils. Its bark smells like cloves.
Cultivation –
Dicypellium caryophyllatum is a plant that grows exclusively in an Amazon forest area located between the north of Brazil and up to Peru.
This plant, due to the intensive exploitation of the bark to obtain clove oil, has become rare and is therefore considered in danger of extinction in natural habitats.
Customs and Traditions –
Dicypellium caryophyllatum, known as pau-cravo in Brazil or Cravo-do-maranhão and Casca-preciosa was first described in 1829 under the name (Basionym) Persea caryophyllacea by Carl Friedrich Philipp von Martius. The new name of Dicypellium caryophyllatum was created in 1833 by Christian Gottfried Daniel Nees von Esenbeck in Hufelandiae Illustratio.
The bark of this plant has a smell reminiscent of cloves and cinnamon. The bark and flower buds are used in Brazilian cuisine as spices.
The essential oil of flower buds is used in the perfume industry. The buds can also be used as a substitute for cloves.
The oil obtained from the bark also has a strong odor and is called "Clove Bark Oil". This oil contains high amounts of eugenol and can be used for various preparations.
The leaves are used as a substitute for Camellia spp. Tea.
Aromatic wood is quite strong and is used for various applications. It is sometimes referred to as clove wood, Brazilian rosewood or cayenne, as well as tulipier.
The bark has carminative and tonic properties.
Preparation Mode –
The essential oil of the flower buds of Dicypellium caryophyllatum is used in the perfume industry, and the buds can also be used as a substitute for cloves.
Leaves can be used as a substitute for Camellia spp.
Guido Bissanti
Sources
– Acta Plantarum – Flora of the Italian Regions.
– Wikipedia, the free encyclopedia.
– Useful Tropical Plants Database.
– Conti F., Abbate G., Alessandrini A., Blasi C. (ed.), 2005. An annotated checklist of the Italian vascular flora, Palombi Editore.
– Pignatti S., 1982. Flora d'Italia, Edagricole, Bologna.
– Treben M., 2000. Health from the Lord's Pharmacy, Advice and Experiences with Medicinal Herbs, Ennsthaler Editore.
Caution: Pharmaceutical applications and alimurgical uses are indicated for informational purposes only, they do not represent in any way a medical prescription; it therefore declines all responsibility for their use for curative, aesthetic or food purposes.