Davilla rugosa
The bejuco colorado (Davilla rugosa Poir., 1812) is an arboreal species belonging to the Dilleniaceae family.
Systematics –
From the systematic point of view it belongs to the Eukaryota Domain, Kingdom Plantae, Magnoliophyta Division, Magnoliopsida Class, Dilleniales Order, Dilleniaceae Family, Doliocarpoideae Subfamily and therefore to the Davilla Genus and the D. rugosa Species.
The following terms are synonymous:
– Brazilian Davilla DC .;
– Davilla itaparicensis Casar .;
– Davilla pilosa Miq .;
– Davilla rugosa var. Rusby happened;
– Davilla rugosa var. kunthii Eichler;
– Davilla rugosa var. luschnathii Eichler;
– Davilla rugosa var. martii Eichler;
– Davilla rugosa var. sellowii Eichler;
– Davilla rugosa var. willdenowii Eichler;
– Davilla rugosa var. wrinkled Poir .;
– Tetracera lima Willd .;
– Tetracera file Willd. ex DC ..
Etymology –
The termien Davilla should come from Ávila or Avila which has relevance to the city of Ávila.
The specific wrinkled epithet comes from wrinkled, wrinkled, from rúga ruga: due to the presence of wrinkled or wrinkled organs.
Geographic Distribution and Habitat –
The Davilla rugosa native and present in the central-northern part of South America. It is found in Bolivia, Northern Brazil, Northeast Brazil, Southern Brazil, Southeast Brazil, West Central Brazil, Colombia, Ecuador, French Guiana, Guatemala, Guyana, Honduras, Panama, Paraguay, Peru, Suriname, Venezuela
Its habitat varies from 140 to 500 m above sea level.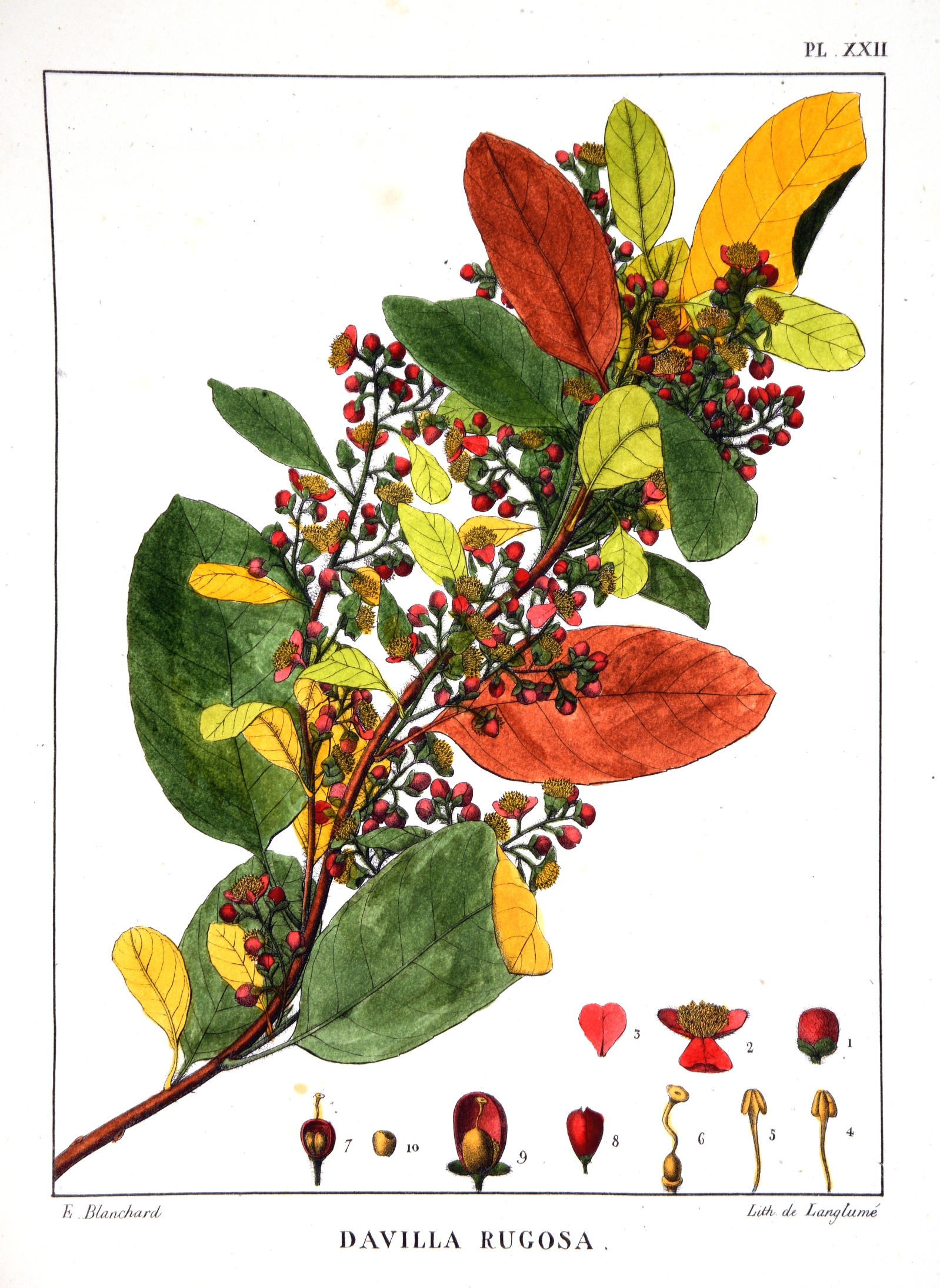 Description –
Davilla rugosa is a plant with elliptical to oblong elliptical leaves, 5-13 cm, from obtuse to rounded at the apex, with short petiole, entire or toothed margin, prominent veins on the underside.
The flowers are carried in terminal inflorescences.
The flowers have a 5-6 mm calyx, 6-8 mm petals.
The fruits are small, about 7 mm, of an initial green color and then tending to yellow-brown when ripe.
Cultivation –
Davilla rugosa is a plant that grows spontaneously where it was collected, especially in the past, for medicinal and religious uses.
Customs and Traditions –
Davilla rugosa, known by the common names of bejuco colorado or bejuco guará, is a herb that has historically been used in Brazilian folk medicine. One possible use of the herb is as an anxiolytic agent. For example, in one study, researchers made extracts using the stems of the plant and fed it to rats before exposing them to experimental stress. A significant anxiolytic effect was observed with the extract but it also had a stimulating effect on rats. This may suggest that the anxiolytic effect is related to the stimulating effects of the herb. It has been shown that the main active ingredients contained in the stem of the plant are flavonoids, saponins and mucilages.
The leaves of the plant have been shown to contain the flavonoids quercetin, kaempferol and myricetin. Other components identified in the plant include alkaloids and tannins. Instead, caffeine was isolated from the seed of the plant. The stimulating effect of the plant may therefore be due to caffeine, although it is not clear whether caffeine is represented in the stems, as used in this study.
Preparation Method –
The leaves of this plant are used, especially among the peoples of South America.
Guido Bissanti
Sources
– Acta Plantarum – Flora of the Italian Regions.
– Wikipedia, the free encyclopedia.
– Useful Tropical Plants Database.
– Conti F., Abbate G., Alessandrini A., Blasi C. (edited by), 2005. An annotated checklist of the Italian vascular flora, Palombi Editore.
– Pignatti S., 1982. Flora of Italy, Edagricole, Bologna.
– Treben M., 2000. Health from the Lord's Pharmacy, Advice and experiences with medicinal herbs, Ennsthaler Editore.
Warning: Pharmaceutical applications and alimurgical uses are indicated for informational purposes only, they do not represent in any way a medical prescription; therefore no responsibility is taken for their use for curative, aesthetic or food purposes.