Angostura trifoliata
Angostura (Angostura trifoliata (Willd.) TSElias) is an arboreal species belonging to the Rutaceae family.
Systematics –
From the systematic point of view it belongs to the Eukaryota Domain, Kingdom Plantae, Magnoliophyta Division, Magnoliopsida Class, Subclass Rosidae, Sapindales Order, Rutaceae Family and therefore to the Angostura Genus and to the A. trifoliata Species.
The terms are synonymous:
– Angostura cuspare Roem. & Schult .;
– Bonnetia trifoliata Walp .;
– Bonplandia angostura Rich .;
– Bonplandia angostura Spreng .;
– Bonplandia candolleana Spreng .;
– Bonplandia cuneifolia Spreng .;
– Bonplandia trifoliata Willd .;
– Cusparia angostura (Rich.) A. Lyons;
– Cusparia febrifuga Humb. ex DC .;
– Cusparia officinalis Engl .;
– Cusparia trifoliata (Willd.) Engl .;
– Galipea corymbosa Spreng .;
– Galipea cusparia A.St.-Hil. ex DC .;
– Galipea febrifuga Baill .;
– Galipea officinalis J. Hancock;
– Galipea trifogliata (Willd.) H. Karst .;
– Portenschlagia trifoliata Pohl ex Engl .;
– Sciuris officinalis Oken ..
Etymology –
Angostura da Angostura, old name of Ciudad Bolivar (Venezuela) derived from the homonymous tincture obtained from the bark of Angostura cuspara
The specific trifoliate epithet comes from the prefix tri-tre and fólium leaf: with leaves made up of three leaflets.
Geographic Distribution and Habitat –
Angostura is a plant native to South America, in an area between Brazil, Venezuela and Colombia.
Its typical habitat is that of the tropical forests in the Angostura area, crossed by the Orinoco River.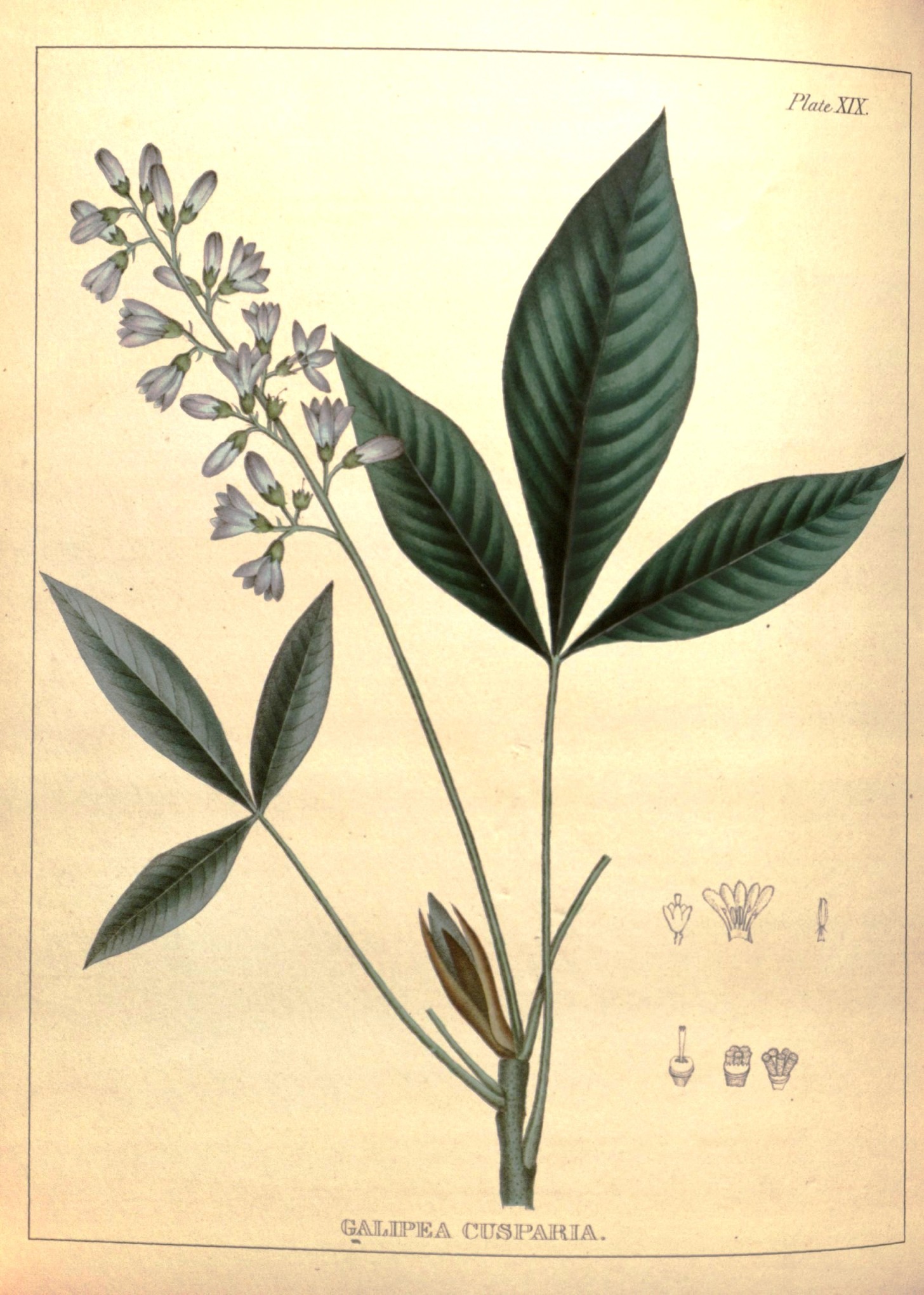 Description –
Angostura is an evergreen tree that grows from 18 to 24 meters.
The bark is greyish yellow; it is resinous and fragile.
The leaves are large, composed of three leaves with an ovoid lanceolate shape and an intense green color.
The flowers are carried in a terminal position in a sparse inflorescence; they have a pent-chamber conformation with purple-white petals.
Cultivation –
Angostura is a plant that grows mostly spontaneously, in the typical areas of the tropical forest where it is used, especially for the uses of the bark. However, it can be propagated by seed.
Customs and Traditions –
Angostura trifoliata is a medicinal plant native to South America.
The bark is a very popular treatment for fever in South America, where it is said to rival quinine in its effectiveness.
It was once used as the base of a well-known bitter tonic, Angustura bitter; today gentian root, bitter orange peel and other herbs and spices are used in its place.
Among the edible uses it should be remembered that an extract of the bark is used to flavor various foods including bitter tonics, baked goods, candies, ice cream, etc.
From a medicinal point of view, the resinous bark, fragile and acrid, is antidissenteric, bitter, digestive, febrifuge, stimulating and tonic.
In large doses it is emetic.
The plant has a high reputation as a febrifuge, rivaling, as mentioned, that of quinine (Cinchona spp.). It is considered an excellent treatment for intermittent fever and is widely used in the treatment of yellow fever.
However, some caution is advised, because the bark can be easily confused with the very poisonous bark of Strychnos nux-vomica.
The bark contains several active compounds including an essential oil and the alkaloids cusparin and galipin. These alkaloids have been shown to have antispasmodic activity.
The bark is bruised and used to poison the fish.
Preparation Method –
In food, Angostura is used in alcoholic beverages. However, today, as mentioned, Angostura bitters "which is sometimes used in mixing alcoholic beverages, no longer contains Angostura.
Angostura extract is likely safe for most adults when used in amounts commonly found in foods or drinks. There is not enough information to know if Angostura is safe in medicinal amounts, which are typically greater than the amounts found in foods or drinks. Large doses of Angostura could cause nausea and vomiting.
The appropriate dose of Angostura depends on several factors such as the user's age, health, and several other conditions.
Guido Bissanti
Sources
– Acta Plantarum – Flora of the Italian Regions.
– Wikipedia, the free encyclopedia.
– Useful Tropical Plants Database.
– Conti F., Abbate G., Alessandrini A., Blasi C. (edited by), 2005. An annotated checklist of the Italian vascular flora, Palombi Editore.
– Pignatti S., 1982. Flora of Italy, Edagricole, Bologna.
– Treben M., 2000. Health from the Lord's Pharmacy, Advice and experiences with medicinal herbs, Ennsthaler Editore.
Warning: Pharmaceutical applications and alimurgical uses are indicated for informational purposes only, they do not represent in any way a medical prescription; therefore no responsibility is taken for their use for curative, aesthetic or food purposes.
We suggest this purchase