Crambe maritima
Sea kale (Crambe maritima L.) is a herbaceous species belonging to the Brassicaceae family.
Systematics –
From the systematic point of view it belongs to the Eukaryota Domain, Kingdom Plantae, Magnoliophyta Division, Magnoliopsida Class, Capparales Order, Brassicaceae Family and therefore to the Crambe Genus and to the C. maritima Species.
The term is synonymous:
– Cochlearia maritima (L.) Crantz.
Etymology –
The term Crambe comes from the Greek κράμβη krambe cabbage.
The specific maritime epithet comes from mare mare: maritime, marine, which grows near the sea.
Geographic Distribution and Habitat –
Sea kale is a plant that grows wild along the European coasts, from the North Atlantic to the Black Sea.
The species is absent from North Africa and the Middle East. It is present from the coasts of the Black Sea of ​​Bulgaria, Romania, Turkey and Ukraine, including Crimea but is absent from most of the Mediterranean, reappearing again from northern France and Ireland to the Baltic Sea. In the Iberian peninsula, in Greece and in Italy it is not present and is replaced by the Crambe hispanica species, with which until recently its distribution has been confused; the species is also absent in Portugal, Greece, Italy and Spain, but it seems to be found in Croatia.
Furthermore, the findings referring to this species in Israel and Jordan are now classified as C. hispanica.
In Northern Europe it is very rare in Northern Ireland and Ireland.
In England it is mainly found on the south coast while in Wales it is found on the northern beaches and in Scotland in the far south west.
It is also rarely found along the coast of Norway, particularly in the Færder National Park.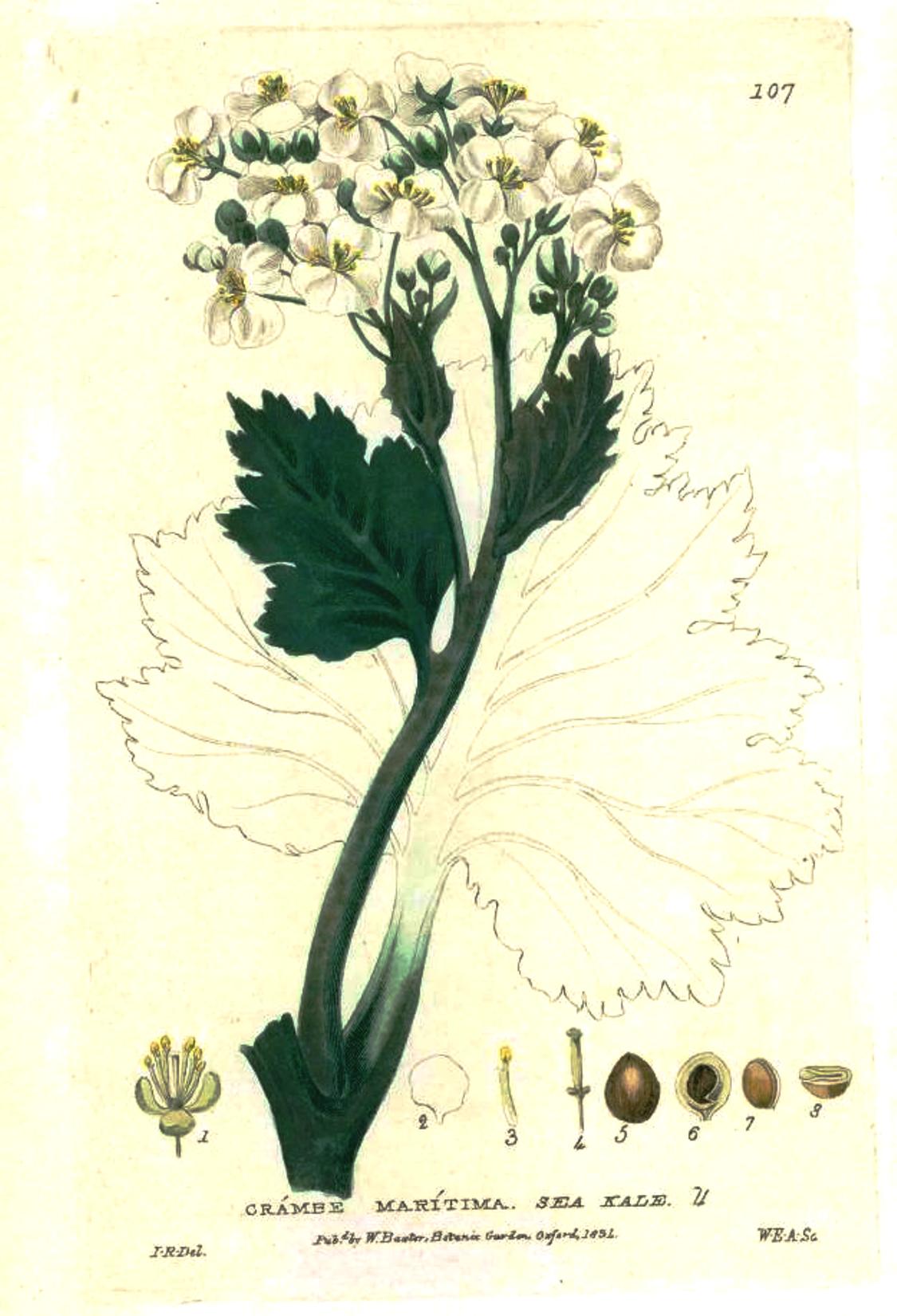 Description –
Crambe maritima is a glaucous green plant characterized by a large underground rhizome.
The usto is large and branchy.
The leaves have different shapes: the lower pinnatosette and the medium-round ones.
The flowers are white or pink and are gathered in racemes.
The fruit is an indehiscent siliqua.
Cultivation –
Sea kale is a vegetable that does not have great climatic needs and adapts to all environments. It prefers loose, fertile and well-structured soils. The plant can be propagated by seed or more frequently by rhizome cutting.
The sowing period runs from March to June and can be done both in seedbeds and in a conditioned environment.
Planting takes place when the plants have 4-5 leaves. Usually the plantation must be renewed every 7-8 years from the start of production.
Propagation by cuttings takes place in March.
From a fully efficient plant, pieces of rhizome are taken and planted in furrows in the ground.
Among the agronomic treatments to be given to this plant we remember the weeding, the fertilization on the roof, the cleaning of the dry leaves. For plants in production, the suppression of flowers must be added; furthermore, to obtain the whitening, the well developed head is covered with a hood.
Harvesting is done by hand, using a sickle with which the tufts are cut.
Customs and Traditions –
Crambe maritima is a little known plant even if it does not lack a certain food interest. It has a similar taste to that of other cabbages, although more delicate.
The use of this plant is very ancient.
There are 18th century records of harvesting by local populations along the coasts of England, who used this plant, digging and harvesting the emerging shoots, such as vegetables, in early spring. This custom was first reported by Phillip Miller in his 1731 Gardener's Dictionary as practiced among the indigenous peoples of Sussex.
John Martyn was the first to publish some practical notes on plant cultivation in a late edition of Miller's work, but William Curtis was the first to publish a treatise on his experiments in growing the plant as a vegetable crop in London in 1799, shortly before of his death, with John Maher giving a lecture before the Horticultural Society of London in 1805 and slightly elaborating on Curtis' work. Both Curtis and Maher advised growing the plant as a forced plant and cooking it as a vegetable to be blanched.
Thomas Jefferson grew these sea kale in Monticello between 1820 and 1825. [21] It was served at the Royal Pavilion in Brighton when Prince Regent George IV of the United Kingdom (1762-1830) used it as a seaside retreat.
By the Victorian era, sea kale had become "in very general use" as a vegetable in Britain, according to the popular cookbook Mrs Beeton's Book of Household Management, in which it is called a type of asparagus, although, at ninepence for a basket of sprouts, it was one of the most expensive vegetables you could have.
Its cultivation is discussed in the oldest books on horticulture. Wild stocks were severely reduced in Britain from over-harvesting in the wild until the practice was banned in the early 20th century.
Sea kale fell out of favor, but at the turn of the 21st century, British chefs made it fashionable. It is grown commercially by a number of farmers in Great Britain.
Maher says he considered blanched sea kale a delicacy. Curtis says that as a food, boiled for twenty minutes and coated in melted butter, it resembled most asparagus, albeit with hints of cabbage. He reports that he served it and found it pleasant; although some found it no better than cabbage, others found it superior even to asparagus.
Preparation Method –
Sea kale can be eaten and cooked or, simply blanched, like any other cabbage.
Guido Bissanti
Sources
– Acta Plantarum – Flora of the Italian Regions.
– Wikipedia, the free encyclopedia.
– Useful Tropical Plants Database.
– Conti F., Abbate G., Alessandrini A., Blasi C. (edited by), 2005. An annotated checklist of the Italian vascular flora, Palombi Editore.
– Pignatti S., 1982. Flora of Italy, Edagricole, Bologna.
– Treben M., 2000. Health from the Lord's Pharmacy, Advice and experiences with medicinal herbs, Ennsthaler Editore.
Warning: Pharmaceutical applications and alimurgical uses are indicated for informational purposes only, they do not represent in any way a medical prescription; therefore no responsibility is taken for their use for curative, aesthetic or food purposes.