Coptis teeta
The Yunnan goldthread (Coptis teeta Wallich) is a rare herbaceous species belonging to the Ranunculaceae family.
Systematics –
From the systematic point of view it belongs to the Eukaryota Domain, Kingdom Plantae, Magnoliophyta Division, Magnoliopsida Class, Magnoliidae Subclass, Ranunculales Order, Ranunculaceae Family, Coptoideae Subfamily and therefore to the Coptis Genus and to the C. teeta Species.
The term is synonymous:
– Coptis teetoides CY Cheng .;
Etymology –
The term Coptis comes from modern Latin, in turn from the Greek koptein, to be truncated, for the divided leaves.
The specific theeta epithet is uncertain; it could come from the diminutive of the name Marta in Aramaic, that is Martita, Teeta.
Geographic Distribution and Habitat –
Coptis teeta is a plant native to eastern Asia, northern China and the temperate regions of the Himalayas. It is found in Yunnan which is a province located in the southwest of China and from which it takes its ordinary name.
Its habitat is in evergreen broad-leaved forests and is found especially between 1500 and 2300 meters in northwestern Yunnan.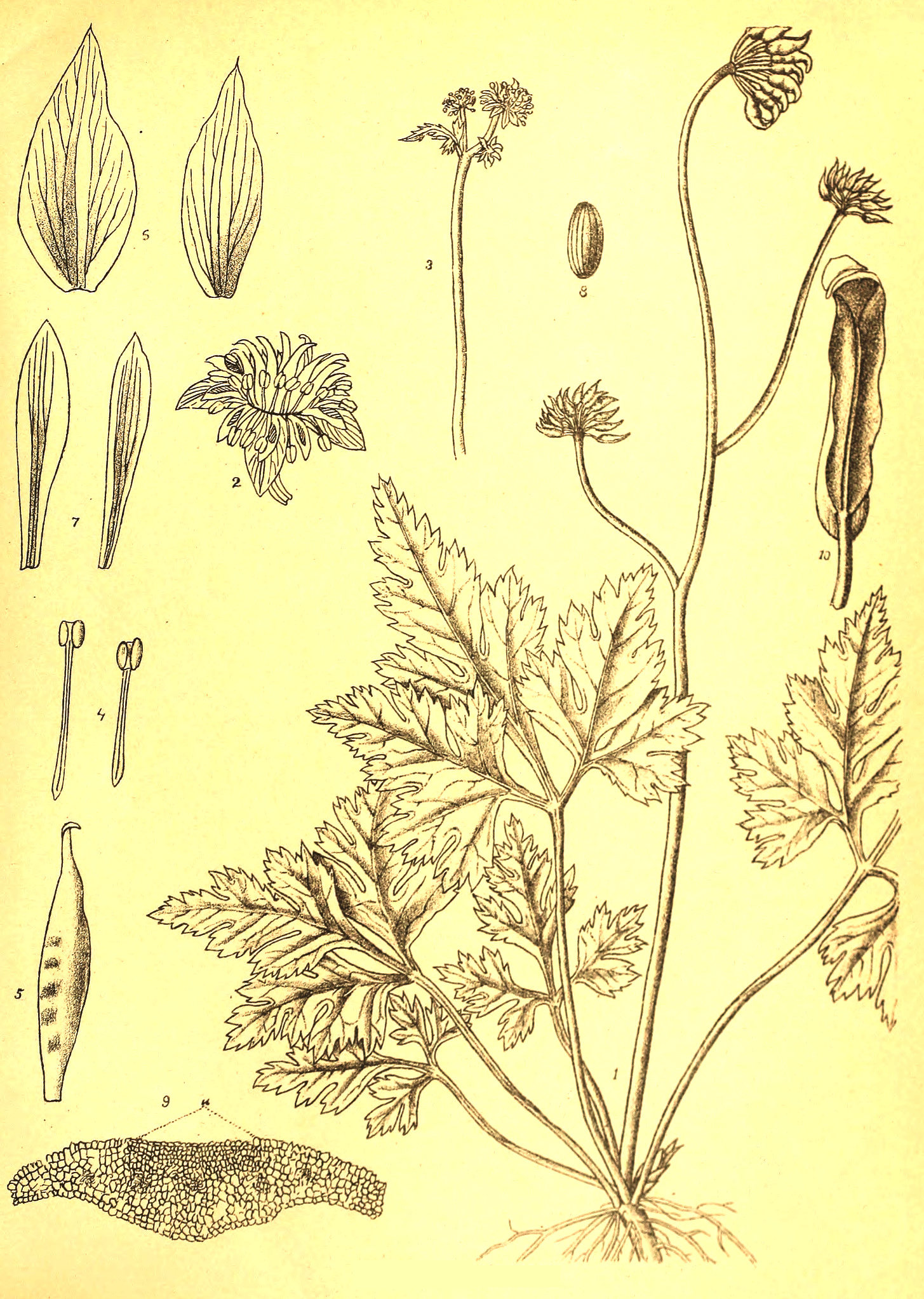 Description –
Coptis teeta is an evergreen perennial that grows up to 0.2m. it is a hermaphrodite species (it has both male and female organs) and is pollinated by insects.
It has an 8-19 cm petiole, glabrous; ovate-triangular leaf plate of 6-12 × 5-9 cm, triseptic, papery, abaxially glabrous, adaxially scarcely puberous on the veins, corded base; lateral subsessile to petiolate segments, shorter than the central one, obliquely ovate, unequally divided; central segment petiolate, ovate-rhombic, pinnately divided; segments 3-6 pairs, remote, sharp serrated edge, attenuated apex.
The inflorescences are composed of 3-5 flowers; bracts elliptical, in 3 parts or pointedly divided. The sepals are 5, greenish yellow, elliptical, 7.5-8 × 2.5-3 mm., Glabrous. The petals are spatulate, 5.4-5.9 mm, glabrous, rounded to obtuse apex. The stamens are 3-3.3 mm .; pistils 11-14. 7-9 mm follicles, hairless.
Cultivation –
There is little and fragmentary information on the cultivation of this species. It is cultivated as a medicinal plant in China where it can grow in slightly humid, humus-rich, slightly acid soils with northern exposure and in dim light.
Propagation occurs by seed. It is recommended to sow in a greenhouse as soon as the seed is ripe in a heather-based compost.
The jars should be sealed in polyethylene bags until germination occurs, which is usually within 1 – 6 months at 10 ° C. The stored seeds should be sown as early as possible in the year. Four-week cold stratification can be helpful. Seedlings should be placed in individual pots when they are large enough to handle and grow in a shaded area of ​​the greenhouse for at least their first winter. The transplant should be done in mid-autumn or in spring and the division of the single plants in spring.
Customs and Traditions –
Coptis teeta is a prominent plant in Chinese herbal medicine where it is known as Yunnan goldthread (Chinese: 雲南 黃連), its rhizome is used as an antimicrobial and anti-inflammatory.
Unfortunately this species is threatened with extinction. There are numerous factors that contribute to its danger. It is endemic to a very small area in the eastern Himalayas where its habitat is rapidly declining, partly due to deforestation and partly because it is over-harvested for medicinal use, while its reproductive capacity is low.
The plant is grown on a small scale in Yunnan using techniques that aim to conserve the species in its natural habitat.
The Lisu people of the area earn a large part of their income from growing the plant, which they grow using traditional agroforestry methods that have a low impact on the ecosystem.
The rhizome of this plant is refreshing, very bitter and pungent which controls bacterial and viral infections, relaxes spasms, lowers fever and stimulates circulation. It is locally analgesic and anesthetic and is used in Chinese medicine as a general panacea with alterative, ophthalmic and pectoral activity.
The root contains several compounds that are effective in inhibiting various bacteria and are a safe and effective treatment for many ailments, such as some forms of dysentery, which are generated by bacteria.
While no specific mention of toxicity has been found for this species, it belongs to a family that contains many species that are mildly toxic and therefore it is wise to treat this plant with some caution.
Preparation Method –
The Coptis teeta root is harvested in autumn and can be used fresh or dried for all its medical and pharmacological uses.
Guido Bissanti
Sources
– Acta Plantarum – Flora of the Italian Regions.
– Wikipedia, the free encyclopedia.
– Treben M., 2000. Health from the Lord's Pharmacy, Advice and experiences with medicinal herbs, Ennsthaler Editore
– Pignatti S., 1982. Flora of Italy, Edagricole, Bologna.
– Conti F., Abbate G., Alessandrini A., Blasi C. (edited by), 2005. An annotated checklist of the Italian vascular flora, Palombi Editore.
Warning: Pharmaceutical applications and alimurgical uses are indicated for informational purposes only, they do not represent in any way a medical prescription; we therefore decline all responsibility for their use for curative, aesthetic or food purposes.