Copaifera guyanensis
The Copaiba (Copaifera guianensis Desf.) Is an arboreal species belonging to the Fabaceae family.
Systematics –
From the systematic point of view it belongs to the Eukaryota Domain, Kingdom Plantae, Magnoliophyta Division, Magnoliopsida Class, Fabales Order, Fabaceae Family, Caesalpinioideae Subfamily, Detarieae Tribe and therefore to the Copaifera Genus and to the C. guianensis Species.
The terms are synonymous:
– Copaiba guianensis Kuntze;
– Copaifera beyrichii Hayne;
– Copaifera bijuga Hayne;
– Copaiva guianensis (Desf.) EHL Krause.
Etymology –
The term Copaifera, most likely, derives from the word copal which is a semi-fossil resin still produced today by various tropical plants, often by legumes.
The specific guyanensis epithet refers to its presumed origin in French Guiana or former British Guyana or Dutch Guyana (now Suriname).
Geographic Distribution and Habitat –
Copaifera guianensis is a plant found in southern North America; especially in Brazil, French Guiana, Guyana and Suriname.
Its habitat is that of swamp and rainforests.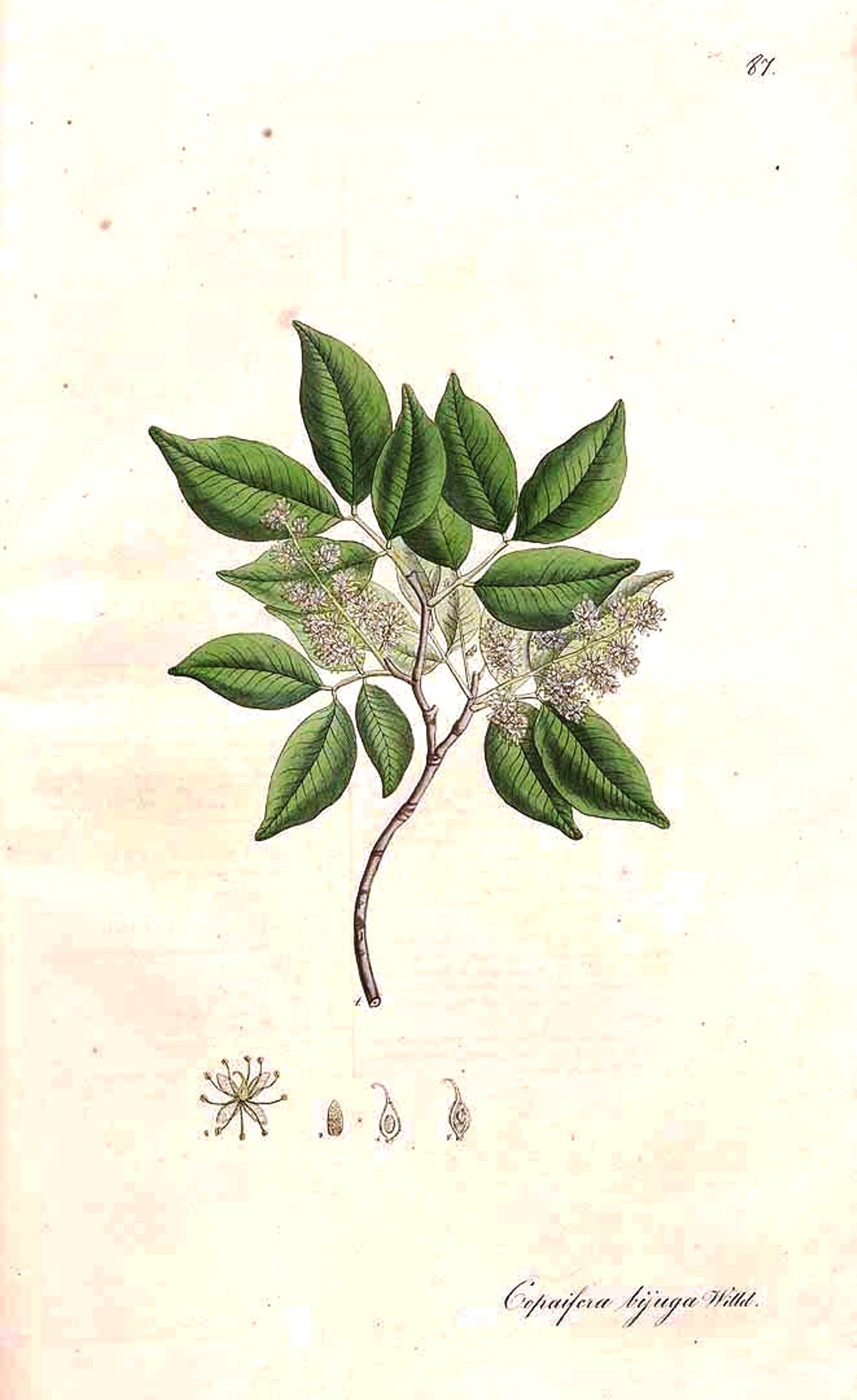 Description –
Copaifera guianensis is an evergreen tree that grows up to 30 – 40m in height.
The trunk has a thick base and a resin is obtained from this.
The leaves are oblong ovate, opposite, with darker green veins.
The flowers are small, with a floral banner covered by the other petals, when the flower is in bud, of white – yellowish – pink color, carried in inflorescences.
Cultivation –
Copaiba is a plant that is grown for the production of economically important resins and essential oils. Also important for the production of biodiesel and wood.
The plant prefers moist soil and can tolerate drought.
Customs and Traditions –
Copaifera guianensis is one of several main species of this genus that produce a balsamic resin. Although it varies in color, aroma, flavor, etc. From species to species, the resin has remarkably similar medicinal properties and is used interchangeably. It is exported in quantity for medicinal purposes and also for the production of paints, perfumery etc.
This plant is used as a food additive and as a flavoring in foods and drinks. It is also widely used in medicine for its antibacterial, antifungal, anti-inflammatory, disinfectant, diuretic and astringent properties. The resin can be taken internally to aid the respiratory, urinary and reproductive systems or applied externally for various skin disorders. It can also be used in gragarism to treat sore throats and tonsillitis. The resin, as mentioned, is also used in perfumery, paints and lacquers and as a substitute for diesel. Wood is used in light carpentry, interior paneling and joinery, flooring, boxes and crates, furniture, veneer and fiberboard.
This resin has been approved in the United States as a food additive and is used in small quantities as a flavoring agent in foods and beverages.
Copaifera guianensis has a very ancient history of medicinal use. It was widely used by native peoples before Europeans reached South America and these were soon taken over by Europeans as well.
Resin is an aromatic and stimulating herb with a bitter, burning taste. Both it and the bark are anodyne, antacid, antibacterial, antifungal, anti-inflammatory, antimicrobial, astringent, cytostatic, emollient, digestive, disinfectant, diuretic, expectorant, mildly laxative, vermifuge and vulnerable. The resin obtained from the trunk contains a number of medically active components, including 30-90% essential oils and unusual condensed tannins. The essential oil contains alpha and beta-caryophyllene, sesquiterpenes, resins and terpenic acids.
It generally improves digestion, has diuretic and expectorant effects, and controls bacterial infections. Much of the clinical research carried out to date has verified the traditional uses of copaiba. For example, it has been shown to be highly effective as a topical wound healing and anti-inflammatory agent. The anti-inflammatory effect is mainly due to sesquiterpenes, in particular caryophyllene which has also shown effective pain relieving properties, antifungal properties against nail fungus and gastroprotective properties. The resin as a whole (and, in particular, two of its diterpenes – copalic acid and kaurenoic acid) demonstrated significant antimicrobial activity against gram-positive bacteria. One of the other chemicals, kaurenoic acid, has also been shown to be selective antibacterial against Gram-positive bacteria in other recent studies.
Other constituents of the resin have shown significant antitumor activity.
Among other uses, it should be remembered that an oleoresin is obtained from the plant which is used in paints and lacquers; for photographic paper; remove paint from old oil paintings etc. The resin can be used, directly from the tree, as a substitute for diesel.
The heartwood ranges from pink to brownish red with copper-colored veins; it is clearly delimited by the 2-3 cm wide band of sapwood. The texture is medium; straight or woven grain, sometimes wavy. The wood is light to very light, soft to moderately hard; durable enough being resistant to fungi and termites. Ripens quickly with very little risk of control or distortion; once dry it is moderately stable to stable in use.
It can be worked with normal tools, although they must be kept sharp to avoid blurry surfaces; nailing and screwing are often poor; bonding is good. Wood has a wide range of uses, including light carpentry, interior trim and joinery, flooring, boxes and crates, furniture, veneer, and fiberboard.
Preparation Method –
The resin is taken internally in the treatment of a number of respiratory problems such as tuberculosis, bronchitis and sinusitis; diseases of the urinary tract and reproductive system such as cystitis, kidney and bladder infections, vaginal discharge and gonorrhea. Stomach ulcers, tetanus, herpes, pleurisy, and bleeding are just some of the other conditions treated with the resin.
Copaifera guianensis is used for external use in the treatment of a number of skin problems including insect bites, eczema, chilblains, sores and psoriasis. It is also used to treat wounds and stop bleeding.
It is used as an antiseptic, through gargle, to treat sore throats and tonsillitis. The resin should be used with caution for any toxicity problems.
The resin is extracted by threading at intervals on the shaft and subsequently the holes are filled. It is used in infusions or distilled for its essential oil.
Guido Bissanti
Sources
– Acta Plantarum – Flora of the Italian Regions.
– Wikipedia, the free encyclopedia.
– Treben M., 2000. Health from the Lord's Pharmacy, Advice and experiences with medicinal herbs, Ennsthaler Editore
– Pignatti S., 1982. Flora of Italy, Edagricole, Bologna.
– Conti F., Abbate G., Alessandrini A., Blasi C. (edited by), 2005. An annotated checklist of the Italian vascular flora, Palombi Editore.
Warning: Pharmaceutical applications and alimurgical uses are indicated for informational purposes only, they do not represent in any way a medical prescription; we therefore decline all responsibility for their use for curative, aesthetic or food purposes.