Commiphora gileadensis
Arabian balsam tree (Commiphora gileadensis (L.) C. Chr) is a shrub or small tree species belonging to the Burseraceae family.
Systematics –
From the systematic point of view it belongs to the Eukaryota Domain, Kingdom Plantae, Magnoliophyta Division, Magnoliopsida Class, Sapindales Order, Burseraceae Family, Commiphora Genus and therefore to the C. gileadensis Species.
The terms are synonymous:
– Amyris gileadensis L .;
– Amyris opobalsamum L .;
– Balsamea gileadensis (L.) Oken;
– Balsamea mechanensis Gled .;
– Balsamea opobalsamum Baill .;
– Balsamodendrum ehrenbergianum O. Berg;
– Balsamodendrum gileadense (L.) Kunth ex DC .;
– Balsamodendrum opobalsamum (L.) Kunth ex DC .;
– Balsamus libanotus Stackh .;
– Balsamus mechanensis Stackh .;
– Balsamus theophrasti Stackh .;
– Commiphora opobalsamum (L.) Engl ..
Etymology –
The term Commiphora comes from the Greek κόμμι cómmi rubber, resin and from φορέω phoréo bring: which produces resin.
The specific epithet gileadensis comes from Gilead or Gilead now Jalʻād, a region of ancient Palestine that now belongs to Jordan.
Geographic Distribution and Habitat –
Commiphora gileadensis is a plant that grows spontaneously in an area that includes tropical north-eastern Africa: Egypt, Sudan, Eritrea, Djibouti, Ethiopia, Somalia, Kenya; extending into Arabia.
Its habitat is that of acacia woods, scrubland and semi-desert; on limestone hills, sand dunes, red to gray sandy soil overlying limestone and complex limestone basements or rocky ridges, old lava flows, dry hilly savannah; at altitudes up to 1,300 meters.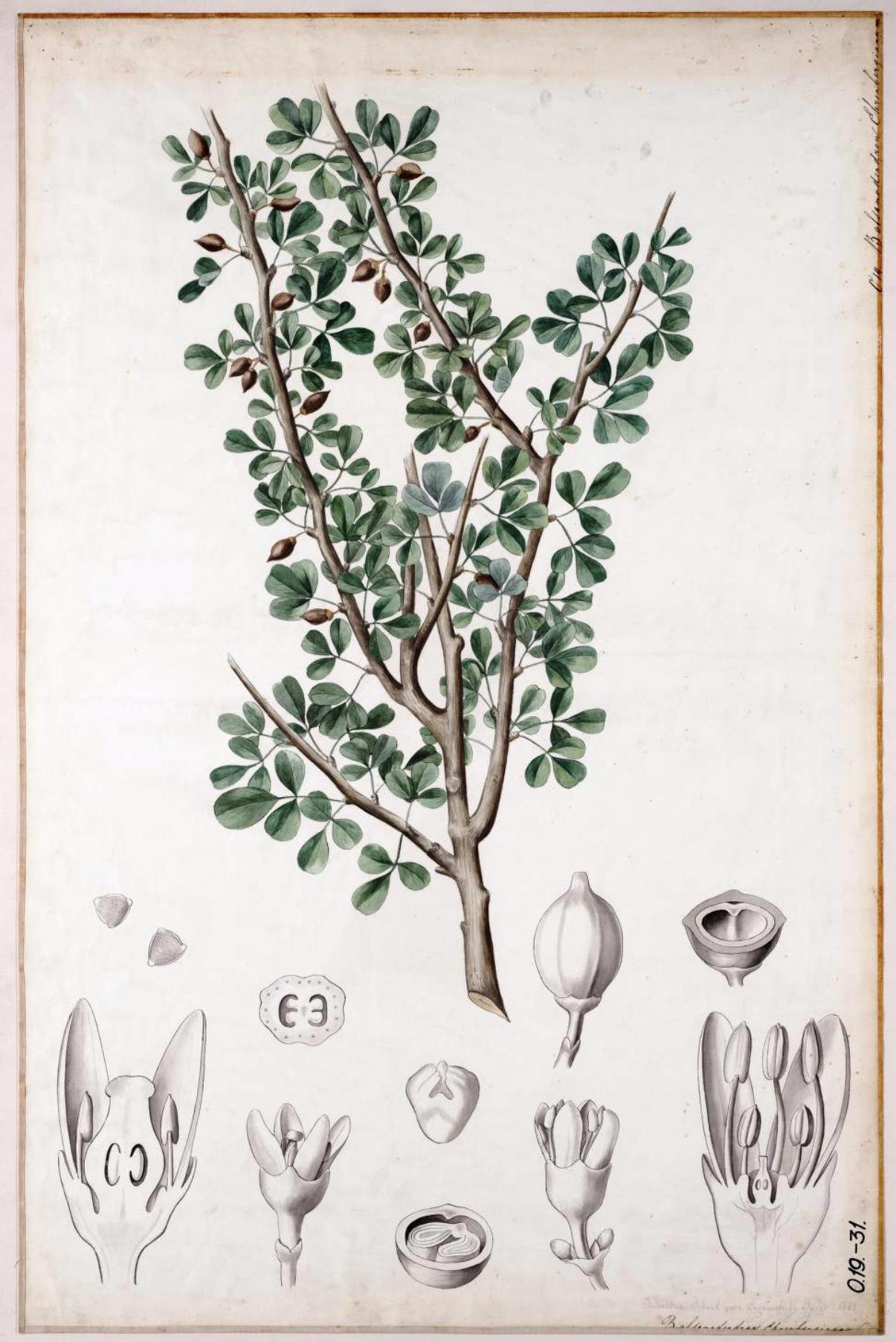 Description –
Commiphora gileadensis is a plant that, depending on where it grows, can vary in size, from a small-leaved shrub to a broad-leaved tree usually up to 4m in height.
It is a rarely thorny plant whose bark peels off or flakes when cut and gives off a pleasant-smelling resin.
The pinnate leaves, with 3-5 leaflets, alternate on short condensed lateral shoots. The leaflets are oblong, 5-40mm long x 3-35mm in diameter with sharp tips and are slightly hairy.
The flowers are red, sub sessile and the plant has 1-5 on short condensed lateral shoots between the leaves.
The fruits are opaque red and marked by four longitudinal white stripes; they have a seed and are divided into 2-4 valves.
Cultivation –
Arabian balsam tree is a plant of the driest areas of the tropics, where it is found at altitudes from near sea level to over 1,300 meters.
The tree is harvested in nature for its rubbery resin. It has a long history of cultivation, with evidence of its cultivation in the Dead Sea area dating back to the time of King Solomon; it is currently not very cultivated.
Propagation occurs by seed.
Customs and Traditions –
Commiphora gileadensis was renowned for the expensive scent it produced, as well as for the exceptional medicinal properties attributed to its sap, wood, bark and seeds (see Balm of Gilead). This plant is immediately recognizable by its pleasant smell emitted when a twig is broken or a leaf is crushed.
The bark of the balsam tree is cut to let the sap out. This hardens quickly and has a sweet smell that evaporates quickly. The hardened resinous gum is chewed, said to taste like a lemon or pine resin, and is also burned as incense.
The gummy resin obtained from the stems is astringent, emollient, diaphoretic, gastric and vulnerable.
It is used in the diuretic treatment of the genitourinary organs.
The rubber is applied externally to clean and heal wounds, severe ulcers, sores, etc.
The fruit is carminative, expectorant and stimulating.
Essential oil contains a bitter substance.
Preparation Method –
From the wounds or incisions of this plant, a resinous gum is obtained, brown to reddish in color, called "Balsam of Gilead"; this gum can also be obtained by boiling wood or leaves.
This balm is used not only for medicinal purposes but also in the production of incense and perfumery.
Guido Bissanti
Sources
– Acta Plantarum – Flora of the Italian Regions.
– Wikipedia, the free encyclopedia.
– Treben M., 2000. Health from the Lord's Pharmacy, Advice and experiences with medicinal herbs, Ennsthaler Editore
– Pignatti S., 1982. Flora of Italy, Edagricole, Bologna.
– Conti F., Abbate G., Alessandrini A., Blasi C. (edited by), 2005. An annotated checklist of the Italian vascular flora, Palombi Editore.
Warning: Pharmaceutical applications and alimurgical uses are indicated for informational purposes only, they do not represent in any way a medical prescription; therefore no responsibility is taken for their use for curative, aesthetic or food purposes.