Commiphora wightii
Gugul (Commiphora wightii (Arn.) Bhandari) is a shrub species belonging to the Burseraceae family.
Systematics –
From the systematic point of view it belongs to the Eukaryota Domain, Kingdom Plantae, Magnoliophyta Division, Magnoliopsida Class, Sapindales Order, Burseraceae Family and therefore to the Commiphora Genus and to the C. wightii Species.
The terms are synonymous:
– Balsamea mukul Baill .;
– Balsamodendron mukul Hook .;
– Balsamodendron mukul Hook. ex Stocks;
– Balsamodendron wightii Arn .;
– Balsamodendrum mukul Hook .;
– Balsamodendrum mukul Hook. ex Stocks;
– Balsamodendrum roxburghii Stocks;
– Balsamodendrum wightii Arn .;
– Commiphora mukul (Hook.) Engl .;
– Commiphora roxburghii Engl ..
Etymology –
The term Commiphora comes from the Greek κόμμι cómmi rubber, resin and from φορέω phoréo to bring: which produces resin.
The specific epithet wightii was given in honor of the Scotsman Robert Wight (1796-1872), military surgeon of the East-India Company and passionate botanist, lived for 30 years in eastern India and was for three years the director of the Botanical Garden of Madras; collected tons of specimens even with the help of collaborators and was in contact with many botanists of his time (Arnott Walker-Arnott, WJ Hooker, JD Hooker, Nees, Thwaites, Wallich, John Lindley, Robert Graham, Ernest Gottlieb von Steudel etc. .).
Geographic Distribution and Habitat –
Gugul is a plant native to East Asia, Pakistan, central and northern India.
Its habitat is that of rocky and open hilly areas or rough terrain and sandy stretches in warm and semi-arid or arid areas at altitudes between 250 and 1,800 meters.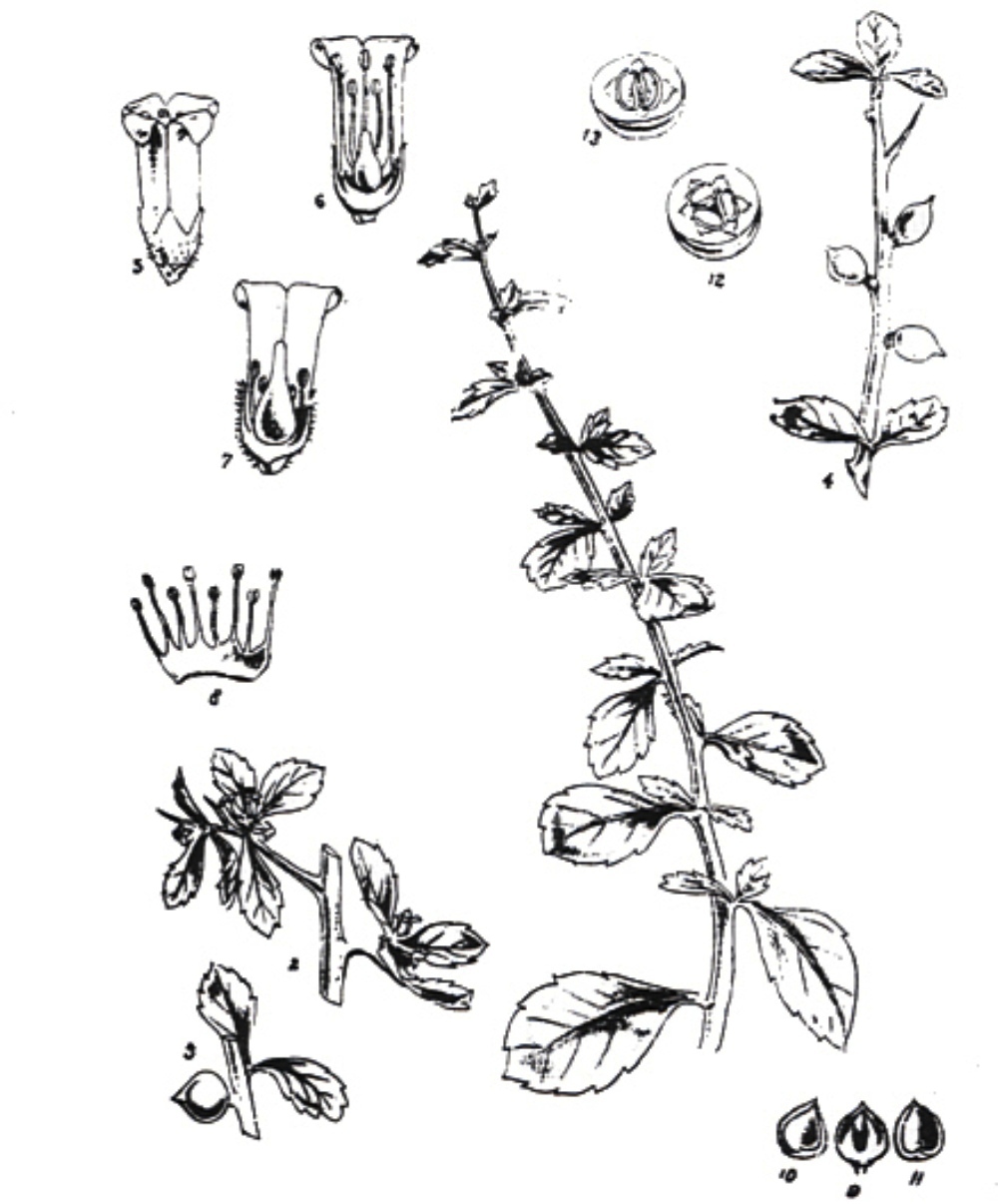 Description –
Gugul is a shrubby, deciduous, highly branched and thorny plant that grows up to 6 meters.
The bark is wrinkled and devoid of leaves at least in the warm months if not most of the year.
From the stems of the plant exudes a gum-resin widely used in medicine, as incense, in perfumery, etc.
Its flowers are pink and produce a drupe that ends in a point.
Cultivation –
Commiphora wightii is sometimes grown for its gum.
The tree is so heavily exploited in nature that populations, especially south of its range, are shrinking. The Indian government has banned the export of rubber to try to conserve stocks. The plant was once classified as "Vulnerable", but the current classification is "Data deficient" on the IUCN Red List of Threatened Species (2011).
This plant prefers semi-desert areas and is grown in the Middle East.
It is a typical plant of the arid and semi-arid areas of the tropics where it is found at altitudes between 250 and 1,800 meters. It is found in areas where the average annual rainfall is between 225 and 500 mm and the temperature is between 20 and 35 ° C.
Requires a sunny position and loose soil; in nature it grows on sandy and rocky soils.
It is a slow growing plant, it takes 8 to 10 years to reach a height of 3 – 3.5 meters. Pruning or removing branches in the early stages of plant growth helps to achieve better growth, increases the circumference of growing branches and thus leads to better rubber yield.
The plant, in the dry climatic conditions of its native environment, generally takes ten years to reach maturity to obtain the resin-rubber.
The yields are in the order of 200 – 500 grams of dry resin per tree per season.
The plants are dimorphic, one form has bisexual and male flowers, while the other has female flowers with stems; for this reason the pollen grains of bisexual or male flowers, present on the first form of plants, are necessary for the production of normal fruits on plants with only female flowers.
The plant propagates by seed.
Customs and Traditions –
This plant known in English as: Salaitree, Gum-gugul, Indian Bedellium, in Sanskrit as: Guggula, Guggulu, Kou-shikaha and in Hindu as: Gugal, Gugala, Guggul is one of the species from which myrrh is extracted.
The use of the Commiphora wightii is reported in texts dating back to 600 BC.
From the bark a bitter and pungent gum is obtained.
The resin is alterative, antiseptic, antispasmodic, aphrodisiac, astringent, carminative, emollient, emmenagogue, expectorant and gastric.
It is used in the treatment of muscular rheumatism. The gummy resin has been used extensively by Ayurvedic doctors for centuries to treat a wide variety of ailments.
It is a natural health product, mainly used to reduce high blood cholesterol levels.
It has been used for many years as a cholesterol-lowering agent in India, where it received prescription drug status, due to its high level of efficacy determined by clinical studies.
Among other uses we remember that Commiphora wightii is a plant that is sometimes grown as a barrier.
It is also widely used as incense and in perfumery.
The thick branches are selected in winter and their bark is engraved to extract the oleoresin rubber.
The commercial product of the oleo-rubber resin contains 58% resin along with mineral matter, 32.3% rubber, 4.65% foreign organic matter and 1.45% aromatic essential oil.
Young branches are used as a toothbrush to clean teeth and maintain dental hygiene.
Taking extracts of this plant in high doses could increase the side effects of estrogen hormones, such as those found in the birth control pill. In addition, Commiphora wightii could reduce the absorption of diltiazem and propranolol, lower the efficacy of tamoxifen, increase the side effects of thyroid drugs and increase the metabolism rate of cytochrome P450 3A4 substrate drugs. Furthermore, by slowing down the blood clotting speed, taking Commiphora wightii could increase the risk of bruising and bleeding in those taking anticoagulants or antiplatelet agents. For the same reason it can be contraindicated in cases of bleeding disorders and surgery.
Commiphora wightii can also be contraindicated in the case of pregnancy and breastfeeding, hyper- and hypothyroidism and conditions sensitive to hormones (some cancers, for example breast, uterus, ovary, or endometriosis or uterine fibroids).
It can also trigger gastrointestinal problems, hiccups and allergic reactions.
Preparation Method –
In general, the so-called guggulsterones are obtained from this plant.
The scientific evidence available suggests that it could be really useful in the treatment of acne, while it seems unlikely that it can help fight obesity. For the rest, the evidence supporting the proposed uses of Commiphora wightii are insufficient to guarantee the effectiveness of the treatments. Furthermore, it does not appear that EFSA (the European Food Safety Authority) has authorized claims that justify them.
Guido Bissanti
Sources
– Acta Plantarum – Flora of the Italian Regions.
– Wikipedia, the free encyclopedia.
– Treben M., 2000. Health from the Lord's Pharmacy, Advice and experiences with medicinal herbs, Ennsthaler Editore.
– Pignatti S., 1982. Flora of Italy, Edagricole, Bologna.
– Conti F., Abbate G., Alessandrini A., Blasi C. (edited by), 2005. An annotated checklist of the Italian vascular flora, Palombi Editore.
Warning: Pharmaceutical applications and alimurgical uses are indicated for informational purposes only, they do not represent in any way a medical prescription; therefore no responsibility is taken for their use for curative, aesthetic or food purposes.