Commelina tuberosa
The Asian spiderwort or blue spiderwort (Commelina tuberosa L.) is a herbaceous species belonging to the Commelinaceae family.
Systematics –
From the systematic point of view it belongs to the Eukaryota Domain, Kingdom Plantae, Magnoliophyta Division, Liliopsida Class, Commelinales Order, Commelinaceae Family and therefore to the Commelina Genus and to the C. tuberosa Species.
The term is synonymous:
– Commelina coelestis – Willd ..
Etymology –
The term Commelina of the genus was dedicated to Jan Commelin (1629-1692), professor of Botany in Amsterdam, scholar of the flora of Holland and the West Indies. His nephew Kaspar (1667-1731), also a professor in Amsterdam, took care of the flora of India.
The specific tuberose epithet comes from túber tuber, lump, due to the presence of root tubers.
Geographic Distribution and Habitat –
Commelina tuberosa is a herbaceous plant native to Mexico, Central and South America, but cultivated all over the world as an ornamental plant.
Its natural habitat is that of wet fields, open forests or pine forests. The species is sometimes believed to include the celestial Commelina species (of which some authors consider it a synonym), Commelina dianthifolia and Commelina elliptica, as in the Mesoamerican Flora.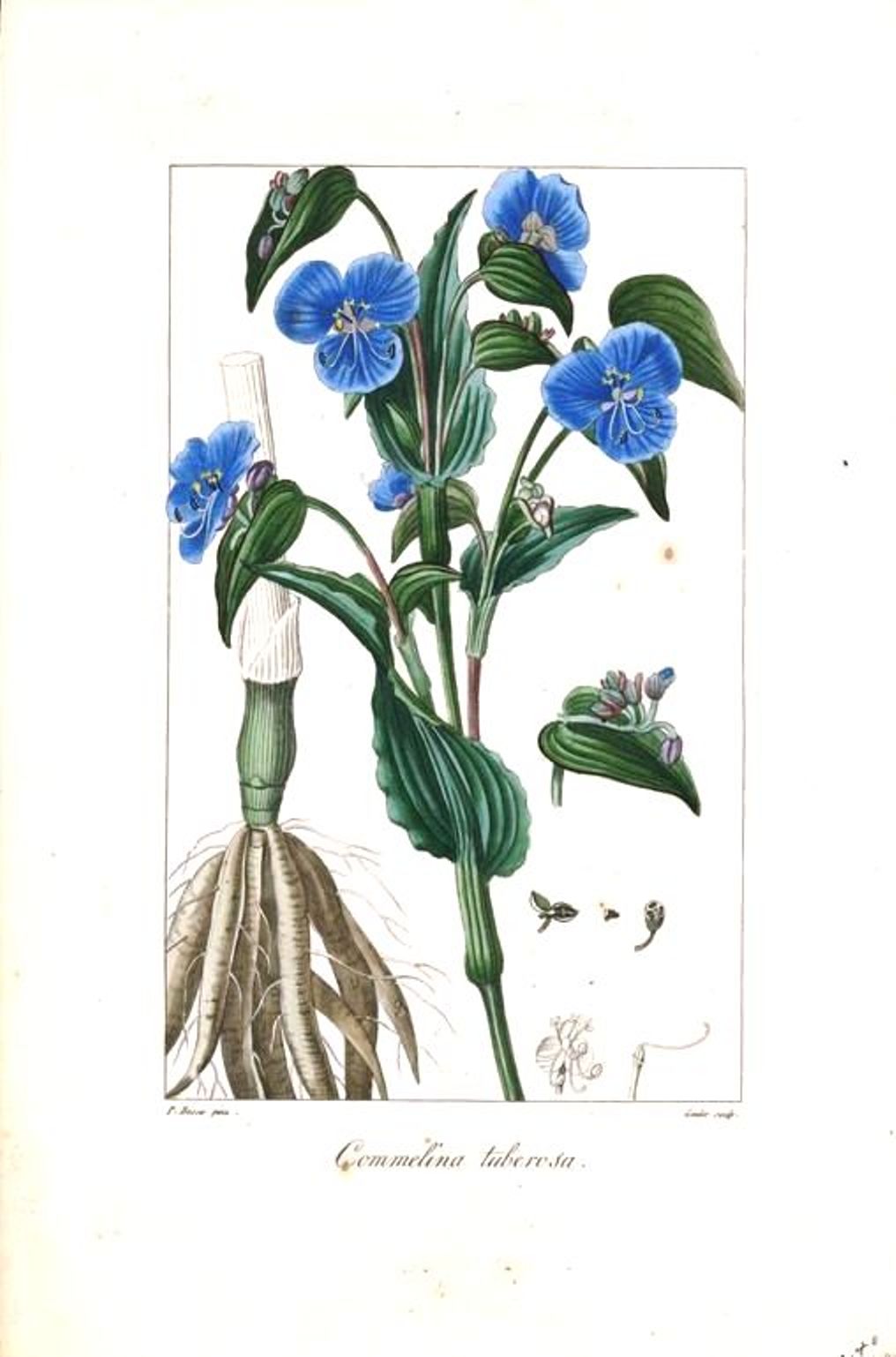 Description –
The Commelina tuberosa is a herbaceous species, which can be annual or perennial, forming mats or tufts, up to 0.1 m, with long and narrow leaves, which is recognized by its purple-spotted spathe with free margins.
The flowers have bright blue petals of equal size that bloom in the top part of the plant; these are characterized by having three tepals with the two upper ones facing upwards. The species is hermaphrodite (it has both male and female organs).
The antesis is between July and September and the seeds ripen from August to October.
The roots are tuberous.
Cultivation –
The Asian spiderwort is a very ornamental plant that prefers a light and well-drained soil with the addition of moldy leaves. However, it also grows in ordinary, reasonably humid soil, in a sunny position with some shelter. Plants are hardy to around -10 ° C if the roots are protected from frost. It is probably best to dig up the roots in the fall and store them like dahlias in a cool, frost-free place. If grown in light, well-drained soil and well mulched, the roots usually survive the winter outdoors.
Sowing must be done in March in a greenhouse. The seed usually germinates in 4 – 5 weeks at 20 ° C. When they are large enough to handle they can be transplanted into individual pots in late spring or early summer after the last expected frosts.
Customs and Traditions –
Commelina tuberosa is an ornamental herbaceous plant that is easy to grow in pots or planters and especially suitable for flowering borders in gardens.
It is easy to find on the market and produces larger flowers than the Commelina communis species, with the third tepal, the one facing downwards, very large and of the same light blue or blue color as the other two.
In the past this species has also found use as a medicinal plant using its green parts.
In Asian countries, India and China, some species of Commelina are consumed for food as a vegetable or leafy vegetable, although Commelina benghalensis is mainly used for this use.
In Chinese folk medicine, this plant has been used since ancient times for its febrifugal and anti-inflammatory, antipyretic and diuretic properties.
Due to the hydroxy-cinnamic acid content, it exerts an antibacterial activity especially against infections of the oropharyngeal cavity, but of throat and tonsillitis.
Preparation Method –
As for the uses and methods of use of this plant as a medicinal plant, they are linked to the medical tradition especially of India and China.
The leaves of this plant are also used as a vegetable and vegetable.
Guido Bissanti
Sources
– Acta Plantarum – Flora of the Italian Regions.
– Wikipedia, the free encyclopedia.
– Treben M., 2000. Health from the Lord's Pharmacy, Advice and experiences with medicinal herbs, Ennsthaler Editore
– Pignatti S., 1982. Flora of Italy, Edagricole, Bologna.
– Conti F., Abbate G., Alessandrini A., Blasi C. (edited by), 2005. An annotated checklist of the Italian vascular flora, Palombi Editore.
Warning: Pharmaceutical applications and alimurgical uses are indicated for informational purposes only, they do not represent in any way a medical prescription; we therefore decline all responsibility for their use for curative, aesthetic or food purposes.