Combretum sundaicum
Combretum sundaicum (Combretum sundaicum Miquel) is a shrub belonging to the Combretaceae family.
Systematics –
From the systematic point of view it belongs to the Eukaryota Domain, Kingdom Plantae, Magnoliophyta Division, Magnoliopsida Class, Myrtales Order, Combretaceae Family and therefore to the Genus Combretum de alla Specie sundaicum.
Etymology –
The term Combretum is a name used by Pliny for an unidentified climbing plant of another genus; according to a French edition of 1809 by Linnaeus from a Greek word meaning adorned, dressed, for seeds bristling with hair.
The specific epithet sundaicum is not known.
Geographic Distribution and Habitat –
Combretum sundaicum is a plant native to an area that includes eastern Asia: southern China, Thailand, Vietnam, Malaysia and Indonesia.
Its habitat is that of dense woods, arid thickets on sandy soil between 300 and 600 m.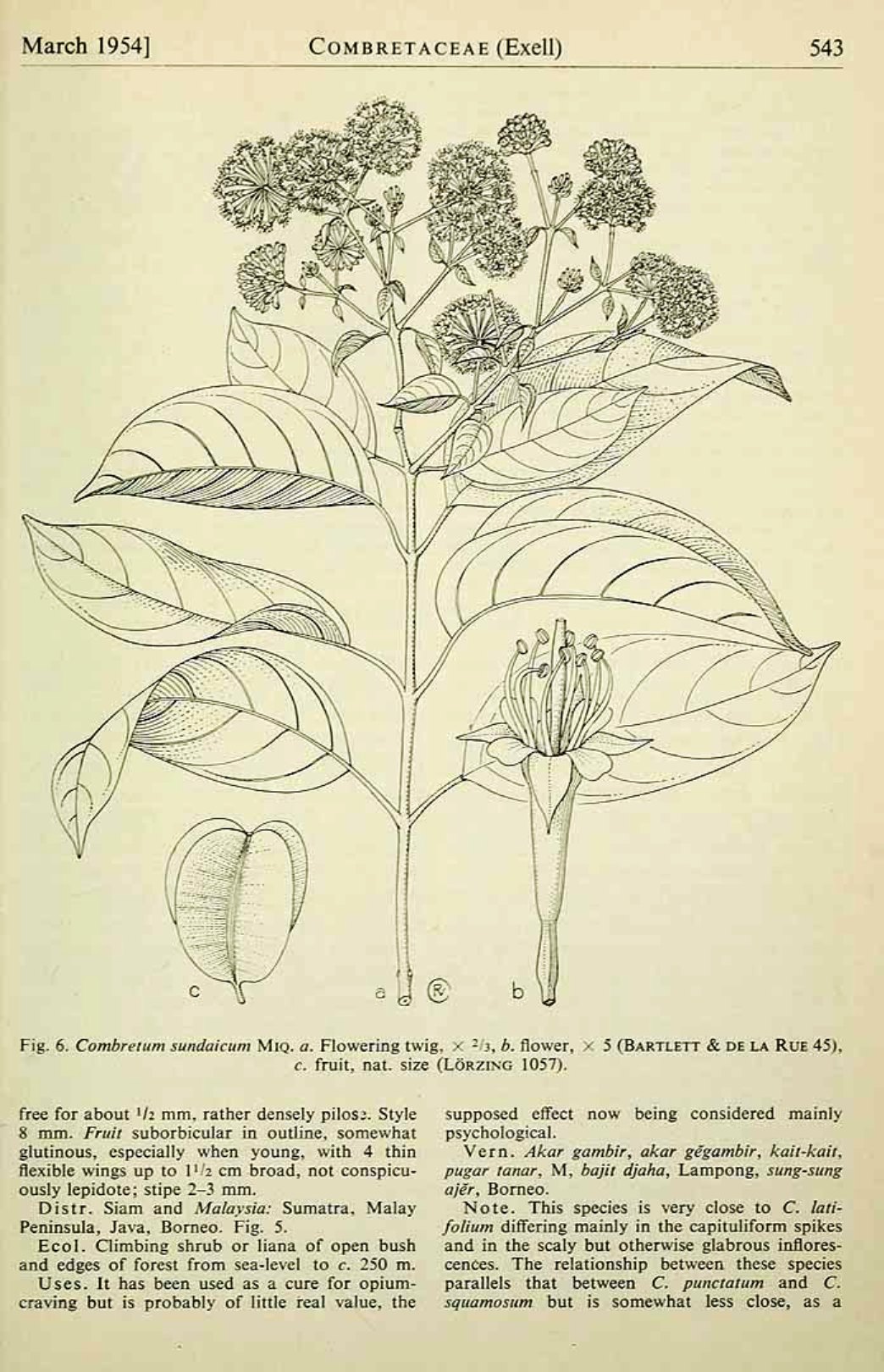 Description –
Combretum sundaicum is a plant in the form of a shrub or liana up to 30 m.
The young branches are densely ferruginous-scaly, glabrescent.
The leaves are opposite, broadly elliptical, 6-12 (15) cm × 3-7 (10) cm, with rounded or wedge-shaped base, predominantly sharp apex, initially densely scaly, petiole up to 2 cm long, rather slender.
The inflorescence is terminal panicle with head-shaped racemes.
The flowers are characterized by the distally narrow funnel-shaped tube of the calyx, 11-13 mm, abaxially hairless but initially scaly of yellow color, which becomes smooth after anthesis, adaxially with a ring of dense and coarse hairs not exercised; it has 4 lobes, reflexes, ± deltoid, of about 2 mm, with acute or briefly sharp apex. The petals are 4, white, oblong-elliptical or obovatious in shape of about 1,5 mm, with obtuse-rounded or retuso apex. The stamens are 8 by 5-6 mm.
The fruit is sub globose with 4 wings of 2-3.5 × 2-2.5 cm, scaly and yellow or red in color. The antesis runs from July to August.
Cultivation –
Combretum sundaicum which grows spontaneously in arid wooded areas, where it prefers sandy soils and which can reproduce by seed.
The seed can be stored inside the fruit for several years without losing vitality.
Customs and Traditions –
Combretum sundaicum is called in various ways in the places of origin; it takes the name of akar gambir-gambir in Indonesia, of sungsung ayer in western Borneo, of bayit jaha in Lampung (Sumatra) and of chưn bầ sun da or trâm bầu sun da in Vietnam.
The leaves apparently contain a resin and tannic acid, although no alkaloids have been observed.
A tea is made from the leaves that is used as well as against the use of opium.
The leaves are applied as a poultice to soothe the headache.
The leaves and roots are used as a poultice for wounds and boils.
Preparation Method –
In Peninsular Malaysia, the leaves and roots are used for poultice bubbles, and the leaves are applied to soothe headaches. The leaves were recommended as a cure for opium abstinence.
Guido Bissanti
Sources
– Acta Plantarum – Flora of the Italian Regions.
– Wikipedia, the free encyclopedia.
– Treben M., 2000. Health from the Lord's Pharmacy, Advice and experiences with medicinal herbs, Ennsthaler Editore
– Pignatti S., 1982. Flora of Italy, Edagricole, Bologna.
– Conti F., Abbate G., Alessandrini A., Blasi C. (edited by), 2005. An annotated checklist of the Italian vascular flora, Palombi Editore.
Warning: Pharmaceutical applications and alimurgical uses are indicated for informational purposes only, they do not represent in any way a medical prescription; we therefore decline all responsibility for their use for curative, aesthetic or food purposes.