Coix lacryma-jobi
Job's Tears (Coix lacryma-jobi L.) is a herbaceous species belonging to the Poaceae family.
Systematics –
From the systematic point of view it belongs to the Eukaryota Domain, Kingdom Plantae, Poales Order, Poaceae Family, Panicoideae Subfamily, Maydeae Tribe and therefore to the Coix Genus and to the C. lacryma-jobi Species.
The following terms are synonymous:
– Coix agrestis Lour .;
– Coix arundinacea Lam .;
– Coix chinensis Tod .;
– Coix chinensis Tod. formerly Balansa nom. illeg.;
– Coix exaltata Jacq. formerly Spreng .;
– Coix gigantea J.Jacq. nom. illegally;
– Coix lacryma L. nom. illeg.;
– Coix ma-yuen Rom.Caill .;
– Coix ouwehandii Koord .;
– Coix ovata Stokes nom. illeg.;
– Coix palustris Koord .;
– Coix pendula Salisb. nom. illegally;
– Coix pumila Roxb .;
– Coix stenocarpa (Oliv.) Balansa;
– Coix stigmatosa K. Koch & Bouché;
– Coix tubulosa Hack .;
– Lithagrostis lacryma-jobi (L.) Gaertn .;
– Sphaerium lacryma (L.) Kuntze nom. illegally;
– Sphaerium tubulosum (Warb.) Kuntze.
Etymology –
The term Coix comes from the Greek κοιξ, the name of an Egyptian palm in Theophrastus and Hippocrates.
The specific epithet lacryma-jobi, comes from Latin and means Job's tear in reference to the appearance of pearly white grains, similar to tears, also used to make rosaries; note that the orthographically correct form would be lacrima-jobi and that the form lachryma-jobi is also sometimes used.
Geographic Distribution and Habitat –
Job's Tears is a tropical plant native to East Asia and the peninsula of Malaysia but which is now also cultivated elsewhere, and in particular in the Americas.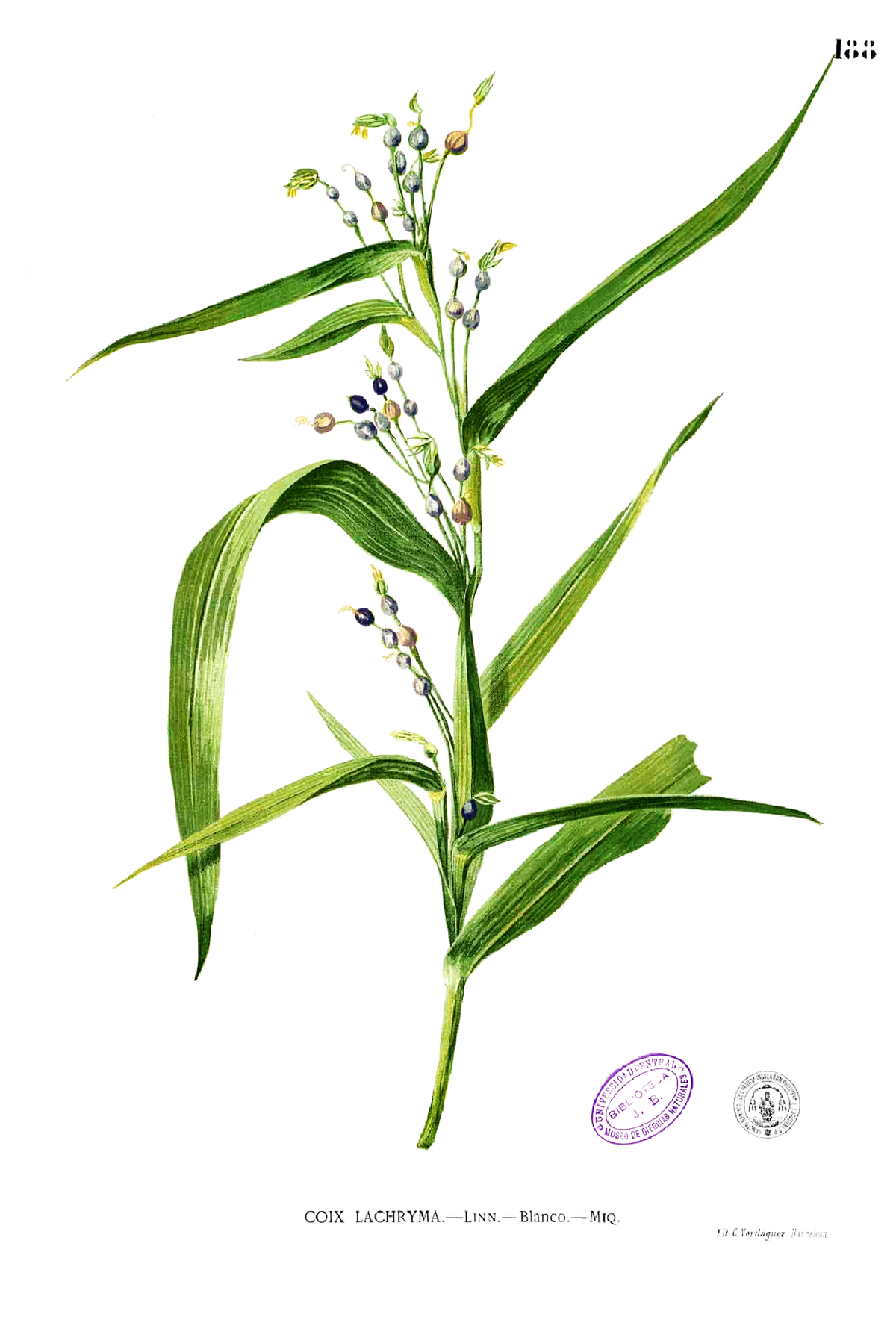 Description –
Job's Tears is a plant about one meter and fifty tall.
It has roots that develop very similar to those of wheat.
Its seeds have a very characteristic and oval shape, with a color that varies from green, to purple, to shades of brown, reminiscent of drops: hence, the origin of its name "tears".
Cultivation –
Coix lacryma-jobi is a plant whose cultivation is widespread in India where it is treated to obtain a beer called zhu.
It is a plant that, also cultivated in America, needs direct sunlight and can fear cold and frosts.
Customs and Traditions –
Archaeological finds of pottery residues from a Yangshao culture site in China show that Job's tears were used to brew beer as early as 3000 BC.
Furthermore, remains of Job's tears have been found in archaeological sites in northeastern India, dating back to about 1000 BC.
This plant has historically been used to use its grains as pearls to make necklaces and other items.
The grains of this plant are widely consumed as cereals and sometimes used as folk medicine.
Job's tears are available in dried form and cooked like a grain throughout East Asia; the grains are generally spherical, with a groove on one end and a glossy white color. Raw grains are also sold in Japan. In Korea, a thick drink called yulmu cha (율무, literally "tea with Job's tears") is made from powdered Job's tears. A similar drink, called yi ren jiang (薏仁 漿), also appears in Chinese cuisine, and is prepared by simmering Job's tears in water and sweetening the resulting thin, cloudy liquid with sugar. The beans are usually filtered out of the liquid but can also be consumed separately or together. In southern China, Job's tears are often made into a sweet dessert soup. One variety is called ching bo leung (清 補 涼) in Cantonese, and is also known as sâm bổ lượng in Vietnam.
In Cambodia, where it is known as skuay (ស្គួយ), it is used both in herbal medicine and to prepare an ingredient in desserts. In Thailand it is often consumed to make tea and other beverages, such as soy milk.
In both Korea and China, distilled liqueurs are also made from wheat. A Korean liquor is called called okroju (옥로 주; Hanja: 玉露 酒), which is made from rice and Job's tears. The beans are also made into beers in northeastern India and other parts of Southeast Asia.
In traditional Chinese medicine, Job's tears are used in conjunction with other herbs.
In particular, the Coix lacryma-jobi var. ma-yuen has been used in traditional Chinese medicine to invigorate spleen function and promote urination, relieve arthritis, stop diarrhea, remove heat, and facilitate pus drainage.
There are two main varieties of the species: one wild and one cultivated. The wild variety, Coix lacryma-jobi var. lacryma-jobi, has hard-shelled pseudocarps, very hard oval structures, pearl white, used as beads for making rosaries, necklaces and other objects. The cultivated variety Coix lacryma-jobi var. ma-yuen is harvested as a grain crop, has a soft shell and is used medicinally in parts of Asia.
Preparation Method –
Coix lacryma-jobi is a plant whose food and pharmaceutical uses are varied.
In particular, in East Asia, Job's Tears can be found in the form of beans that are dried and then cooked. The beans are generally spherical, of a glossy white color, although in Japan there is a variety with dull brown beans. In Korea, a thick drink called yulmu cha is made from the powder of its seeds. A similar drink, called yì mí shǔi, is present in Chinese cuisine, and is obtained through the slow boiling of the plant and the addition of sugar to the resulting liquid. Both in China and in Korea distillates are obtained from the beans such as the Korean liqueur called okroju. The use of the seeds is used in both traditional Chinese and Indian medicine.
Guido Bissanti
Sources
– Acta Plantarum – Flora of the Italian Regions.
– Wikipedia, the free encyclopedia.
– Useful Tropical Plants Database.
– Conti F., Abbate G., Alessandrini A., Blasi C. (edited by), 2005. An annotated checklist of the Italian vascular flora, Palombi Editore.
– Pignatti S., 1982. Flora of Italy, Edagricole, Bologna.
– Treben M., 2000. Health from the Lord's Pharmacy, Advice and experiences with medicinal herbs, Ennsthaler Editore.
Warning: Pharmaceutical applications and alimurgical uses are indicated for informational purposes only, they do not represent in any way a medical prescription; we therefore decline all responsibility for their use for curative, aesthetic or food purposes.