Cinchona nitida
Cinchona nitida (Cinchona nitida Ruiz & Pav.) Is an arboreal species belonging to the Rubiaceae family.
Systematics –
from the systematic point of view it belongs to the Eukaryota Domain, Kingdom Plantae, Magnoliophyta Superdivision, Magnoliopsida Class, Rubiales Order, Rubiaceae Family and therefore to the Cinchona Genus and to the C. nitida Species.
The terms are synonymous:
– Cinchona discolor Klotzsch;
– Cinchona lancifolia var. nitida (Ruiz & Pav.);
– Cinchona Peruviana var. nitida (Ruiz & Pav.);
– Cinchona stenosiphon K. Krause.
Etymology –
The name Cinchona derives from Ana de Osorio, countess of Cinchon and wife of the viceroy of Peru, who according to legend discovered on herself the virtues of cinchona bark, recovering from malarial fevers and deciding to import it to Europe (1639). The specific nitida epithet comes from sharp, shiny, shiny, clean, shining, for the luster of its leaves.
Geographic Distribution and Habitat –
Cinchona nitida is a plant found in Peru, Colombia and possibly Ecuador. Its habitat is similar to other species of its genus where it grows well in a hot-humid climate and at mountain altitudes.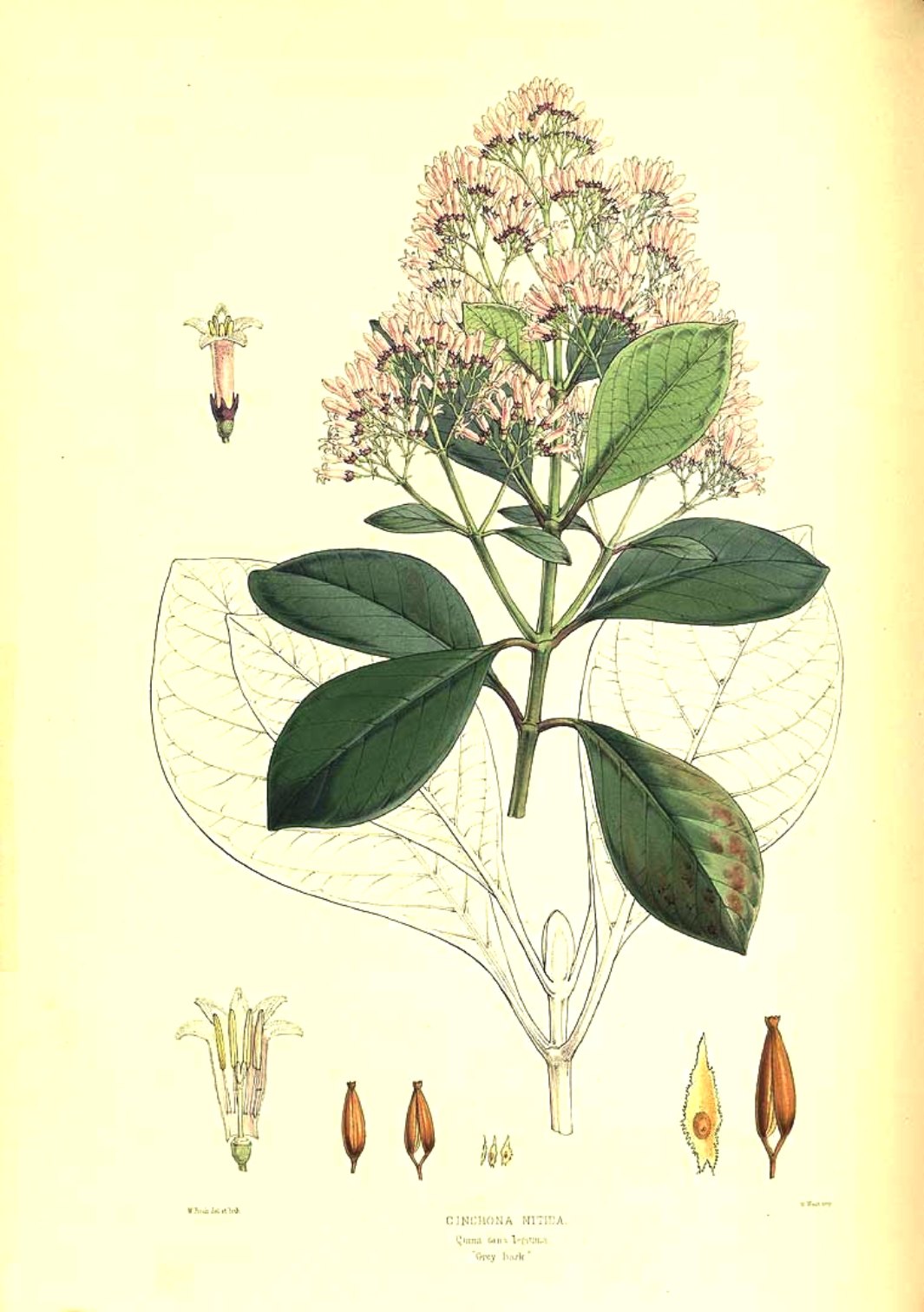 Description –
Cinchona nitida is an arboreal species characterized by elliptical leaves with a thicker texture, compared to the other species of its genus, shiny above.
It has flowers with a 2.5-3 mm long calyx and a little larger with the corolla tube 14-15 mm long and thinner.
This species is similar in general appearance to C. officinalis.
Cinchona nitida is also similar to C. lancifolia.
Cultivation –
Cinchona nitida is a plant that, like other similar species, grows spontaneously in some areas of America in an area that includes mainly Peru and Colombia.
Customs and Traditions –
This species was described as a stand-alone species by Andersson in 1998.
The bark contains the active ingredients: quinine alkaloids (from which quinine and quinic acid have been extracted), essential oil and resins.
It has anti-malarial, pain-relieving and anti-fever properties in higher doses.
It is bitter, tonic and digestive: in small doses, in sweetened and flavored alcoholic solutions.
In herbal medicine it is used to counteract the negative effects of low blood pressure.
In cosmetics, extracts are used for frictions against oily hair.
Preparation Method –
In the right dose it is also used to make drinks fluorescent yellow.
Guido Bissanti
Sources
– Acta Plantarum – Flora of the Italian Regions.
– Wikipedia, the free encyclopedia.
– Useful Tropical Plants Database.
– Conti F., Abbate G., Alessandrini A., Blasi C. (edited by), 2005. An annotated checklist of the Italian vascular flora, Palombi Editore.
– Pignatti S., 1982. Flora of Italy, Edagricole, Bologna.
– Treben M., 2000. Health from the Lord's Pharmacy, Advice and experiences with medicinal herbs, Ennsthaler Editore.
Warning: Pharmaceutical applications and alimurgical uses are indicated for informational purposes only, they do not represent in any way a medical prescription; we therefore decline all responsibility for their use for curative, aesthetic or food purposes.