Cinchona lancifolia
Cinchona lancifolia (Cinchona lancifolia Mutis) is an arboreal species belonging to the Rubiaceae family.
Systematics –
from the systematic point of view it belongs to the Eukaryota Domain, Kingdom Plantae, Magnoliophyta Superdivision, Magnoliopsida Class, Rubiales Order, Rubiaceae Family and therefore to the Cinchona Genus and to the C. lancifolia Species.
The terms are synonymous:
– Cinchona condaminea var. lancifolia (Mutis) Wedd .;
– Cinchona lancifolia var. discolor H. Karst .;
– Cinchona lancifolia var. real Howard.
Etymology –
The name Cinchona derives from Ana de Osorio, countess of Cinchon and wife of the viceroy of Peru, who according to legend discovered on herself the virtues of cinchona bark, recovering from malarial fevers and deciding to import it to Europe (1639). The specific epithet comes from láncea lancia and folium leaf: with lanceolate leaves.
Geographic Distribution and Habitat –
Cinchona lancifolia is a plant that grows in Ecuador, Venezuela and on the Andes and Eastern Cordillera in Colombia where it grows in habitats between 1,700 and 2,700 m. s.l.m ..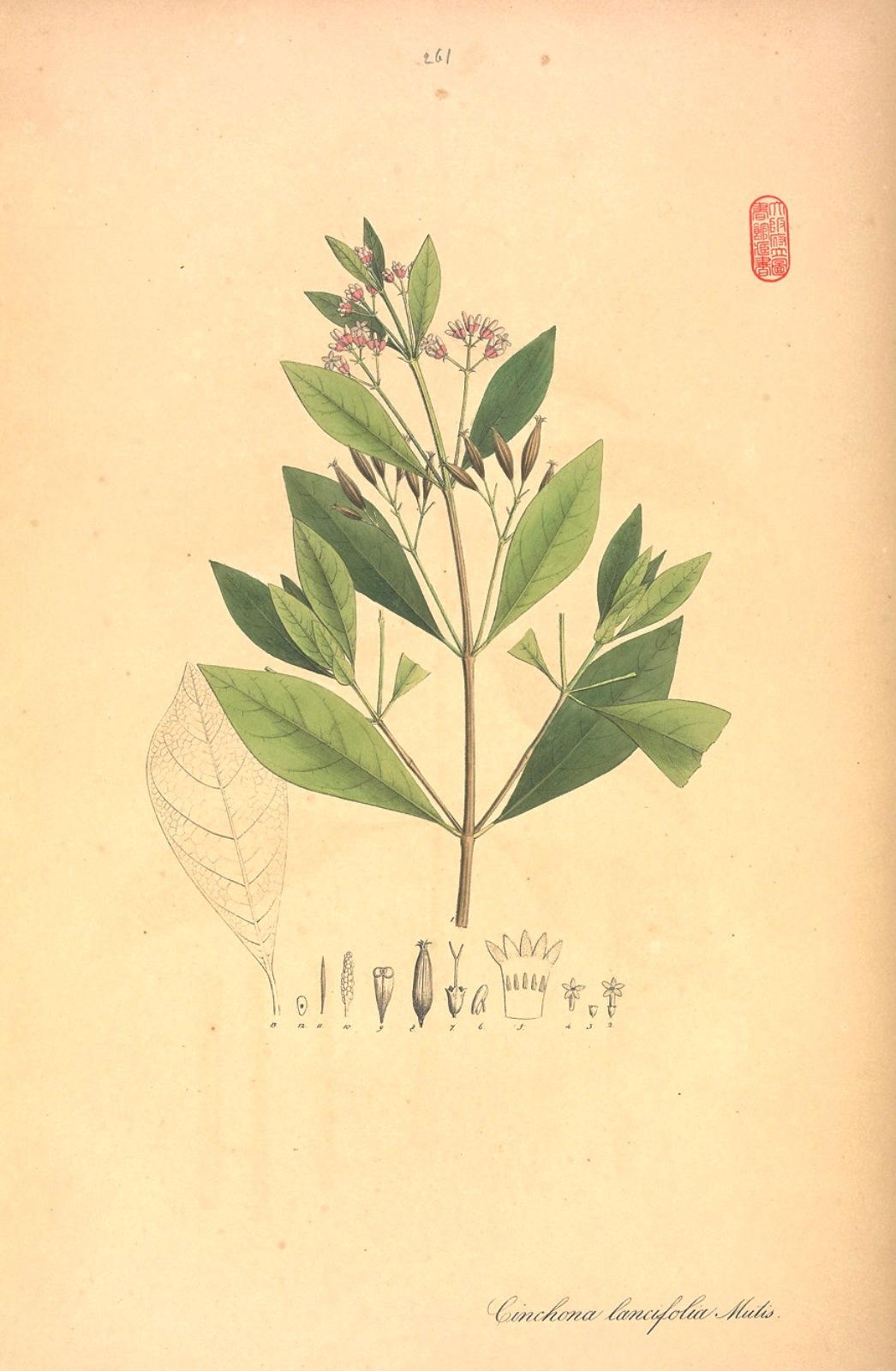 Description –
Cinchona lancifolia is an evergreen tree, 10 to 12m tall, which tends to grow in isolated conditions.
The trunk has a diameter of about 40 cm.
The branches are round, erect and grow in opposite pairs.
The leaves are green, glossy, oval-lanceolate and about 11 cm long.
The flowers are fragrant and pinkish-white in color.
Cultivation –
Cinchona lancifolia is a tree that grows spontaneously in typical mountain habitats and impervious environments.
Customs and Traditions –
Cinchona lancifolia, like all other cinchona species, is characterized by having a bark that contains quinine and is particularly rich in the cinchonine alkaloid.
Quinine of this species is particularly bitter and febrifuge and the bark contains about 35 g. per kilo.
As with other plants of its genus, this plant is used in medicine for its aromatic, balsamic, antipyretic, antidote and febrifuge properties.
Preparation Method –
Cinchona lancifolia bark is processed into various preparations, such as tablets, liquid extracts, tinctures and powders.
Quinine is also used in the manufacture of hair oils, shampoos and insecticides, as well as as a vulcanizing agent and in the preparation of some metals.
In addition, quinine, in the form of hydrochloride, is used as a bitter aroma in tonic water, carbonated drinks and other alcoholic beverages.
However, it should be noted that overuse has various side effects such as headache, rash, abdominal pain, deafness and blindness.
Guido Bissanti
Sources
– Acta Plantarum – Flora of the Italian Regions.
– Wikipedia, the free encyclopedia.
– Useful Tropical Plants Database.
– Conti F., Abbate G., Alessandrini A., Blasi C. (edited by), 2005. An annotated checklist of the Italian vascular flora, Palombi Editore.
– Pignatti S., 1982. Flora of Italy, Edagricole, Bologna.
– Treben M., 2000. Health from the Lord's Pharmacy, Advice and experiences with medicinal herbs, Ennsthaler Editore.
Warning: Pharmaceutical applications and alimurgical uses are indicated for informational purposes only, they do not represent in any way a medical prescription; we therefore decline all responsibility for their use for curative, aesthetic or food purposes.