Cassia fistula
Golden shower (Cassia fistula L.) is an arboreal species belonging to the Fabaceae family.
Systematic –
From the systematic point of view it belongs to the Eukaryota Domain, Kingdom Plantae, Magnoliophyta Division, Magnoliopsida Class, Fabales Order, Fabaceae Family, Caesalpinioideae Subfamily and therefore to the Cassia Genus and to the C. fistula Species.
The terms are synonymous:
– Bactyrilobium fistula Willd .;
– Cassia bonplandiana DC .;
– Cassia excelsa Kunth;
– Cassia fistuloides Collad .;
– Cassia rhombifolia Roxb .;
– Cathartocarpus excelsus G. Don;
– Cathartocarpus fistula Pers .;
– Cathartocarpus fistuloides (Collad.) G. Don;
– Cathartocarpus rhombifolius G. Don.
Etymology –
The term Cassia comes from the Greek name κασια casia used by Dioscorides for a plant belonging to this genus or a similar one, taking up the Hebrew name quetsi'oth.
The specific epithet fistula comes from the tube for water, fistula: for the tubular shape of the legumes.
Geographical Distribution and Habitat –
Cassia fistula is a species native to the Indian subcontinent and adjacent regions of Southeast Asia. Its range extends from the east across India to Myanmar and Thailand and from the south to Sri Lanka and southern Pakistan. It is a popular ornamental plant and is also used in herbal medicine.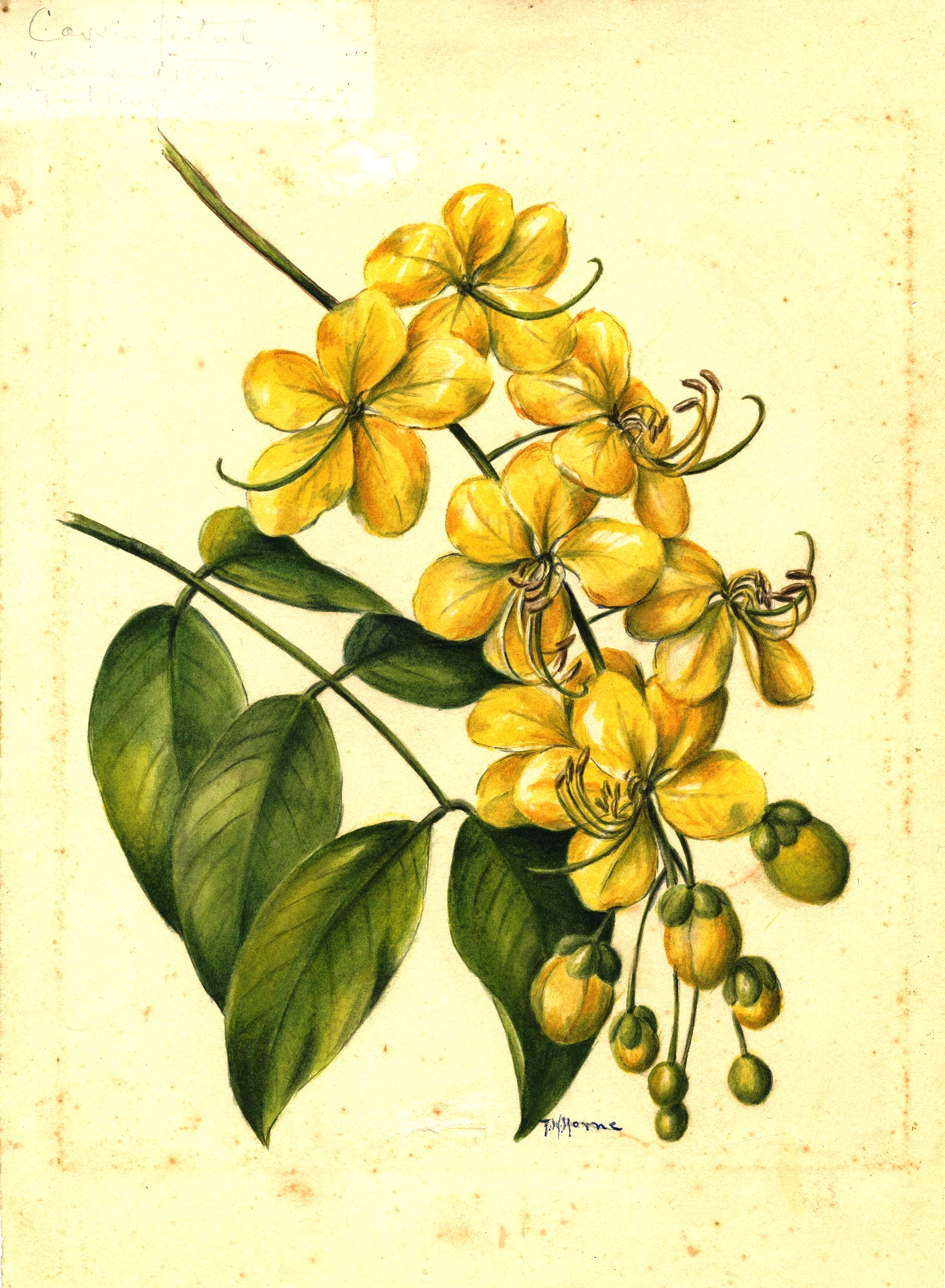 Description –
Cassia fistula is a medium-sized tree, growing up to 10-20 m in height and with rapid growth.
It has deciduous leaves, 15–60 cm long, pinnate with three to eight pairs of leaflets, with each leaflet 7–21 cm long and 4–9 cm wide.
The flowers, of an intense yellow color, are produced in hanging racemes 20–40 cm long; each flower measures 4-7 cm in diameter and has five petals of equal size and shape.
It blooms in late spring.
The fruit is a legume, 30–60 cm long and 1.5–2.5 cm (0.6–1.0 inch) wide, with a pungent odor and containing several seeds.
Cultivation –
Golden shower is widely cultivated as an ornamental plant in tropical and subtropical areas. Flowering is abundant, with trees covered with yellow flowers, many times with almost no leaves.
This plant grows well in dry climates and in full sun on well-drained soil; it is relatively drought tolerant and slightly salt tolerant. It tolerates light and short frost, but can be damaged if the cold persists.
The tree can be subject to mold or leaf spots, especially during the second half of the growing season. The tree blooms best with pronounced differences between summer and winter temperatures.
Customs and Traditions –
This plant has a strong and very resistant wood.
The flowers are pollinated by bees and butterflies, in particular by carpenter bees (Xylocopa sp.). moreover the seeds of this plant are dispersed by the golden jackals (Canis aureus Linnaeus, 1758) which feed on the fruits and thus help the propagation of the plant.
In India, Cassia fistula flowers are sometimes eaten by people. The leaves have also been used to supplement the diet of cattle, sheep and goats fed on low quality fodder.
In Ayurvedic medicine, this plant is known as aragvadha, which means "disease killer".
The fruit pulp is considered a purgative but self-medication or any use without medical supervision is strongly discouraged in Ayurvedic texts. Although it has been used in herbal medicine for millennia, little research has been done in modern times, even though it is an ingredient in some mass-produced herbal laxatives.
In India, a cathartic made from the pulp is sometimes added to tobacco.
It is the national tree and flower of Thailand; its yellow flowers symbolize Thai royalty. It is also the state flower of Kerala in India. In fact, flowers are of ritual importance in Kerala's Vishu festival, and the tree was featured on a 20 rupee postage stamp.
A 2006-2007 flower festival, the Royal Flora Ratchaphruek, takes its name from the tree, known in Thai as ratchaphruek (Thai: ราชพฤกษ์) and the flowers commonly referred to as dok khun (Thai: ดอก คูน).
Cassia fistula is also featured on a 2003 Canadian-Thai joint design for a 48 cent stamp, part of a series with national emblems. The tree is often grown in Buddhist temples in Sri Lanka, where the Sinhalese name is Ehela, ඇහැල.
In Laos, its blooming flowers known locally as dok khoun are associated with the Lao New Year. People use the flowers as temple offerings and also hang them in their homes for the New Year in the belief that the flowers will bring happiness and good luck to families.
Preparation Method –
The fruit pulp of this tree is considered a purgative but any use without medical supervision is strongly discouraged in Ayurvedic texts.
In India, moreover, in some cases a cathartic obtained from the pulp is added to the tobacco.
Guido Bissanti
Sources
– Acta Plantarum – Flora of the Italian Regions.
– Wikipedia, the free encyclopedia.
– Treben M., 2000. Health from the Lord's Pharmacy, Advice and experiences with medicinal herbs, Ennsthaler Editore
– Pignatti S., 1982. Flora of Italy, Edagricole, Bologna.
– Conti F., Abbate G., Alessandrini A., Blasi C. (edited by), 2005. An annotated checklist of the Italian vascular flora, Palombi Editore.
Warning: Pharmaceutical applications and alimurgical uses are indicated for informational purposes only, they do not represent in any way a medical prescription; therefore, no responsibility is accepted for their use for healing, aesthetic or food purposes.