Ladenbergia macrocarpa
Ladenbergia (Ladenbergia macrocarpa (Vahl) Klotzsch) is a species belonging to the Rubiaceae family.
Systematic –
From a systematic point of view, it belongs to the Eukaryota Domain, Plantae Kingdom, Magnoliophyta Division, Magnoliopsida Class, Rubiales Order, Rubiaceae Family, Cinchonoideae Subfamily, Cinchoneae Tribe, Cinchoneae Sub-tribe and therefore to the Genus Ladenbergia and to the Species L. macrocarpa.
The terms are synonymous:
– Buena crassifolia (Pav. Ex DC.) Wedd .;
– Buena macrocarpa (Vahl) Wedd .;
– Cascarilla calyptrata Wedd .;
– Cascarilla crassifolia (Pav. Ex DC.) Triana;
– Cascarilla macrocarpa (Vahl) Wedd .;
– Cascarilla primatostylis (H.Karst.) Triana;
– Cinchona crassifolia Pav. ex DC .;
– Cinchona macrocarpa Vahl;
– Cinchona magniflora Pav. ex DC .;
– Cinchona ovalifolia Mutis;
– Cinchona prismatostylis H.Karst .;
– Ladenbergia crassifolia (Pav. Ex DC.) Standl .;
– Remijia prismatostylis (H.Karst.) Benth. & Hook.f. ex Flueck.-
Etymology –
The term Ladenbergia is not known.
The specific epithet macrocarpa comes from the Greek μακρόϛ macrós long, large and from καρπόϛ carpόs fruit.
Geographical Distribution and Habitat –
Ladenbergia macrocarpa is a plant native to Central and South America and an area that includes Panama, Colombia, Ecuador and Venezuela where it grows at an altitude of between 600 and 3500 m above sea level.
Its habitat is that of wet forests.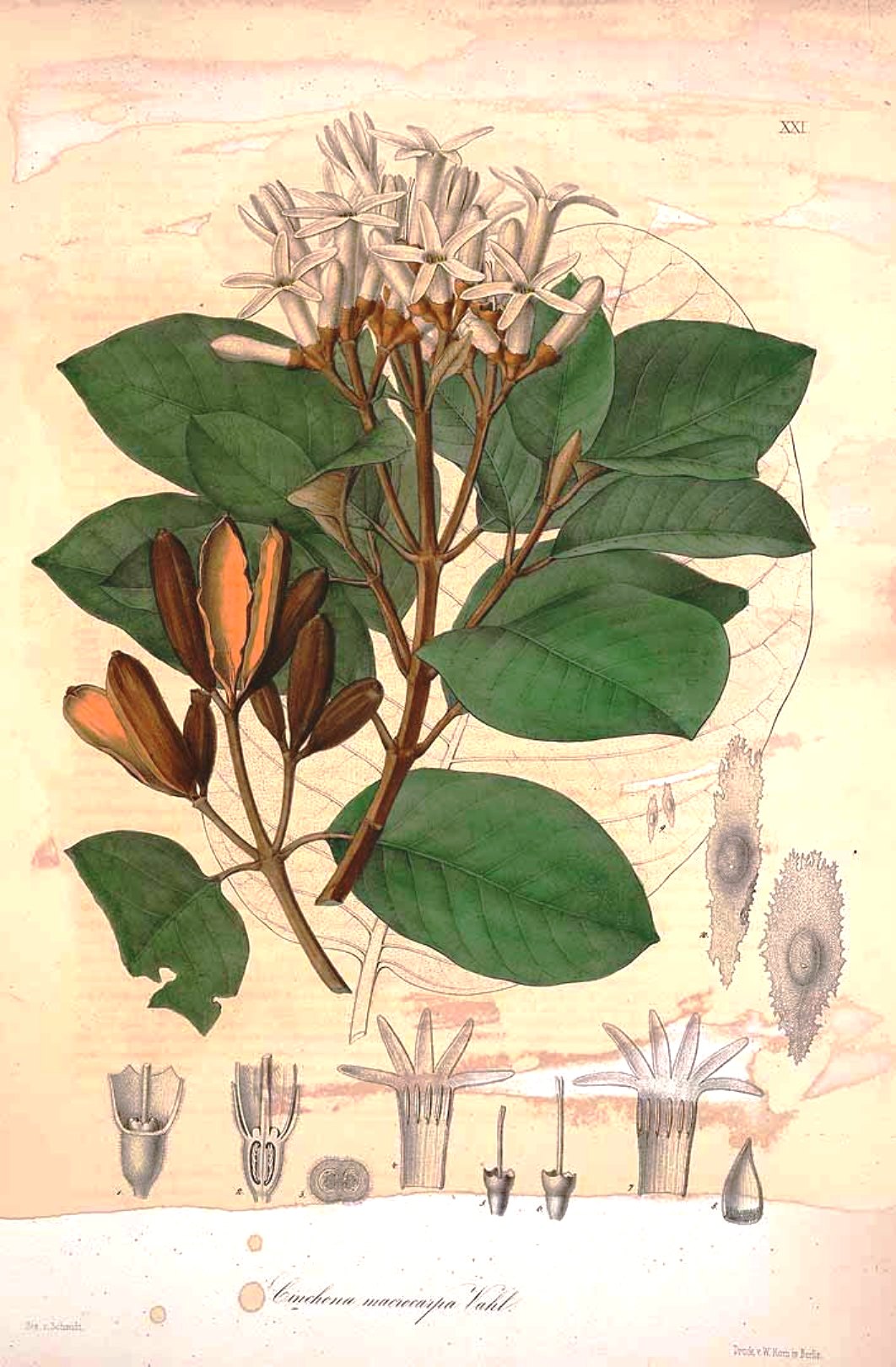 Description –
Ladenbergia macrocarpa is an arboreal species with oval leaves, rounded at the apex, opposite, 15 to 22 cm long and 7 to 12 cm wide, dark in color and fleshy and hairy consistency; the petiole is 2 to 4 cm long.
The flowers, in corymbose inflorescence, are hermaphrodite, with white bracts 4 cm long; they have a fleshy corolla.
Its thick fruits are woody.
Cultivation –
Ladenbergia macrocarpa is a spontaneous plant that grows in the humid forests of the Andean valleys or hills where they have been used since ancient times for some medicinal purposes.
Uses and Traditions –
It is known of this plant that it is used to treat unspecified medicinal ailments but research on it is not enough to have a certain response.
Method of Preparation –
There is not enough data to recognize the particularities of its use, even if it is known that the bark is used for this plant.
Guido Bissanti
Sources
– Acta Plantarum – Flora of the Italian Regions.
– Wikipedia, the free encyclopedia.
– Treben M., 2000. Health from the Lord's Pharmacy, Tips and experiences with medicinal herbs, Ennsthaler Editore
– Pignatti S., 1982. Flora of Italy, Edagricole, Bologna.
– Conti F., Abbate G., Alessandrini A., Blasi C. (edited by), 2005. An annotated checklist of the Italian vascular flora, Palombi Editore.
Warning: Pharmaceutical applications and alimurgical uses are indicated for information purposes only, they do not in any way represent a medical prescription; therefore, no responsibility is accepted for their use for healing, aesthetic or food purposes.