Calliandra houstoniana
Angel hair (Calliandra houstoniana (Mill.) Standl.) Is a shrub species belonging to the Fabaceae family.
Systematic –
From a systematic point of view it belongs to the Eukaryota Domain, Plantae Kingdom, Magnoliophyta Division, Magnoliopsida Class, Fabales Order, Fabaceae Family, Mimosoideae Subfamily, Ingeae Tribe and therefore to the Genus Calliandra and to the C. houstoniana Species.
The following terms are synonymous:
– Acacia houstoni (L'Her.) Willd .;
– Acacia metrosideriflora Schltdl .;
– Anneslia alamosensis Britton & Rose;
– Anneslia etzatlana Britton & Rose;
– Anneslia falcifolia Salisb .;
– Anneslia houstoniana (Mill.) Britton & Rose;
– Anneslia lucens Britton;
– Anneslia lucens Britton & Rose;
– Calliandra houstonii (L'Her.) Benth .;
– Calliandra lucens (Britton) Standl .;
– Calliandra metrosideriflora Benth .;
– Mimosa houstoni L'Her .;
– Houston Mimosa mill;
– Mimosa houstonii L'Hér ..
Etymology –
The term Calliandra comes from the Greek prefix καλλι- kalli- bello and ἀνήρ, ἀνδρός aner, andrós male: from the beautiful stamens, allusion to the red plumes that characterize this genus.
The specific Houstonian epithet was given in honor of the Scottish physician and botanist William Houston (or Houstoun, 1695-1733) who herbized in the West Indies (Cuba, Jamaica), Mexico, the United States and Venezuela and not to the city of Houston, in Texas, as believed by someone.
Geographical Distribution and Habitat –
The Houstonian Calliandra is a native species of the tropical and subtropical regions of the Americas, where it is present in Central America – Honduras, from north to south Mexico.
Its habitat is that of sloping or open, wet or dry slopes, often on rocky walls, sometimes in pine forests, at altitudes of up to 2,200 meters.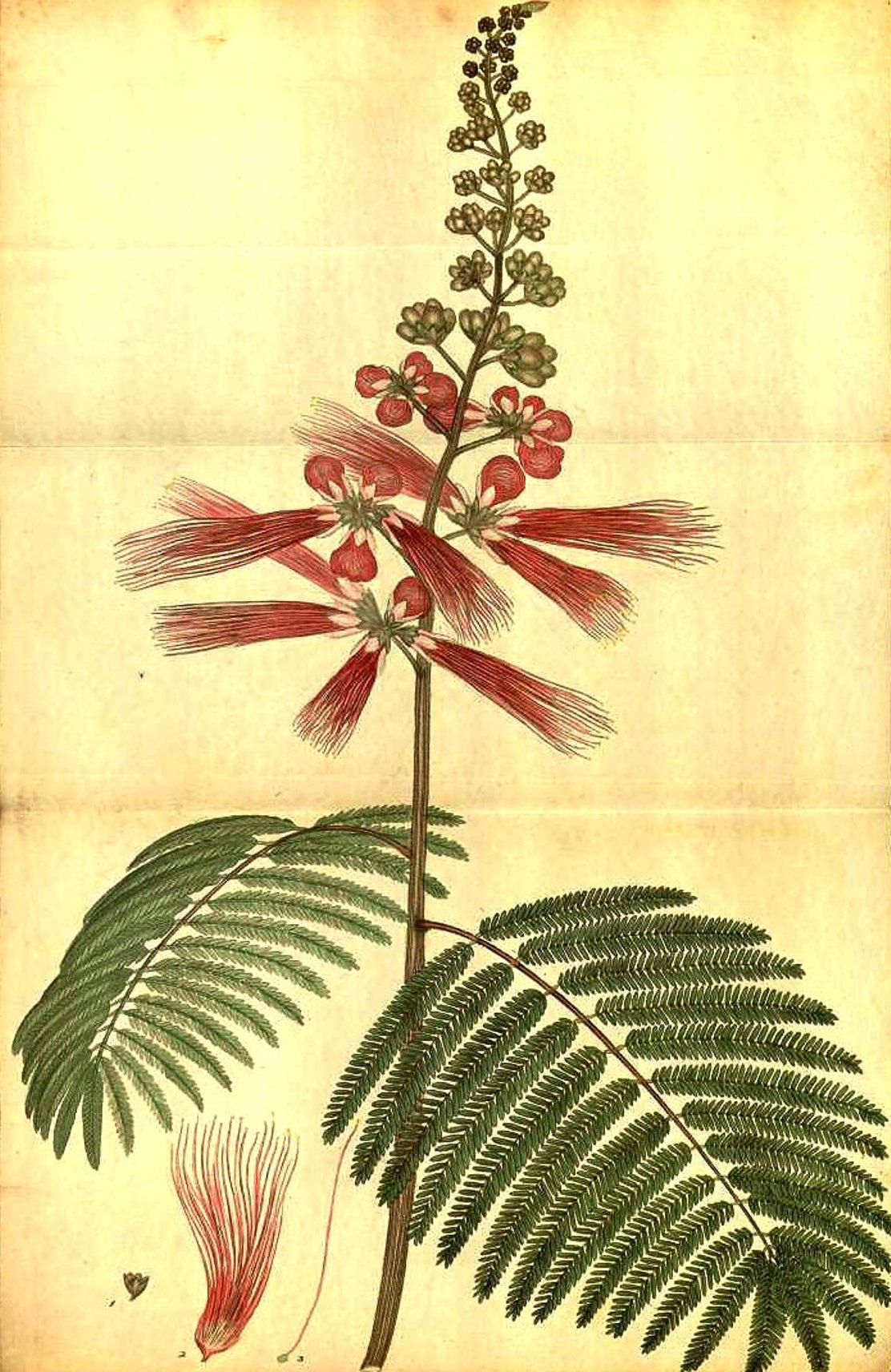 Description –
Calliandra houstoniana is a delicate shrub, which can also grow in the form of a small tree that can grow up to a height of 2.50 m.
The flowers are produced in cylindrical or globular inflorescences and have numerous long and thin stamens.
This plant blooms all year round, but the best flowering is in the spring – summer period.
Cultivation –
The Calliandra houstoniana is a plant that grows spontaneously and is also grown for ornamental purposes.
The plant propagates by seed and grows well in its habitat in tropical and subtropical areas.
It requires well-drained soil and a sunny location.
This species has a symbiotic relationship with some soil bacteria, which form nodules on the roots and fix atmospheric nitrogen. Part of this nitrogen is used by the growing plant, but some can also be used by other plants that grow nearby.
It can be easily pruned.
Uses and Traditions –
The bark of this plant was collected from plants grown in its natural state and exported to Europe for medicinal use, while the species is occasionally grown as an ornamental plant.
The bark contains an alkaloid which can cause death by systolic arrest of the heart.
In addition, the bark, known as Pambotana bark, was sold in Europe as a substitute for quinine and an antiperiodic.
The wood is generally of medium consistency, heavy, hard, strong and easy to work, but not very bright. Where it is quite large in size, it can be used for small carpentry jobs, tool handles, frames, etc., and is also used as a fuel.
In traditional medicine the bark is considered medicinal. It was recommended by an old North American pharmacopoeia as a febrifuge plant.
Calliandra houstoniana is used as a plant in the agro ecosystems of coffee plantations and as part of the agroforestry systems in the tropics, as livestock feed, green manure and a source of firewood.
Method of Preparation –
In addition to medicinal purposes, the bark of this plant is chewed to harden the gums.
Guido Bissanti
Sources
– Acta Plantarum – Flora of the Italian Regions.
– Wikipedia, the free encyclopedia.
– Treben M., 2000. Health from the Lord's Pharmacy, Tips and experiences with medicinal herbs, Ennsthaler Editore
– Pignatti S., 1982. Flora of Italy, Edagricole, Bologna.
– Conti F., Abbate G., Alessandrini A., Blasi C. (edited by), 2005. An annotated checklist of the Italian vascular flora, Palombi Editore.
Warning: Pharmaceutical applications and alimurgical uses are indicated for information purposes only, they do not in any way represent a medical prescription; therefore, no responsibility is accepted for their use for healing, aesthetic or food purposes.