Artemisia vallesiaca
Alpine Pontic Absinthe or Swiss absinthe (Artemisia vallesiaca All.) Is a perennial herbaceous species belonging to the Asteraceae family.
Systematic –
From a systematic point of view, it belongs to the Eukaryota Domain, Plantae Kingdom, Magnoliophyta Division, Magnoliopsida Class, Asterales Order, Asteraceae Family, Asteroideae Subfamily, Anthemideae Tribe, Artemisiinae Sub-tribe and therefore to the Genus Artemisia and to the A. vallesiaca Species.
The terms are synonymous:
– Artemisia valesiana Lam .;
– Artemisia maritima subsp. Vallesiaca (All.) Hegi.
Etymology –
The term Artemisia comes from Ἄρτεμις Artemis Artemide, Greek name of the goddess Diana, a genus already mentioned in Pliny; according to some authors, Artemisia II of Caria (Αρτεμισία Artemisía? -350 BC), sister and wife of Mausolus, would have given this plant its name.
The specific Vallesian epithet refers to the Valais canton (or Valois or Wallis) in the Pennine Alps in Switzerland.
Geographical Distribution and Habitat –
The Alpine Pontic Absinthe is a plant present in the area between the Aosta Valley, Piedmont and the upper Rhone valley.
It is a mostly cultivated and rarely spontaneous plant that grows, as mentioned, in the Alpine areas.
Its habitat is that of not too clayey or humid soils; the best cultivation results are obtained in sunny and fresh soils.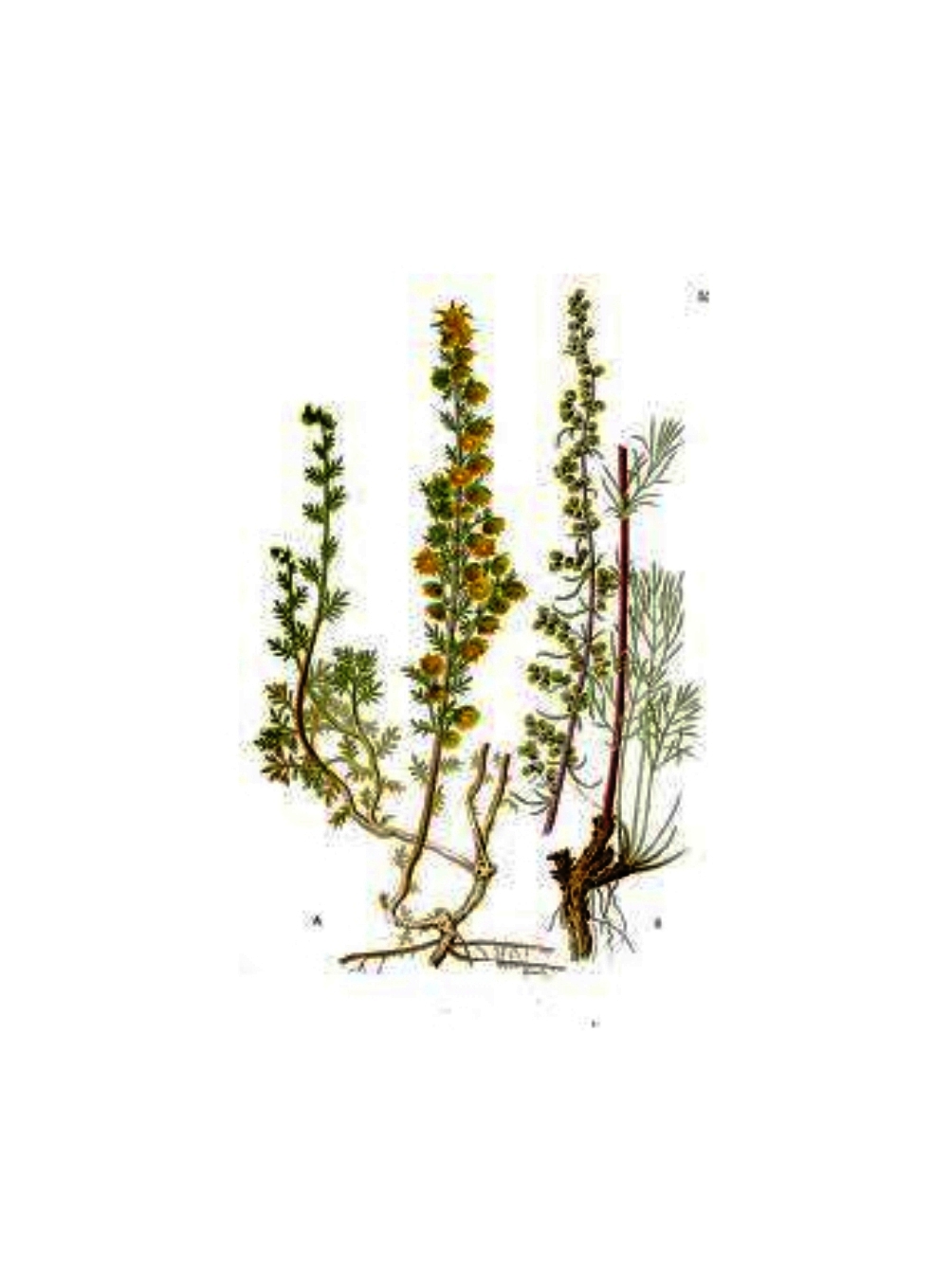 Description –
Artemisia vallesiaca is a species with a woody base and height up to about 30-50 cm.
The stem is branched from the base and also the plant is covered with very thick hair which gives it a white and blue tinged color.
The leaves of the sterile branches have a 2–5 mm petiole (which can be larger in cultivated plants, especially in optimal conditions); these are 5 mm wide, dense and straight upwards. The lower ones of the flower stems have a 5-10 mm petiole, with shorter lamina, denser lacinias than those of the rosette; the upper leaves are sessile and pinnate, those of the inflorescence are whole and 5 mm long.
The flower heads are gathered in an elongated panicle which in spontaneous plants has dimensions of 20 cm by 3–4 cm with few racemes, while in cultivated plants it is longer and wider 30–40 cm by 10-20 and rather sparse. The peduncles of the flower heads are very short and the envelope is elliptical 2 mm long and 1 mm wide, with external hairy bracts and internal ones with yellowish margin.
Cultivation –
Artemisia vallesiaca is a plant that is grown in biennial cultivation.
Propagation is mainly done by seed s it can be cultivated in simple rows with a sixth 50 x2 0 cm or binary rows 35-40 x 70-80 cm; the grass harvested during flowering is used.
The plant prefers sunny, fresh and well-drained soils. For the cultivation technique you can consult the following sheet.
Uses and Traditions –
Artemisia vallesiaca is known by the names of Alpine absinthe, small Swiss absinthe, Swiss absinthe and Artemisia del Valais.
It can be confused with similar species, among which we mention:
– Artemisia pontica, which is gray in color, the leaves have larger and less dense lacinias, the flower heads are spherical or hemispherical and are larger.
– Filago arvensis which, although white in color, has longer and more woolly hair, whole leaves 2–4 mm wide and partly solitary flower heads partly grouped in white glomeruli, 4–5 mm wrapped in white wool. The flowers are equipped with a pappus.
In folk medicine of this essence the branches collected in bloom whole or chopped were used, for its emmenagogic, tonic and stomachic properties.
The aerial parts of the plant are also used, which is mainly cultivated for use in the liquor store.
Preparation method –
Artemisia vallesiaca is a plant whose leaves and flowers are used and traditionally used in the preparation of liqueurs or for its healing properties.
Guido Bissanti
Sources
– Acta Plantarum – Flora of the Italian Regions.
– Wikipedia, the free encyclopedia.
– Treben M., 2000. Health from the Lord's Pharmacy, Tips and experiences with medicinal herbs, Ennsthaler Editore
– Pignatti S., 1982. Flora of Italy, Edagricole, Bologna.
– Conti F., Abbate G., Alessandrini A., Blasi C. (edited by), 2005. An annotated checklist of the Italian vascular flora, Palombi Editore.
Warning: Pharmaceutical applications and alimurgical uses are indicated for information purposes only, they do not in any way represent a medical prescription; therefore, no responsibility is accepted for their use for healing, aesthetic or food purposes.