Pyrus spinosa
The almond leaved pear (Pyrus spinosa Forssk.) Is an arboreal species belonging to the Rosaceae family.
Systematic –
From a systematic point of view, it belongs to the Eukaryota Domain, Kingdom Plantae, Subregion Tracheobionta, Superdivision Spermatophyta, Division Magnoliophyta, Class Magnoliopsida, Subclass Rosidae, Order Rosales, Family Rosaceae and therefore to the Genus Pyrus and to the Species P. spinosa.
The terms are synonymous:
– Crataegus amygdaliformis (Vill.) Chalon;
– Pyrus amygdaliformis Vill .;
– Pyrus amygdaliformis Vill. var. oblongifolia (Spach) Nyman;
– Pyrus angustifolia Decne. ;
– Pyrus communis L. subsp. amygdaliformis (Vill.) Braun-Blanq .;
– Pyrus communis L. var. amygdaliformis (Vill.) Flowers in Flowers & Paol .;
– Pyrus cuneifolia Guss .;
– Pyrus oblongifolia Spach;
– Pyrus parviflora Desf .;
– Pyrus pyrainus Raf .;
– Pyrus salviifolia DC. var. amygdaliformis (Vill.) Griseb .;
– Pyrus sinaica Thouin.
Etymology –
The term Pyrus comes from the Greek πῦρ, πῠρός pyr, pyrós fuoco: for the conical shape of the fruits.
The specific spiny epithet comes from thorn thorn: thorny, covered with thorns.
Geographical Distribution and Habitat –
The almond leaved pear is a steno-Mediterranean species, widespread from Spain to Turkey with particular reference to the following regions: Catalonia, Provence, central-southern Italy, Istria, Dalmatia, southern Serbia, Peloponnese, Crete, Rhodes, Bitinia and Thrace.
It lives from Lauretum to Fagetum in sporadic form, but sometimes also in spots. We find it in the garrigues crossed by the fire, often the only sapling that manages to resist the repeated passages of the fire; we still find it along the railway escarpments. Vegeta in the spots, in the clearings, along the paths. Its habitat is that of the areas between 0 and 1100 m above sea level.
It is present in southern Italy and the islands. On the Tyrrhenian side it climbs up to Liguria.
It is frequently found as a shrub about 3 meters high but can reach 10 meters in height and 4 meters in circumference like the monumental Pianetti pear tree in Gratteri in the Madonie park.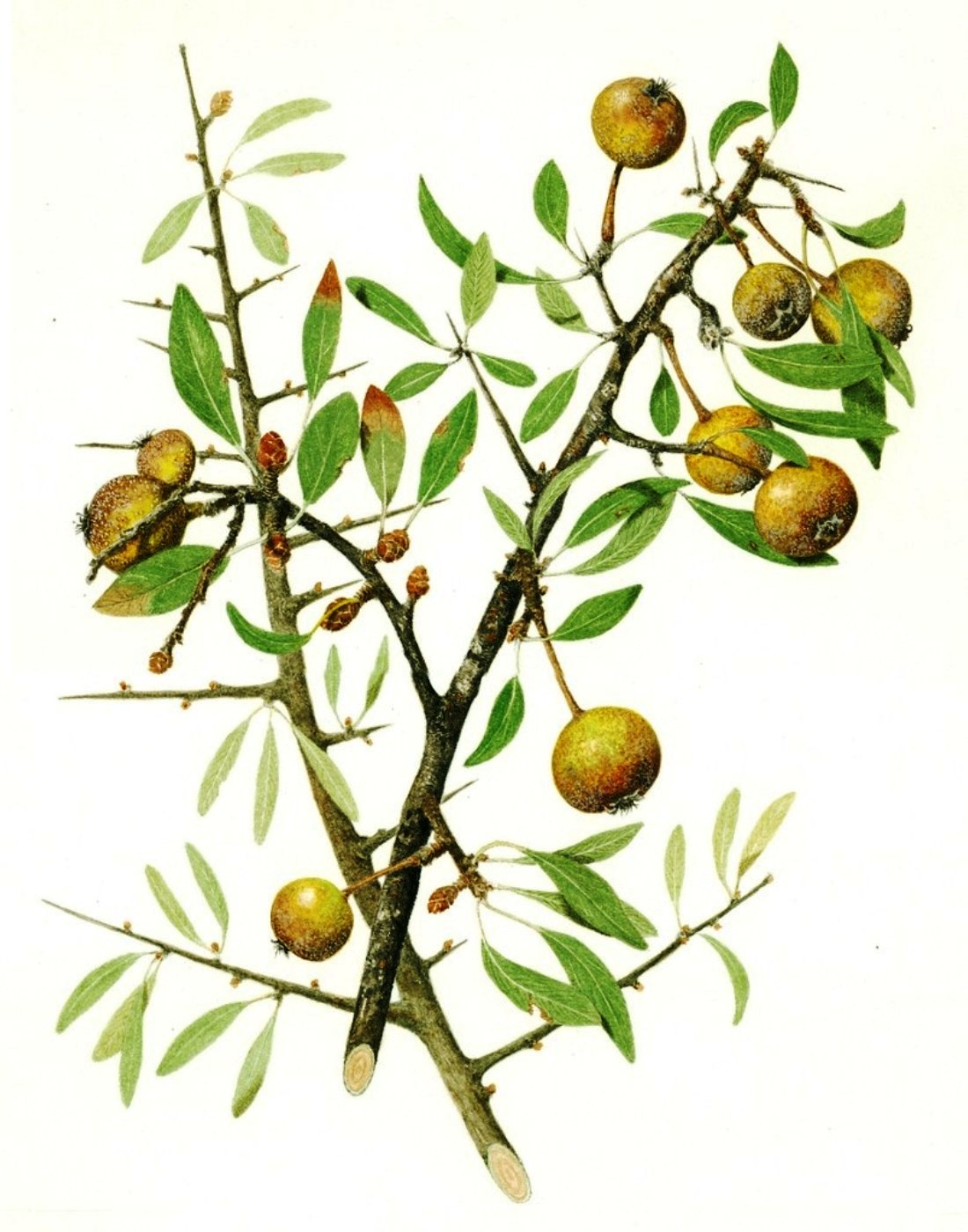 Description –
Pyrus spinosa is a thorny and very branchy shrub or small tree that grows between 1 and 6 m in height and slowly growing.
The stem is brown-gray in color, smooth and speckled in the young specimens, cracked in plates in the old trees, young tomentose branches.
The leaves are oblong-lanceolate, with full margins, present on 1-2 cm peduncles. The flowers are white, with petals about 1-2 cm long, slightly elliptical in shape.
The flowering period is between March and May.
The fruits are globose, 3-4 cm, brownish-yellow, hard and with a sour taste.
Cultivation –
The almond leaved pear is a particularly resistant and long-lived species, so much so that it is often used as a rootstock for fruit trees; also to make dividing hedges in crops; rarely also as an ornamental plant.
Ripe fruits in the autumn – winter period, with an unpleasant taste, hard and very sour, to be consumed they need a long period of ammezzimento.
The collection period runs from September to November.
Uses and Traditions –
Ripe fruits are used for this plant; like medlars and rowanberries, before consumption they need a long period of ammozzimento. Also used cooked in wine and sugar, to make syrup, jelly and jam.
Due to its small size, it is also used as an ornamental plant in cases where there are small spaces available or when there is a need to have limited heights.
Its hard wood can be used for lathe work, but it is mostly used as firewood and in this case a good fuel is found.
Method of Preparation –
The fruits of the almond leaved pear are consumed but, as is the case with rowanberries and medlars, only after a period of decline.
The fruits can also be used cooked in wine and sugar, to make syrup, jelly and jam.
Guido Bissanti
Sources
– Acta Plantarum – Flora of the Italian Regions.
– Wikipedia, the free encyclopedia.
– Treben M., 2000. Health from the Lord's Pharmacy, Tips and experiences with medicinal herbs, Ennsthaler Editore
– Pignatti S., 1982. Flora of Italy, Edagricole, Bologna.
– Conti F., Abbate G., Alessandrini A., Blasi C. (edited by), 2005. An annotated checklist of the Italian vascular flora, Palombi Editore.
Warning: Pharmaceutical applications and alimurgical uses are indicated for information purposes only, they do not in any way represent a medical prescription; therefore, no responsibility is accepted for their use for healing, aesthetic or food purposes.