Anacyclus pyrethrum
Pellitory (Anacyclus pyrethrum (L.) Link) is a herbaceous species belonging to the Asteraceae family.
Systematic –
From a systematic point of view it belongs to the Eukaryota Domain, Kingdom Plantae, Magnoliophyta Division, Magnoliopsida Class, Subclass Asteridae, Order Asterales, Family Asteraceae and therefore to the genus Anacyclus and to the species A. pyrethrum.
The terms are synonymous:
– Anthemis pyrethrum L .;
– Anacyclus depressus Ball;
– Anacyclus freynii Willk .;
– Anacyclus officinarum Hayne.
Etymology –
The term Anacyclus comes from the conjunction of the Latin term ana, derived from the Greek ἀνά, ἀνα and the Greek term kyklos, circle.
The specific epithet pyrethrum comes from the Greek πῢρεθρον pýrethron name of a plant mentioned by Galen (from πῦρ pyr fuoco, due to the fiery red color of the ligules of some species).
Geographical Distribution and Habitat –
Pellitory is a Palearctic perennial herb that is found in North Africa, the Mediterranean region, the Himalayas, Northern India, Eastern Asia and the Arabian Peninsula.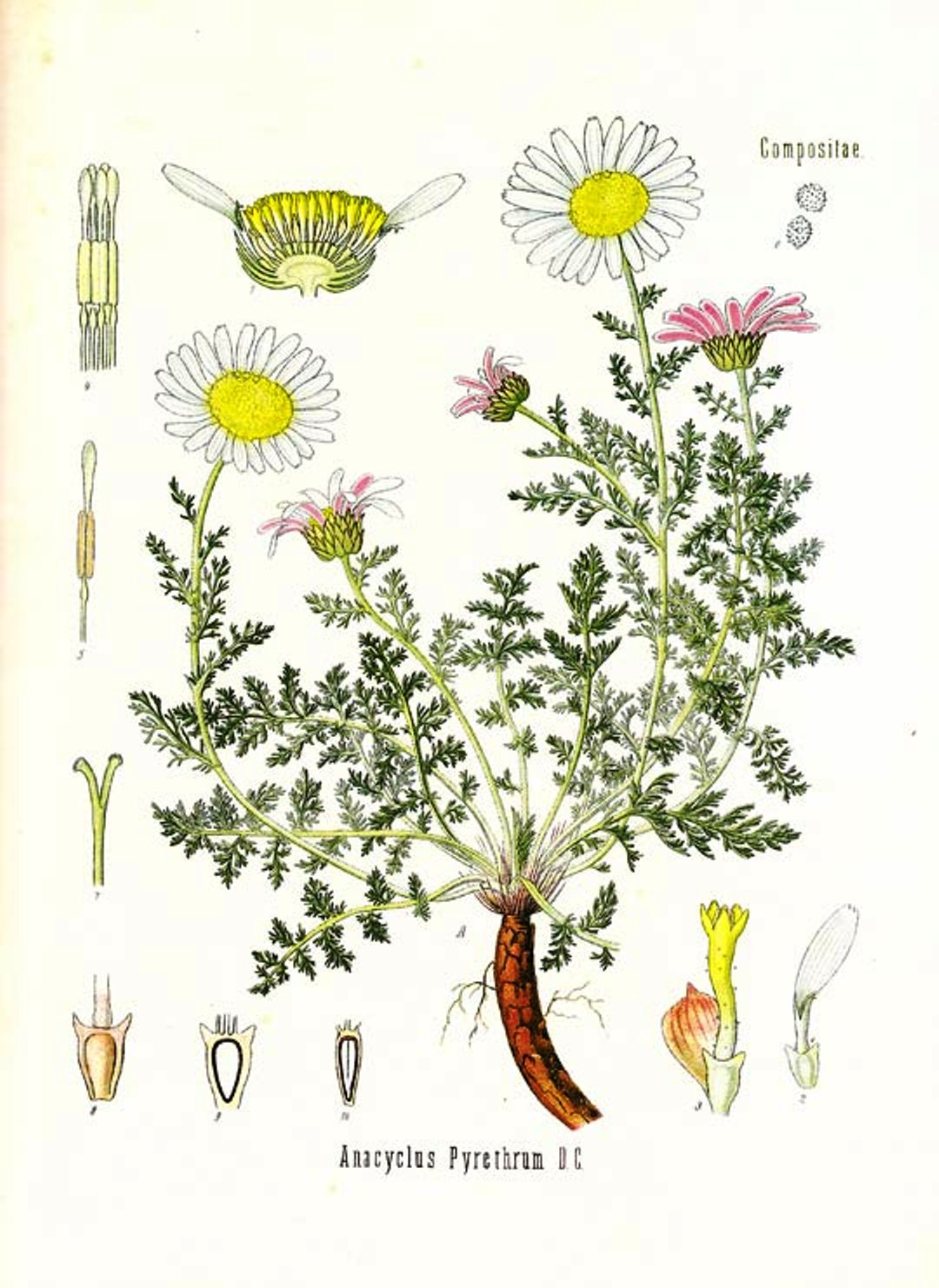 Description –
Anacyclus pyrethrum is a perennial herbaceous species that normally grows up to 0.3 m.
The leaves are alternate and sessile, oblong. The lamina is bipennatosetta or tripennatosetta, with very narrow and gray-green linear lacinias.
The flowers are gathered in small flower heads with conical and hollow receptacle, with white petals in the upper part and with a purple color in the lower part.
The flowering period runs from spring to early summer.
The fruit is a cipsela of about 1 mm in length, light in color, free of pappus.
Cultivation –
Pellitory is a plant that can be grown in pots in the open field and is particularly suitable for growing in rocky and dry soils or near walls.
It should be grown preferably in full sun, in poor, dry to mainly sandy soil and bears a temperature of up to -12 ° C.
It is recommended to protect this plant from excessive winter humidity with a mulch of small stones around the collar of the plant; also it is good to cut withered scissors the dried flower heads that can be kept for the next year's sowing.
As for sowing, a cold stratification of about 3 weeks is required. Germination is best at a temperature around 13-16 ° C.
Once developed, the young seedlings can be transplanted even if it is recommended to transplant them with spring temperatures.
The plant can also be propagated for woody cuttings in the spring period.
Uses and Traditions –
Anacyclus pyrethrum is a plant grown as an ornamental for its spring blooms, where it is suitable in rock gardens or in areas also by the sea.
Although the specific term pyrethrum may suggest that this plant may contain pyrethrins, it does not contain pyrethrins.
It is known, however, as an officinal plant which is used externally to treat toothache, facial neuralgia and chronic phlegm.
This plant is generally used to soothe sore throat. In Ayurvedic medicine the root is considered tonic and is used in the treatment of paralysis and epilepsy.
In Indian Ayurveda and Siddha medicine its root is used for therapeutic purposes.
In addition, an oil is extracted for pharmaceutical purposes.
Anacyclus pyrethrum extracts have anabolic activity in mice and also increase testosterone. The latter property is mentioned in Ayurveda medicine with its "Shukra-Stambhak" quality, which means that it delays the ejaculation time by improving male potency.
For this reason they are used as tonics and aphrodisiacs.
Method of Preparation –
To use the peculiarities of this plant, it is advisable to collect the roots in the autumn and dry them for later use.
However, the various preparations must be submitted to the competence of a doctor or pharmacist.
Guido Bissanti
Sources
– Acta Plantarum – Flora of the Italian Regions.
– Wikipedia, the free encyclopedia.
– Treben M., 2000. Health from the Lord's Pharmacy, Tips and experiences with medicinal herbs, Ennsthaler Editore
– Pignatti S., 1982. Flora of Italy, Edagricole, Bologna.
– Conti F., Abbate G., Alessandrini A., Blasi C. (edited by), 2005. An annotated checklist of the Italian vascular flora, Palombi Editore.
Warning: Pharmaceutical applications and alimurgical uses are indicated for information purposes only, they do not in any way represent a medical prescription; therefore, no responsibility is accepted for their use for healing, aesthetic or food purposes.