Aloe ferox
Bitter aloe or red aloe (Aloe ferox Mill.) Is a succulent plant belonging to the Aloeaceae family.
Systematic –
From a systematic point of view, it belongs to the Eukaryota Domain, Plantae Kingdom, Magnoliophyta Division, Liliopsida Class, Liliales Order, Aloeaceae Family and therefore to the Genus Aloe and to the Species A. ferox.
The terms are synonymous:
– Aloe candelabrum A.Berger nom. illeg .;
– Aloe galpinii Baker;
– Aloe horrida Haw .;
– Aloe muricata Haw .;
– Aloe pallancae Guillaumin nom. inval .;
– Aloe perfoliata var. ferox (Mill.) Aiton;
– Aloe pseudoferox Salm-Dyck;
– Aloe subferox Spreng .;
– Aloe supralaevis Haw .;
– Busipho ferox (Mill.) Salisb. nom. inval .;
– Pachidendron ferox (Mill.) Haw .;
– Pachidendron pseudoferox (Salm-Dyck) Haw .;
– Pachidendron supralaeve (Haw.) Haw ..
Etymology –
The term Aloe comes from aloe in Pliny, probably from the Greek ἅλς, ἁλός háls, halós mare, salt or, more likely, from the Arabic aluat cosa amara, for the bitter juice.
The specific epithet ferox comes from ferocious, due to the presence of numerous thorns or rigid bristles.
Geographical Distribution and Habitat –
Aloe ferox is a plant native to southern Africa.
Its natural geographical distribution forms an almost continuous belt across the Western Cape, from Swellendam to the District of Overberg to the west, for almost the entire extent of the Eastern Cape Province, east to south, in the province of KwaZulu-Natal and towards north to Lesotho.
This plant, within this range, is usually found in rocky areas, on hills, in fynbos (shrub vegetation that populates a small coastal strip of the Western Cape Province, in South Africa, called Cape Floral Kingdom) and at the edges of the Karoo (arid region of the South African hinterland).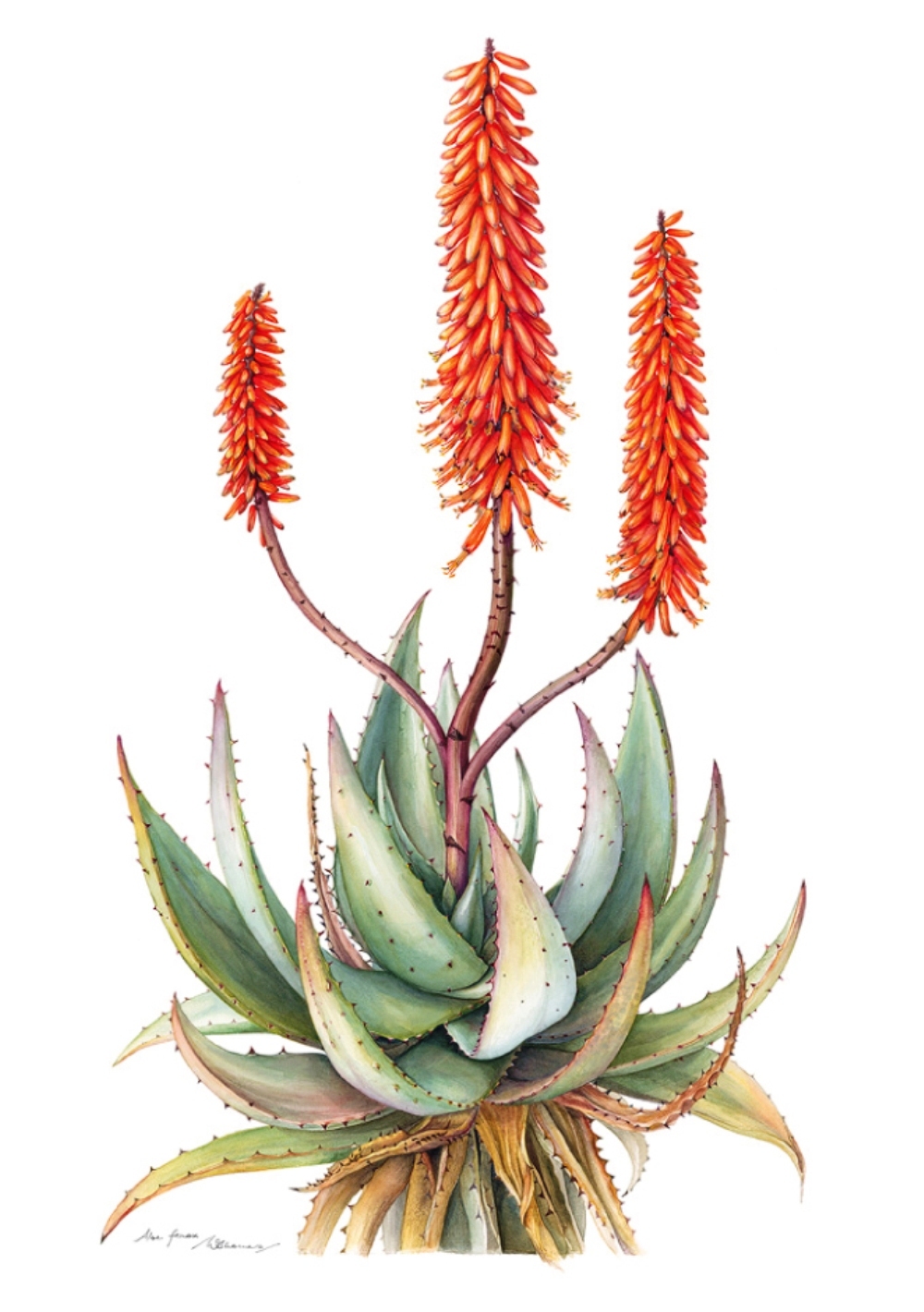 Description –
Aloe ferox is a plant that grows on a single trunk up to 2 m high.
The leaves are thick and fleshy, arranged in rosettes, with reddish-brown spines, with smaller thorns at the edges, both upper and lower surfaces.
The leaf surfaces of the young plants are covered with thorns; as they grow and get older, they begin to lose most of the thorns except those along the edges of the leaves.
The flowers are orange or uniform red and are at a height between 0.61 and 1.22 m. above the leaves, arranged in multi-stemmed inflorescences.
Aloe ferox is however a variable species and plants can physically differ from one area to another, due to local conditions.
This species is often confused with Aloe excelsa which looks very similar to final development.
However, the flowers are different, with Aloe excelsa which has much shorter and slightly curved racemes.
Flowering is in the spring period.
Cultivation –
Aloe ferox is a plant that is mainly propagated from seeds and cuttings obtained from the apical part.
In cultivation the plants are spaced about one meter apart.
Starting from the seed, it takes 4 to 5 years for the plants to reach the first harvest.
Adult leaves are harvested manually by local populations every 18-24 months. The whole plant is used for the active ingredients. The leaves are crushed, then ground into powder while the extracted gel is recovered in drums.
At the time of harvest, each leaf weighs from 1.5 kg to 2 kg.
Aloe Ferox prefers dry tropical climates, open areas, sandy and clayey soils, full sun and moderate watering with well-drained soil.
Uses and Traditions –
Aloe ferox is a plant that stands out from other aloe species for its more compact and erect leaves with reddish-brown spines.
This plant is part of the many species of Aloe used to produce bitter aloe juice, a purgative drug; it also produces a non-bitter gel that can be used in cosmetics.
This plant is highly appreciated for its detoxifying properties and its ability to rebalance body weight, acting on different physiological mechanisms.
Both latex is obtained from this plant, which is very laxative and slightly toxic to the body in high doses, and therefore not used in phytotherapy and the pulp, from which aloe gel is obtained, a substance that is source of important benefits.
Aloe ferox, which is made up of 98% water, is made up of numerous active ingredients:
– Polysaccharides, flavonoids, carbohydrates, lipids, essential and secondary amino acids, minerals and trace elements, vitamins, enzymes and aromatic compounds.
In general, this plant contains more active ingredients than aloe vera thanks to the fact that it grows in a wilder natural environment.
In general it is used in the treatment, control and prevention of the following pathologies:
– inflammatory bowel disease;
– osteoarthritis;
– stomach ulcers;
– asthma.
Traditionally, the pulp contained in the Aloe ferox leaves gives rise to two types of products:
– aloe juice, the positive effects of which are borne by digestion, the well-being of the skin and hair and on the general vitality of the body;
– the gel, the main benefit of which is to stimulate cell renewal with antioxidant and moisturizing effects.
In any case, as in all uses, even from natural products, unwanted effects can occur and therefore have contraindications.
The possible side effects that can occur using products containing Aloe Ferox are:
– Diarrhea;
– Low potassium content;
– muscle weakness;
– Weight loss;
– Cardiac disorders.
Obviously the therapeutic uses of any plant species must be submitted to the preventive medical prescriptive opinion.
Finally, please note that Aloe ferox is part of the list of endangered plant species, also threatened by its intensive use. For this reason it must be collected with care and moderation to preserve its presence within the biodiversity of its habitat.
Method of Preparation –
As mentioned, from Aole ferox, both latex can be obtained, which at high doses, however, is very laxative and slightly toxic to the body and pulp, from which a gel usable for various therapeutic purposes is obtained.
Guido Bissanti
Sources
– Acta Plantarum – Flora of the Italian Regions.
– Wikipedia, the free encyclopedia.
– Treben M., 2000. Health from the Lord's Pharmacy, Tips and experiences with medicinal herbs, Ennsthaler Editore
– Pignatti S., 1982. Flora of Italy, Edagricole, Bologna.
– Conti F., Abbate G., Alessandrini A., Blasi C. (edited by), 2005. An annotated checklist of the Italian vascular flora, Palombi Editore.
Warning: Pharmaceutical applications and alimurgical uses are indicated for information purposes only, they do not in any way represent a medical prescription; therefore, no responsibility is accepted for their use for healing, aesthetic or food purposes.