W National Park
The W national park is one of the main national parks of Niger, it is a reserve air, located along the path of the Niger river, in the shape of a "W", from which it takes its name and an extension of about 10,000 km2.
National park W, which was created by decree on August 4, 1954, despite the majority being located in Niger, has some portions of territory in Benin and Burkina Faso.
After its establishment, the W National Park became a UNESCO World Heritage Site in 1996 and, in 2017, it was expanded to the Arly national parks of Burkina Faso and Pendjari of Benin, thus becoming a cross-border heritage.
Until 2008, the management of the Park was supported by the ECOPAS (Protected Ecosystems in South-Sahelian Africa) project. The three national parks today operate under the name of W Transborder Park.
The territory of the W National Park is largely inhabited by man.
Until the 1970s, the park area was a malarial area linked to its humid environment generated by the presence of the delta of the Mekrou river near Niger.
The archaeological findings have also ascertained that this area was once, judging the important archaeological sites (mainly tombs) found in the area, one of the largest areas of human habitation in prehistoric times.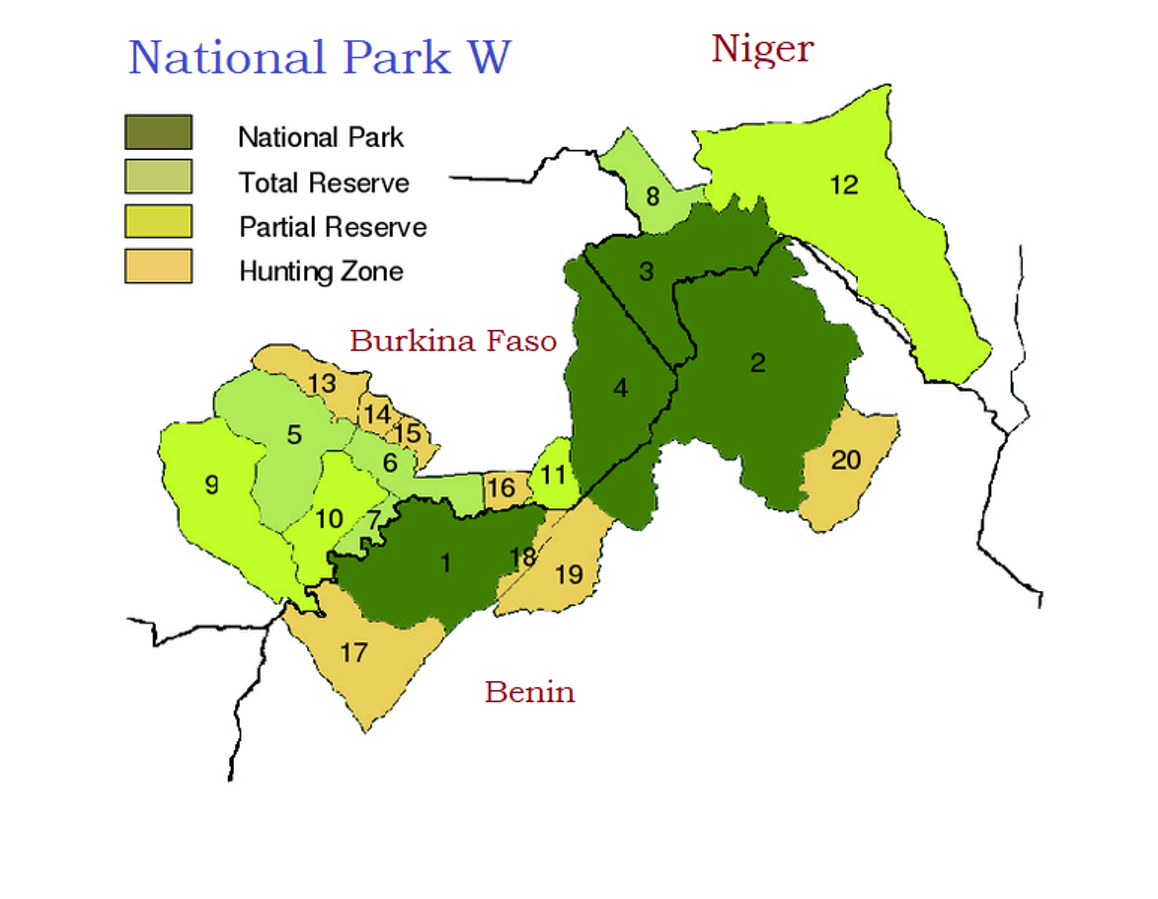 Flora –
A total of 454 plant species have been recorded in the national park, including two orchids that live only in Niger. The park also forms the southern limit of the distribution of the tiger highlands in Niger.
Fauna –
The park is known for its large mammals, including baboons, buffaloes, caracals, cheetahs, elephants, hippos, leopards, lions and warthogs.
This area is home to some of the last African elephants in West Africa. Unfortunately, the rare West African giraffe, limited to small parts of Niger, is not present in the park. The area is also known for its bird populations, especially migrants, with over 350 species identified in the park.
In addition, this park is also known for the historical presence of herds of endangered West African wild dogs.
Finally, National Park W is one of the last strongholds of the north-western cheetah. It is estimated that a small population of 25 individuals is resident in the protected area complex.
As for ornithological populations, within this protected area we find in particular the transitional migratory species, with over 350 species identified. In this regard, the park has been identified by BirdLife International as an important avian area.
For those who want to visit the park and observe the existing fauna, the best time is during the dry and hot season from February to the end of May. At this time the vegetation is at a minimum and wildlife collects en masse around permanent pools of water. Temperatures can be high in this period, up to 36 ° C, but it tends to be a not overwhelming dry heat.
Guido Bissanti