Rumex crispus
The Curly dock, curled dock or yellow dock (Rumex crispus L.) is a herbaceous species belonging to the Polygonaceae family.
Systematics –
From a systematic point of view, it belongs to the Eukaryota Domain, Kingdom Plantae, Subregion Tracheobionta, Division Magnoliophyta, Class Magnoliopsida, Subclass Caryophyllidae, Superorder Polygonanae, Order Polygonales, Family Polygonaceae and therefore to the Genus Rumex and to the Species R. crispus.
Etymology –
The term Rumex comes from javelin rumex, spear: due to the pointed shape of the leaves of many species of this genus. Already in Plautus and others with the meaning of romice.
The specific epithet crispus comes from crisp ruffle, curl: ruched, curly, frizzy.
Geographical Distribution and Habitat –
Rumex crispus is a plant with wide diffusion and naturalized all over the world, also in Italy where it is present throughout the territory in fresh and humid places up to the sub-mountain regions.
Its habitat is that of moist and clayey soils, in meadows and at the edges of roads, ruins, a synanthropic species frequent in cultivations, orchards, vineyards, fertilized meadows, uncultivated and ruins, where it grows from sea level up to 1,500 m a.s.l.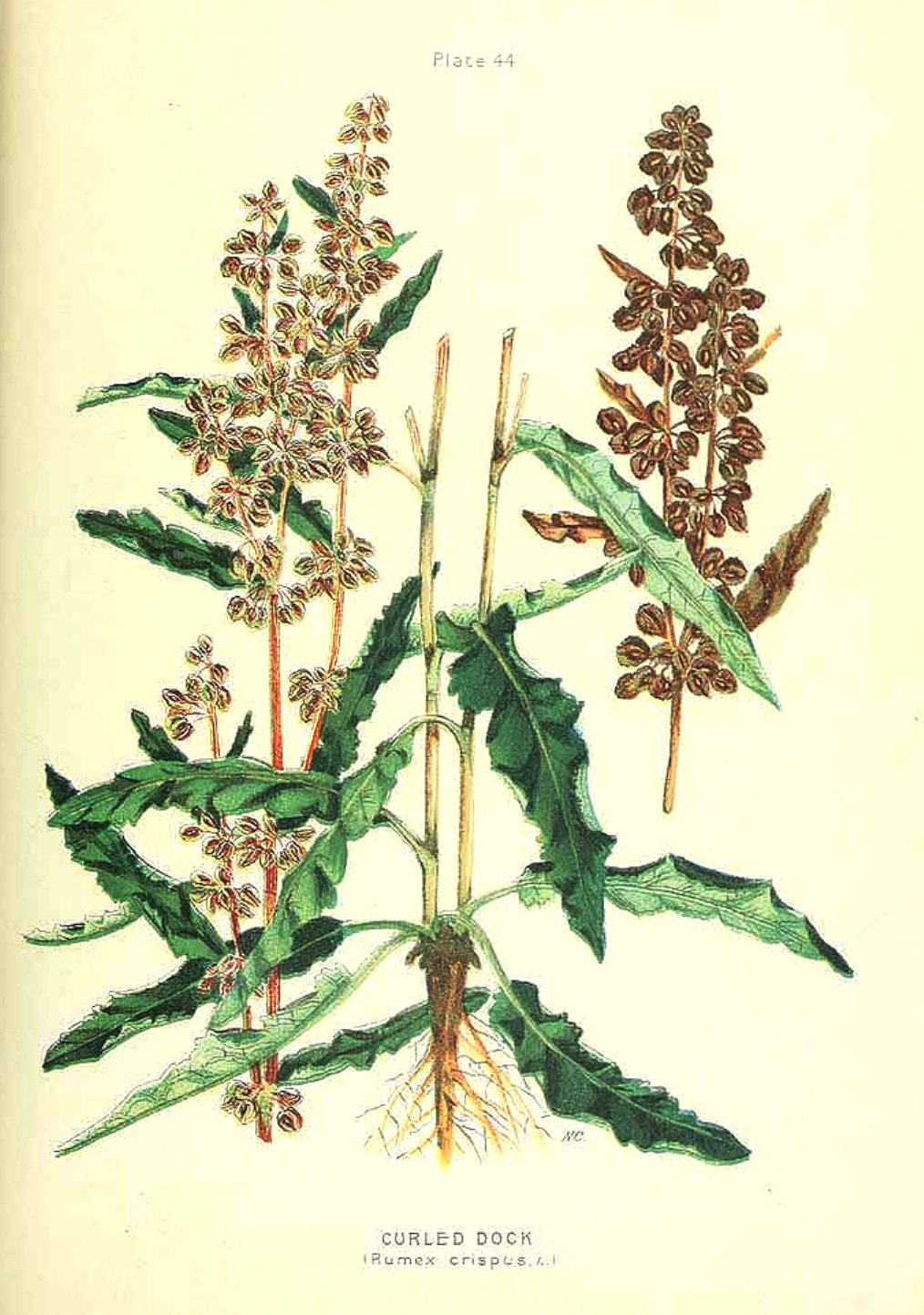 Description –
Curled dock is a perennial herbaceous species that grows on average from 40 cm to 1 m and with a bushy habit.
The stem is erect and has a fleshy / woody taproot rhizome that can grow in the soil up to 80 cm deep.
The basal leaves have an average long and flattened petiole, with lanceolate rosettes with acute apex; those of the stem are small with reduced petiole.
The flowers are hermaphrodites, gathered in reddish-green racemes emerging from the upper leaf axils, they form a dense and long panicle.
Pollination is anemophilous and the antesis is between May and July.
The fruit is a diclesium with triangular valve, heart-shaped, whole or denticulate, acute, of 3.5-5 x 3-5 (6) mm. Acheni si 1,7-3 (3,5) mm of reddish brown color.
Cultivation –
Rumex crispus is not generally a cultivated species as, among other considerations, it is also a highly infesting species that grows mainly in cultivated areas, in orchards, vineyards, fertilized meadows, uncultivated and ruins.
Uses and Traditions –
Within this plant we find some interesting active ingredients such as: chrysophane acid, essential oil, tannins, phytosterols.
Crepe Romice is a bitter, astringent, purifying, refreshing, anti-anemic herb.
It is used in case of laryngitis, dry cough and sore throat.
The root is very rich in iron and is used as an anti-anemic, tonic-restorative, laxative (substitute for rhubarb) and fruits rich in tannins, against diarrhea.
In addition, natural dyes used in the tanning of hides are obtained from this part of the plant.
It can be used for external use, with leaf poultices that can be used in the presence of dermatitis, skin diseases, boils.
In western Europe the leaves of this plant (as well as R. obtusifolius) were once a traditional remedy used against nettle stings.
Rumex crispus, in America, is among the few plants that naturalized from Europe, have been adopted by some Indian tribes and used together with other native species of Rumex; in particular the dakota tetons applied the chopped green leaves to the boils to promote the suppurative process. The roots containing tannin were instead used by the ojibwa flambeau to favor the healing and closing of the cuts.
The genus Rumex includes several species of herbaceous plants, many are considered weeds, others are cultivated as ornamental, still others are used to obtain tannin.
The use of Rumex crispus in homeopathy is interesting.
The Rumex crispus remedy is indicated in patients with the following general alterations:
– sensitivity to cold air;
– inflammation;
– heat and redness in the face and other remedies for particular patient conditions.
Preparation Mode –
Rumex crispus is one of those plants used in past times and gradually abandoned with the advent of the modern era and synthetic products.
In addition to the pharmaceutical, homeopathic and dye extraction uses, it can be used for food use.
The young leaves can be used in soups, or mixed with other boiled cooked herbs.
Guido Bissanti
Sources
– Acta Plantarum – Flora of the Italian Regions.
– Wikipedia, the free encyclopedia.
– Treben M., 2000. Health from the Pharmacy of the Lord, Advice and experiences with medicinal herbs, Ennsthaler Editore
– Pignatti S., 1982. Flora of Italy, Edagricole, Bologna.
– Conti F., Abbate G., Alessandrini A., Blasi C. (edited by), 2005. An annotated checklist of the Italian vascular flora, Palombi Editore.
Attention: Pharmaceutical applications and food uses are indicated for informational purposes only, do not in any way represent a medical prescription; therefore no responsibility is assumed for their use for curative, aesthetic or food purposes.