Hibiscus sabdariffa
Karkadè or Roselle (Hibiscus sabdariffa L.) is a herbaceous species belonging to the Malvacee family.
Systematics –
From the systematic point of view it belongs to the Eukaryota Domain, United Plantae, Magnoliophyta Division, Magnoliopsida Class, Malvales Order, Malvaceae Family and therefore to the Genus Hibiscus and to the H. sabdariffa Species
Etymology –
The term Hibiscus comes from the Greek ιβίσκος ibískos, name of the Althaea officinalis in Dioscorides (hibiscum in Virgil), a species of the same family
The specific epithet sabdariffa is the Latinization of the vernacular name in use in western India.
Geographical Distribution and Habitat –
Karkadè is a perennial plant probably native to western Africa and widespread both in Africa and in Asia.
Today it is also cultivated in other areas of the world with a similar climate, namely Central America and Oceania.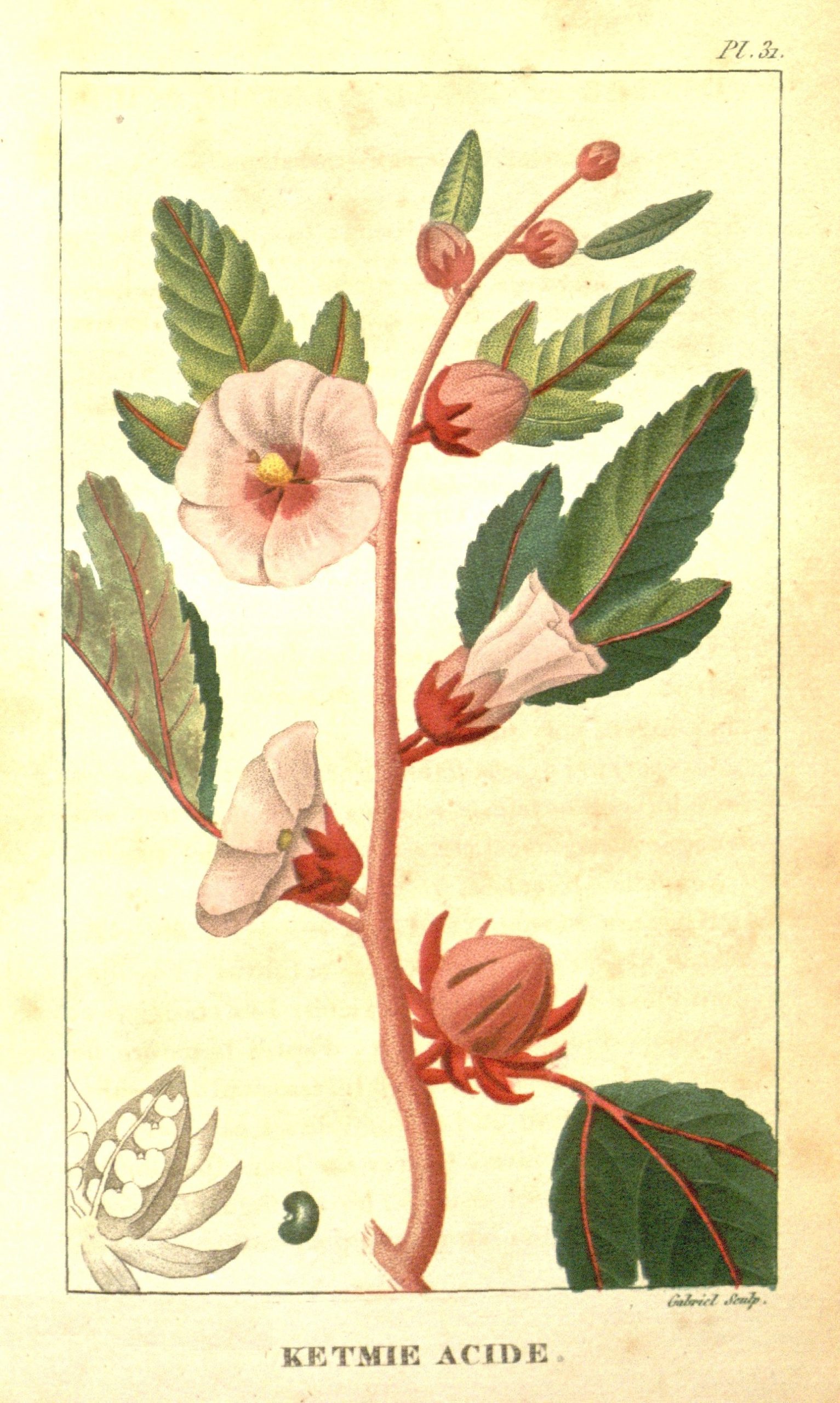 Description –
Hibiscus sabdariffa is an annual or perennial herbaceous species, with a basal woody part, which grows up to 2–2.5 m in height.
The leaves are deeply lobed with three to five lobes, 8-15 cm long and arranged alternately on the stems.
The flowers have a diameter of 8-10 cm with a color ranging from white to pale yellow with a dark red spot at the base of each petal and have a robust fleshy calyx, bright red, at the base, 1–2 cm wide which it grows up to 3–3.5 cm while the fruit ripens.
The flowering is in the summer period, around July, and the maturation produces red and juicy fruits in September, a period in which they are harvested.
Cultivation –
For the cultivation of this plant, bear in mind that it suffers from the cold and needs a lot of sun. It is in fact a plant originating from the Tropics that resists well to the humidity of the warm seasons, but is afraid of ice and frost.
Karkadè tolerates rain, medium-high temperatures and wind well; it should instead be kept clean from weeds and out of areas that are too shady. At the same time, however, it does not bloom if the daylight hours are more than thirteen. During the winter months, if you want to try to keep it for more than a year, it is good to place it in a sheltered place.
For cultivation it adapts to many types of soil, but having the possibility, a soil rich in humus should be preferred, and possibly composed of sandy silt. The best time for sowing is the first half of May.
For planting (for Italy) this should be done in the period of May-June, taking care to leave about 60 cm between each specimen.
As far as fertilization is concerned, a mature manure intake is occasionally recommended. The plant does not need any other specific treatment and also resists the numerous parasites that attack it.
For pollination, remember that it has hermaphroditic flowers and this is done by insects such as bees.
The harvest period is in September.
Uses and Traditions –
Karkadè or rose tea is a plant that is also used in cooking, herbal medicine and medicine but used for the production of raffia fiber and as an infusion.
From it we obtain, by drying the goblets of flowers, drinks known as carcadè and bissap.
It is known throughout the world with many different names, including Roselle or Rosella fruit in the Anglo-Saxon countries, and Karkadè in Egypt, Saudi Arabia and Sudan.
In India, the plant is mainly cultivated for the production of raffia fibers used in cordage, obtained from its stem. The fiber can be used as a substitute for jute in the manufacture of the canvas. It has been used in folk medicine as a laxative and mild diuretic.
The red goblets of the plant are increasingly exported to the United States and Europe, particularly in Germany, where they are used as food colorings. It can be found in markets (such as flowers or syrup) in places, such as France, where there are communities of Senegalese immigrants.
Green leaves are used as a spicy version of spinach. These give flavor to Senegalese fish and the thieboudienne rice dish. In Burma its green leaves are the main ingredient in chin baung kyaw's curry.
The Brazilians attribute gastric, emollient and resolutive properties to the bitter roots.
In Italy, cultivation is not widespread, unlike other species such as Hibiscus syriacus and Hibiscus rosa-sinensis, which are favored for ornamental use.
Preparation Mode –
The Hibiscus sabdariffa is famous in particular for the refreshing decoction obtained from its petals, or karkadè; It is a refreshing drink with digestive, diuretic and invigorating properties. It also has a slight laxative power. The ruby ​​red color is given by the sepals, also used to obtain many products: jams and jellies are particularly easy to prepare, thanks to the high presence of citric acid and pectin. The sepals are edible even raw, and can enrich salads and soups. Recently, it is also widely used as a food coloring.
As, as mentioned, it has many herbal and medicinal uses, the populations that cultivate it have given it many properties. In particular it has been used as a remedy for cough, fever, hypertension, heart disease, dyspepsia, and even against cancer. On a medical level it has been proven that the leaves have emollient properties. The sepals seem to be useful for many problems related to blood and pressure. Recent studies have also found an effective antioxidant and diuretic power, as well as an aid in the prevention of some metabolic syndromes (linked to obesity and insulin resistance).
In the kitchen then the young shoots and leaves can be used in the preparation of salads. Also the leaves are used in the preparation of supplements.
Guido Bissanti
Sources
– Acta Plantarum – Flora of the Italian Regions.
– Wikipedia, the free encyclopedia.
– Treben M., 2000. Health from the Pharmacy of the Lord, Advice and experiences with medicinal herbs, Ennsthaler Editore
– Pignatti S., 1982. Flora of Italy, Edagricole, Bologna.
– Conti F., Abbate G., Alessandrini A., Blasi C. (edited by), 2005. An annotated checklist of the Italian vascular flora, Palombi Editore.
Attention: Pharmaceutical applications and food uses are indicated for informational purposes only, do not in any way represent a medical prescription; therefore no responsibility is assumed for their use for curative, aesthetic or food purposes.