Abies procera
The noble fir or red fir (Abies procera Rehder, 1940) is an arboreal species belonging to the Pinaceae family.
Systematics –
From the systematic point of view it belongs to the Eukaryota Domain, Kingdom Plantae, Pinophyta Division, Pinopsida Class, Pinales Order, Pinaceae Family and therefore to the Genus Abies and to the A. procera Species.
The terms are synonyms: Abies nobilis (Douglas ex D. Don) Lindl. (nom. illeg.), Picea nobilis (Douglas ex D. Don) Loudon and Pseudotsuga nobilis (Douglas ex D.Don) W. R. Mc Nab.
Etymology –
The term Abies comes from the classical Latin Abies (Virgil, Egloghe) in turn coming from the Sanskrit root abh to gush, referring to the resin.
The specific epithet procera comes from the pro- and from crresco grow, which grows more: tall, large, long, slender.
Geographical Distribution and Habitat –
The noble fir is an endemic species of the western United States of America (California, Oregon and Washington) in areas between 300 and 1,500 m. s.l.m ..
Its habitat is represented by mixed coniferous forests in association with Tsuga heterophylla, Picea sitchensis and Thuja plicata at low altitude, Pseudotsuga menziesii, Abies grandis, Pinus spp., Abies lasiocarpa, Abies amabilis, Tsuga mertensiana, Picea engelmannii and Larix occidentalis higher odds.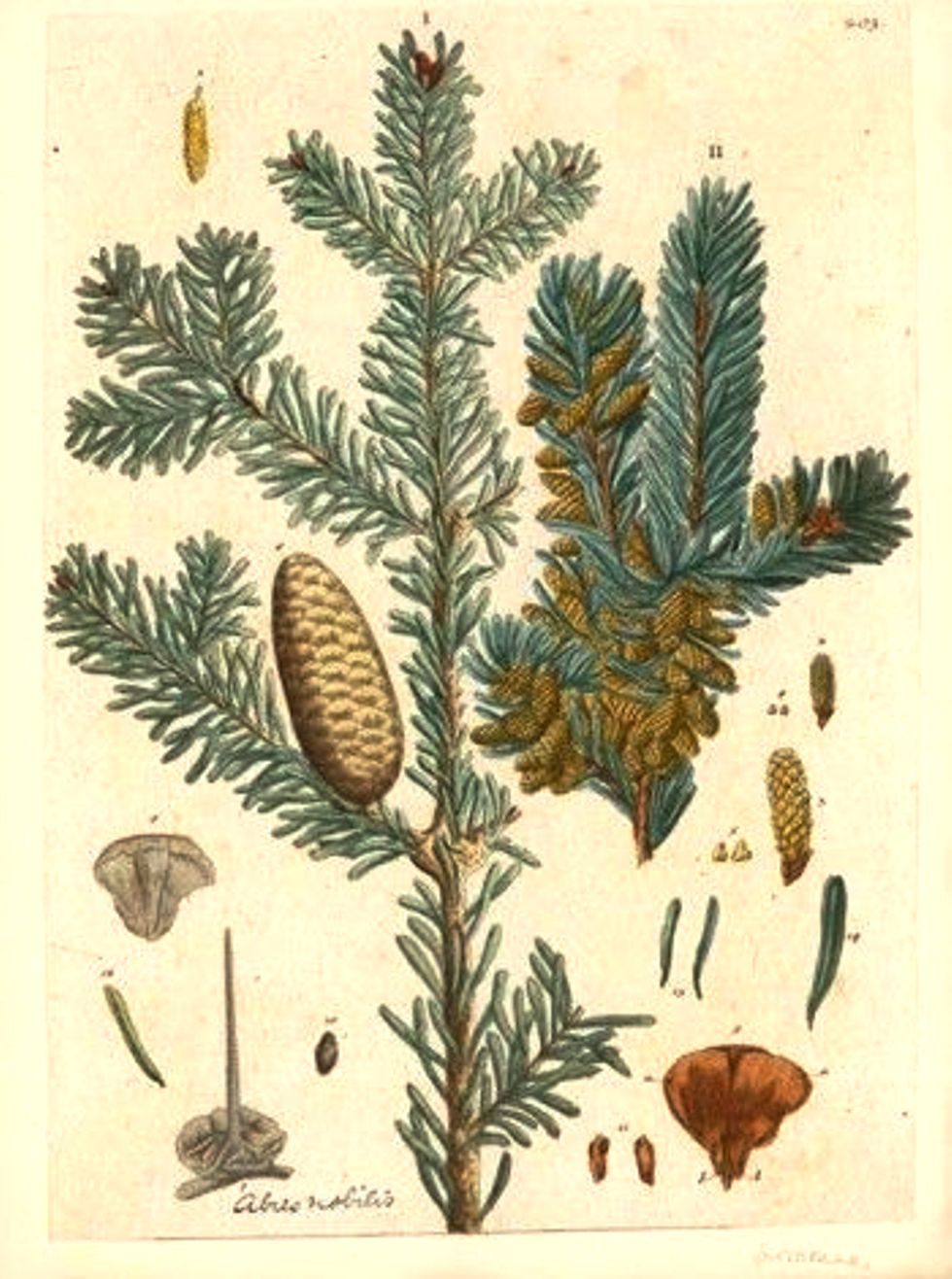 Description –
The Abies procera is a large evergreen tree, which can reach up to 80 m in height, with a trunk diameter of 2.2 m.
It has a narrow and conical shape.
The bark, in the younger specimens, has a smooth consistency with gray coloring with resinous bladders; over time this takes on a red-brown color, becomes rough, cracking in old specimens.
It has needle-shaped leaves, 1-3.5 cm long, flat-shaped, glaucous, blue-green in the upper part and with accentuated bands in the lower part.
The pine cones are oblong-cylindrical, erect, 10-15 cm long, initially green to then become reddish-brown when ripe.
Cultivation –
The noble fir is a plant that adapts very well to windy areas and can also be cultivated in partially shaded areas but that grows well in very bright areas.
Its preferred habitat in Italy can obviously be the Alpine or Apennine one, between 500 and 1,800 m. s.l.m., where it can also reach considerable dimensions.
It adapts well above all on slightly acidic or neutral soils with good drainage and discrete nutrient features.
As for the other fir trees, these plants should not be pruned and still need to be planted in areas with sufficient space available.
Uses and Traditions –
The Abies procera was discovered, for the first time, by the legendary botanical explorer David Douglas. The discovery was made on the north side of the Columbia River Gorge which is a canyon of the Columbia River in the Pacific Northwest of the United States of America. This gorge is up to 1,200 m deep and stretches for about 130 km as the river winds westward through the Cascade Range, forming the border between Washington State in the north and Oregon in the south.
In this area you can still find exceptional specimens, while some beautiful trees are found in the Mount Rainier National Park.
This is a typical fir of western North America and typically grows between 300 and 1500 m with extreme altitudes between 60 and 2,700 m. above sea level.
It is a fir very resistant to the wind, moderately tolerant in the shade, not tolerant to fire, which grows well in conditions of intense light.
Within this species grow the largest trees ever recorded in the genus Abies. Currently the largest known tree is 82.9 m high. with a volume of stem wood estimated at 126 m3; grows in a natural area in the marsh near the mountain. St. Helens in Washington.
The tallest tree ever measured was 99.06 m (Abies' tallest tree ever recorded) which grew near Harmony Falls to the northeast of Mt. St. Helena. Forest, which in that area was destroyed by the eruption of the mountain on 18 May 1980.
This species has limited use and is used as a Christmas tree, while wood is generally used as a building material and to produce paper.
In past times the wood of the Abies procera was used for the realization of parts of airplanes and stairs; in both cases because it is a light, resistant wood with high flexibility before breaking. However, to this day, it is still considered to be one of the best timber trees due to the resistance of its light and slightly veined wood.
Preparation Mode –
The noble fir is currently a tree used as a Christmas tree and less, compared to the past, for its timber. It does not have any other particular food or pharmaceutical uses.
Guido Bissanti
Sources
– Acta Plantarum – Flora of the Italian Regions.
– Wikipedia, the free encyclopedia.
– Treben M., 2000. Health from the Pharmacy of the Lord, Advice and experiences with medicinal herbs, Ennsthaler Editore
– Pignatti S., 1982. Flora of Italy, Edagricole, Bologna.
– Conti F., Abbate G., Alessandrini A., Blasi C. (edited by), 2005. An annotated checklist of the Italian vascular flora, Palombi Editore.
Attention: Pharmaceutical applications and food uses are indicated for informational purposes only, do not in any way represent a medical prescription; therefore no responsibility is assumed for their use for curative, aesthetic or food purposes.