Abies religiosa
Sacred fir or oyamel (Abies religiosa (Kunth) Schltdl. & Cham.) Is an arboreal species of the Pinaceae family.
Systematics –
From the systematic point of view it belongs to the Eukaryota Domain, Kingdom Plantae, Pinophyta Division, Pinopsida Class, Pinales Order, Pinaceae Family and therefore to the Genus Abies and to the A. religious Species.
Of this species there is a subspecies that is: Abies religiosa subsp. mexicana (Martínez) Strandby, K.I.Chr. & M.Sǿrensen.
The terms are synonymous:
– Abies colimensis Rushforth & Narave;
– Abies glauca Roezl ex Gordon;
– Abies glaucescens Roezl;
– Abies hirtella (Kunth) Lindl .;
– Abies religiosa subsp. colimensis (Rushforth & Narave) Silba;
– Religious Abies var. colimensis (Rushforth & Narave) Silba;
– Abies religiosa subsp. glaucescens (Rushforth & Narave) Silba;
– Religious Abies var. glaucescens Carrière;
– Religious Abies var. hirtella (Kunth) Carrière;
– Religious Abies var. lindleyana Carrière;
– Abies religiosa subsp. perotensis (Silba) Silba;
– Religious Abies var. pertensis Silba;
– Abies religiosa subsp. Religious;
– Abies tlapalcatuda Roezl;
– Picea glaucescens Roezl) Gordon;
– Picea hirtella (Kunth) Loudon;
– Picea religiosa (Kunth) Loudon;
– Pinus hirtella Kunth;
– Pinus religiosa Kunth;
– Pinus religiosa var. minor Parl.
Etymology –
The term Abies comes from the classical Latin name Abies (Virgil, Eglogues) from the Sanskrit root abh to gush, because of the resin.
The specific religious epithet, in the sense of sacred, venerable; for ancient rituals and meanings connected to this plant by the peoples of Mexico and Guatemala.
Geographical Distribution and Habitat –
Religious Abies is a spruce native to the mountains of central and southern Mexico (Puebla, Oaxaca, Nuevo León, Morelos, Michoacán, Mexico, Veracruz, Tlaxcala, Tabasco, Sinaloa, San Luis Potosí, Querétaro, Chiapas, Guanajuato, Guerrero, Hidalgo and Jalisco), and of western Guatemala, where it grows at altitudes between 2,100 and 4,100 m in forests with high rainfall and humid and cool summers.
Its habitat is also characterized, in most cases, by dry winters unlike the State of Veracruz where it grows with rainfall distributed throughout the year.
This plant prefers especially soils of volcanic origin and at higher altitudes it forms pure forests or in association with Pinus montezumae and Pinus hartwegii, sometimes in the northern part of its range also with Pseudotsuga menziesii, while at lower altitudes with Alnus acuminata, Prunus serotina, Quercus ssp. and Arbutus ssp.
In the undergrowth we find a shrub vegetation consisting of: Vaccinium, Andromeda, Ribes and Fuchsia.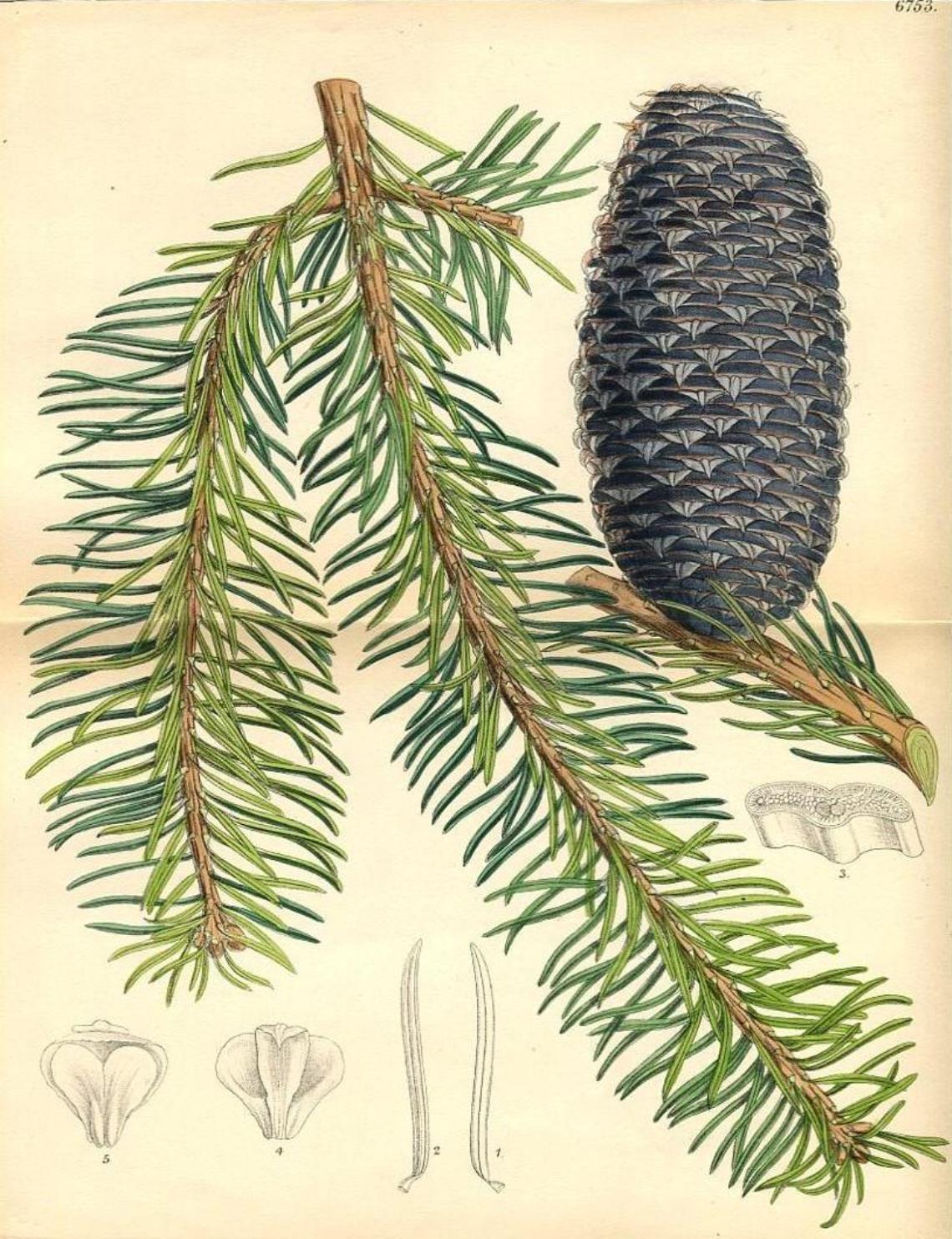 Description –
Sacred fir is an evergreen plant that can reach 40 – 60 meters in height.
The trunk is rounded, with a diameter up to 2 meters. The crown assumes a pyramidal or conical shape.
The young branches are red-brown, with no hair or with scattered hairs.
The bark is white-gray when young, and over the years it splits deeply into small plates and becomes gray-dark brown.
The needles have a length of 1.5 – 3.5 cm, 1.5 mm wide, dark green on the upper side, and with two whitish stomata strips below; needles have a sharp apex. These are arranged in a spiral, combed, slightly ascending.
The male strobes are 10-15 mm long, more or less pendent, with red microsporophylls. The cones are erect and carried by a short and often curved peduncle, of a shape that varies between ovoid and cylindrical, 8-16 cm long and 4-6 cm broad; they have a dark blue-violet color before maturity; the scales of the bracts are purple or greenish, of short length, with the tips exposed in the closed cone.
It has winged seeds of a glossy brown color, 10 mm long, which are released when the cones disintegrate at maturity, about 7 -9 months after pollination.
The specimens of the western part of the Nevado de Colima chain (Jalisco) are distinguished from this morphology and have cones with flakes of the largest, curved bracts and which, for this reason, are sometimes considered as separate species (Abies colimensis).
Cultivation –
Sacred fir is a conifer which, to be cultivated, must find the conditions most similar to its natural habitat.
It is a tree that prefers volcanic soils, therefore very permeable, and that grows at very high altitudes and therefore with climatic conditions with milder summers and particularly harsh winters.
Rainfall must be characterized by abundant rainfall.
As with other fir trees it should not be pruned and can also grow in isolated form or associated with other plants.
Uses and Traditions –
The sacred fir, also called oyamel by its name in the Nahuatl language, is a fir tree that is of great ecological importance as it hosts huge populations of the Danaus plexippus butterfly, which represents the most famous butterfly species in North America, every winter.
The sacred term is due to the widespread use in Mexico of young specimens such as Christmas trees, and branches as decorations during religious holidays.
With regard to other uses of this tree, wood is used for minor internal works in construction and carpentry in a more marginal way.
Regarding the risks for this species, the religious Abies, has suffered in recent times a reduction of the population due to excessive exploitation, but not such as to consider the species in danger. For this reason and also for the vast area where this species grows, at the moment it is classified as a species at minimal risk of extinction (Least Concern) in the IUCN Red List.
Preparation Mode –
The sacred fir tree, in addition to the aforementioned uses, has no particular uses of a food or pharmaceutical nature.
Guido Bissanti
Sources
– Acta Plantarum – Flora of the Italian Regions.
– Wikipedia, the free encyclopedia.
– Treben M., 2000. Health from the Pharmacy of the Lord, Advice and experiences with medicinal herbs, Ennsthaler Editore
– Pignatti S., 1982. Flora of Italy, Edagricole, Bologna.
– Conti F., Abbate G., Alessandrini A., Blasi C. (edited by), 2005. An annotated checklist of the Italian vascular flora, Palombi Editore.
Attention: Pharmaceutical applications and food uses are indicated for informational purposes only, do not in any way represent a medical prescription; therefore no responsibility is assumed for their use for curative, aesthetic or food purposes.