Cistus creticus
The Pink Rock-Rose (Cistus creticus L.) is a shrub species of the Cistaceae family.
Systematics –
From the systematic point of view it belongs to the Eukaryota Domain, United Plantae, Magnoliophyta Division, Magnoliopsida Class, Violales Order, Cistaceae Family and therefore to the Genus Cistus and to the C. creticus Species.
The terms are synonymous:
– Cistus garganicus Ten .;
– Cistus villosus subsp. creticus (L.) Nyman;
– Cistus incanus L. subsp. creticus (L.) Heywood;
– Cistus incanus L. subsp. creticus (L.) Flowers;
– Cistus eriocephalus Viv .;
– Cistus incanus L .;
– Cistus corsicus Loisel .;
– Cistus incanus L. subsp. corsicus (Loisel.) Heywood;
– Cistus creticus L. subsp. corsicus (Loisel.) Greuter et Burdet;
– Cistus incanus L. var. corsicus (Loisel.) Flowers.
Etymology –
The term Cistus comes from the Greek κίστη kíste give (in Dioscorides): it describes the characteristic of the ripe fruit, a capsule which expels the seeds when it opens.
The specific epithet creticus comes from the ancient Greek Κρήτη Krētē Crete: therefore a native of the Cretan island of Crete.
Geographical Distribution and Habitat –
Pink Rock-Rose is a widespread species in the Mediterranean areas and is certainly the species of its genus most represented in the Mediterranean flora. This plant finds its optimal habitat in the Mediterranean scrub, in the garrigues, always at the edge of the woods (possibly holm-oaks) in sunny positions and on calcareous or siliceous soils, up to 700 m s.l.m ..
Often we find it associated with Cistus salvifolius which has the best known name Cistus incanthe.
In Italy it is present in all peninsular and island regions, in Liguria, in Veneto and in Emilia-Romagna.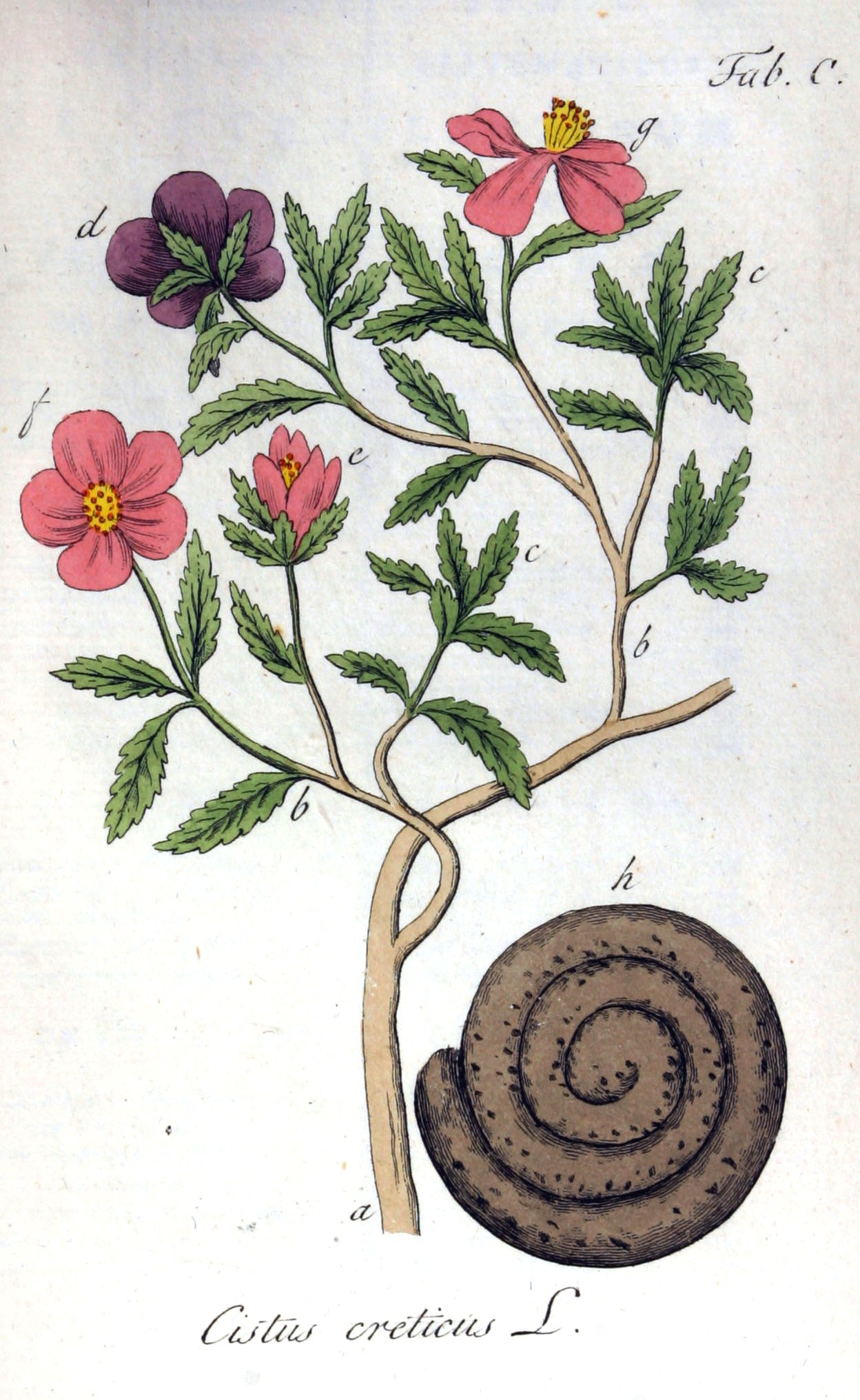 Description –
Cistus creticus is a small, evergreen aromatic shrub, very branched, which can grow up to a meter. The stems, lignified at the base, have a reddish brown bark.
This plant normally presents an abundant glandular hairiness on the young branches and on the floral peduncles.
The leaves are greyish green in color, with deep pinnate-reticulated veins on the upper side; they are opposite, briefly petiolate, ovate-lanceolate (15-25 x 8-15 mm), with a corrugated wavy edge.
The flowers are characterized by a pink-red corolla with 5 petals, up to 6 cm wide, a long threadlike stylus as long as the numerous stamens and 5 long-sharped ovate-lanceolate sepals.
The anthesis is from April to early June, with inflorescences in terminal peaks, with flowers carried by peduncles 3-15 mm long, in number 1-7.
The fruit is an oval, dark-colored capsule that contains many small seeds.
Cultivation –
Cistus creticus are plants that need a very sunny position; furthermore, in climates with particularly cold winters, plants can be damaged. To obtain a good rooting and a good vegetation it is necessary to place the Cistus creticus in a very well drained soil; in nature these plants also grow in places with poor soil, so they develop without problems in soils that are not too heavy or acid.
However, these plants have excellent adaptive properties and can grow even in areas that do not have a particularly congenial climate. The only limit is represented by strong and persistent frost.
As far as water needs are concerned, the cistus plants can easily withstand long periods of drought, generally they can be satisfied with the rains. At the beginning of spring it is good to bury well-ripe organic fertilizer at the foot of the plant, or to spread a slow release granular fertilizer on the ground. It is always advisable to avoid stagnant water at the base of the plant that could be dangerous.
As far as propagation is concerned, this plant can proceed in the spring period with the sowing of small dark seeds: in April in a container, in May directly at home. In late summer it is possible to take cuttings, the new plants thus obtained will be planted the following spring, after having them developed and having allowed them to acquire the right strength to withstand repotting and displacement.
It should be remembered that red Cistus does not like excessive pruning, it is therefore good to intervene only in the case of dry or cold-weathered branches.
Uses and Traditions –
The Cistus creticus is a species, like other cysts, which rapidly colonizes the garrigues and woods crossed by the fire.
From the red cistus (as well as from Cistus ladanifer) we obtain a resin called "Ladano" which is used in cosmetics and to flavor certain wines.
It has balsamic and revulsive properties.
The cistus is symbiont of the fungus Lactarius tesquorum which is highly sought after and consumed despite being declared "inedible" by official literature.
Preparation Mode –
Pink Rock-Rose is used to obtain Ladan and for its balsamic and revulsive properties.
Guido Bissanti
Sources
– Acta Plantarum – Flora of the Italian Regions.
– Wikipedia, the free encyclopedia.
– Treben M., 2000. Health from the Pharmacy of the Lord, Advice and experiences with medicinal herbs, Ennsthaler Editore
– Pignatti S., 1982. Flora of Italy, Edagricole, Bologna.
– Conti F., Abbate G., Alessandrini A., Blasi C. (edited by), 2005. An annotated checklist of the Italian vascular flora, Palombi Editore.
Attention: Pharmaceutical applications and food uses are indicated for informational purposes only, do not in any way represent a medical prescription; therefore no responsibility is assumed for their use for curative, aesthetic or food purposes.