Armoracia rusticana
The Horseradish (Armoracia rusticana G.Gaertn., B.Mey. & Scherb., 1800) is a perennial herbaceous species of the Brassicaceae family.
Systematics –
From the systematic point of view it belongs to the Eukaryota Domain, United Plantae, Magnoliophyta Division, Magnoliopsida Class, Capparales Order, Brassicaceae Family and therefore to the Genus Armoracia and to the A. rusticana Species.
The terms are synonymous: Armoracia lapathifolia, Gilib., Cochlearia armoracia, L. and Nasturtium armoracia, Fries.
Etymology –
The term Armoracia comes from armoricus, Breton: Armorica is an area of ​​Brittany, where the plant was cultivated. The specific rusticana epithet comes from rus, rúris campagna, a farm that grows in agricultural environments.
Geographical Distribution and Habitat –
Armoracia rusticana is the only species of the genus Armoracia and is probably a plant native to south-eastern Europe and western Asia. In Italy it is sometimes cultivated (especially in Trentino-Alto Adige) and sometimes run wild in damp places, near houses and vegetable gardens.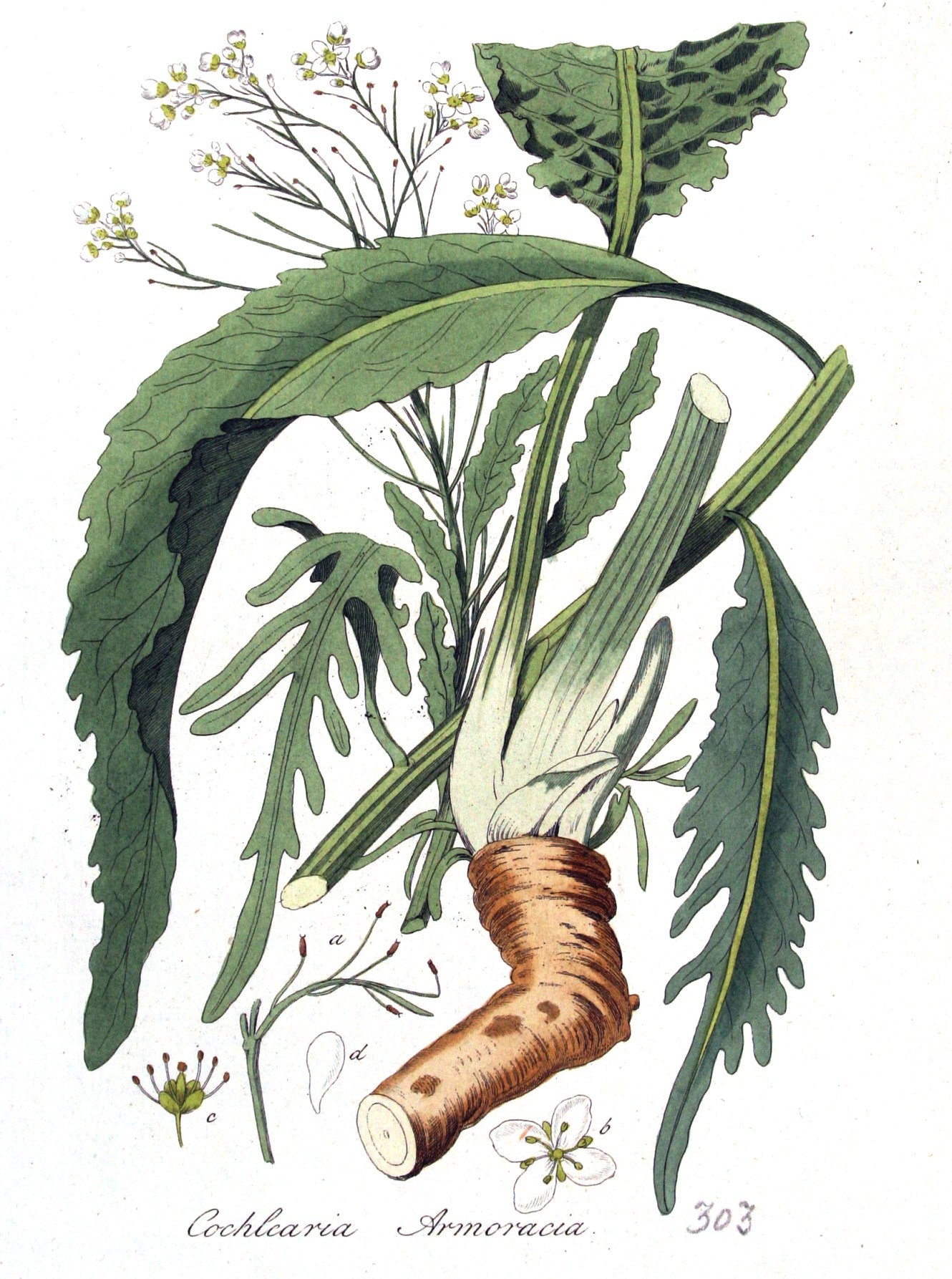 Description –
Horseradish is a rhizomatous cruciferous plant, up to about 80 cm high, with large, rough ovate-oblong leaves, of an intense green color and with a crenate-serrated margin. The flowers, which appear in early summer, are small and white, gathered in large racemes and with a corolla formed by four petals.
The fruit is a latisetta siloquetta obovoid or ellipsoid, 4-6 mm, with no evident median nerve, with a short (0.5 mm) or obsolete stigma. Seeds in two rows in each niche, oblong, compressed, smooth, often aborted.
Cultivation –
Horseradish is a plant that multiplies easily by dividing the tufts, planting parts of rhizomatous roots on which some buds are present.
For its cultivation it is necessary to choose fresh and semi-shadowed places, but, if well watered, it can grow even in full sun.
Cultivation is carried out using its roots, which must be harvested after the second year of cultivation and immediately used because they quickly lose freshness and turgidity.
For details of the cultivation technique, see the following sheet.
Uses and Traditions –
The Horseradish is a perennial herbaceous plant of which the fresh root is used for the preparation of sauces.
The intact horseradish root has almost no aroma; aroma that it takes after it is grated as it activates enzymes that split sinigrin into allyl isothiocyanate, the molecule responsible for the spicy taste.
The horseradish root has a sweet, slightly spicy and above all strongly aromatic and balsamic taste (it is definitely felt in the respiratory tract and causes lacrimation).
Horseradish root is used for the preparation of a sauce suitable for seasoning boiled meats, fish and vegetables. The horseradish sauce is very popular with roast beef and smoked fish.
It is a ubiquitous ingredient in accompanying meat dishes from various regions such as in South Tyrolean cuisine, particularly with speck. In South Tyrol it is also customary to bring a portion of it to church for Easter mass. The blessed kren is said to have the virtue of removing snakes for a whole year from those who have consumed them on this holiday.
The fresh young leaves are excellent in salads.
If they are not consumed immediately they can be grated fresh and used in the preparation of a spicy sauce, to be kept in the refrigerator.
Horseradish is used in many typical and traditional cuisines.
From a nutritional point of view, 100 grams of horseradish provide 48 calories, have a high content of vitamin C, a moderate content of sodium, folic acid and dietary fiber. One tablespoon of horseradish (about 15 grams) does not provide any significant nutrient content. Horseradish contains volatile oils, in particular mustard oil and allyl isothiocyanate.
Preparation Mode –
Grated horseradish should be used immediately or at most preserved in vinegar. The pulp once exposed to air or heat will begin to lose its pungent taste, to darken color, and to become unpleasantly bitter over time.
In the traditional cuisine of Basilicata, it is used for the preparation of the so-called Matera or Marsicana rafanata, in which the fresh grated root is combined with pecorino cheese, beaten eggs, parsley and black pepper for the preparation of an omelette even a few centimeters high, rich dish typical of the Carnival period. Raw horseradish is the main condiment of the "Ndrupp'c, or" hitch, the typical ragù of the city of Potenza: it is grated fresh, directly on the plate of freshly prepared ragù, in addition to the cheese, and immediately brought to the table. Used this way it is ironically defined by the Potentines as "u tartuf' d'i povr 'òmm" (trad. "The truffle of the poor"; literally, "the truffle of the poor men"). In the province of Potenza, the leaf is also used to flavor cabbage-based soups. It is also used to create a wasabi surrogate.
In Trieste cuisine, fresh grated horseradish is used as an essential condiment for appetizers of ham in a bread crust or cooked ham such as "Praga".
From the grated and minced root, with the addition of aromas such as vinegar, breadcrumbs, apple and possibly some sugar, you get a spicy sauce that is accompanied with cold cuts, boiled meats, smoked fish and other dishes. It is used, especially, in Jewish cuisine, in German and Eastern European cuisine. In Italy it is widespread especially in the Triveneto, especially in Friuli-Venezia Giulia and in the Province of Treviso, and the sauce is called cren (or kren) from German.
Another horseradish sauce is prepared to the extent of the three parts, ie a portion of mayonnaise, one of bread crumbs (soaked in milk, squeezed and finally reduced to a pulp) and one of finely grated root, all corrected with salt. an addition of vinegar, which will be used for storage and to give a correct pH in order to avoid short-term botulinum. It does not lend itself to being potted.
A delicate and special sauce is made with a part of grated horseradish root, a part of mayonnaise, a part of breadcrumbs soaked in milk and naturally squeezed, salt, a tablespoon of sugar and a few tablespoons of vinegar. Everything is mixed together. The sauce thus obtained must be kept in the refrigerator.
Guido Bissanti
Sources
– Acta Plantarum – Flora of the Italian Regions.
– Wikipedia, the free encyclopedia.
– Treben M., 2000. Health from the Pharmacy of the Lord, Advice and experiences with medicinal herbs, Ennsthaler Editore
– Pignatti S., 1982. Flora of Italy, Edagricole, Bologna.
– Conti F., Abbate G., Alessandrini A., Blasi C. (edited by), 2005. An annotated checklist of the Italian vascular flora, Palombi Editore.
Attention: Pharmaceutical applications and food uses are indicated for informational purposes only, do not in any way represent a medical prescription; therefore no responsibility is assumed for their use for curative, aesthetic or food purposes.