Poa pratensis
The Poa pratense, or Smooth Meadow Grass, (Poa pratensis L., 1753) is a herbaceous species belonging to the Poaceae family.
Systematics –
From the systematic point of view it belongs to the Eukaryota Domain, United Plantae, Magnoliophyta Division, Liliopsida Class, Poales Order, Poaceae Family, Subfamily Pooideae and therefore to the Genus Poa and to the P. pratensis Species.
The species has some subspecies:
– Poa pratensis ssp. alpigena (Fries ex Blytt) Hiitonen;
– Poa pratensis ssp. colpodea (Fries ex Blytt) Tzvelev;
– Poa pratensis ssp. irrigated (Lindm.) Lindb. f .;
– Poa pratensis ssp. pratensis L ..
Etymology –
The term Poa comes from the Greek πόα póa erba, forage. The specific epithet pratensis derives from prátum prato: of the meadows, referring to the growth environment.
Geographical Distribution and Habitat –
Poa pratensis is a widespread species and for this reason it is sometimes considered a pest in Europe, Asia, North Africa and North America; it is however a species with an originally Eurasian distribution which today has become sub-cosmopolitan.
In Italy it is present in all regions where it grows in meadows, but also in disturbed sites along the roads, on fairly deep, loose clay soils, rich in nitrogen compounds, from neutral to subacid, from sea level to the upper mountain range.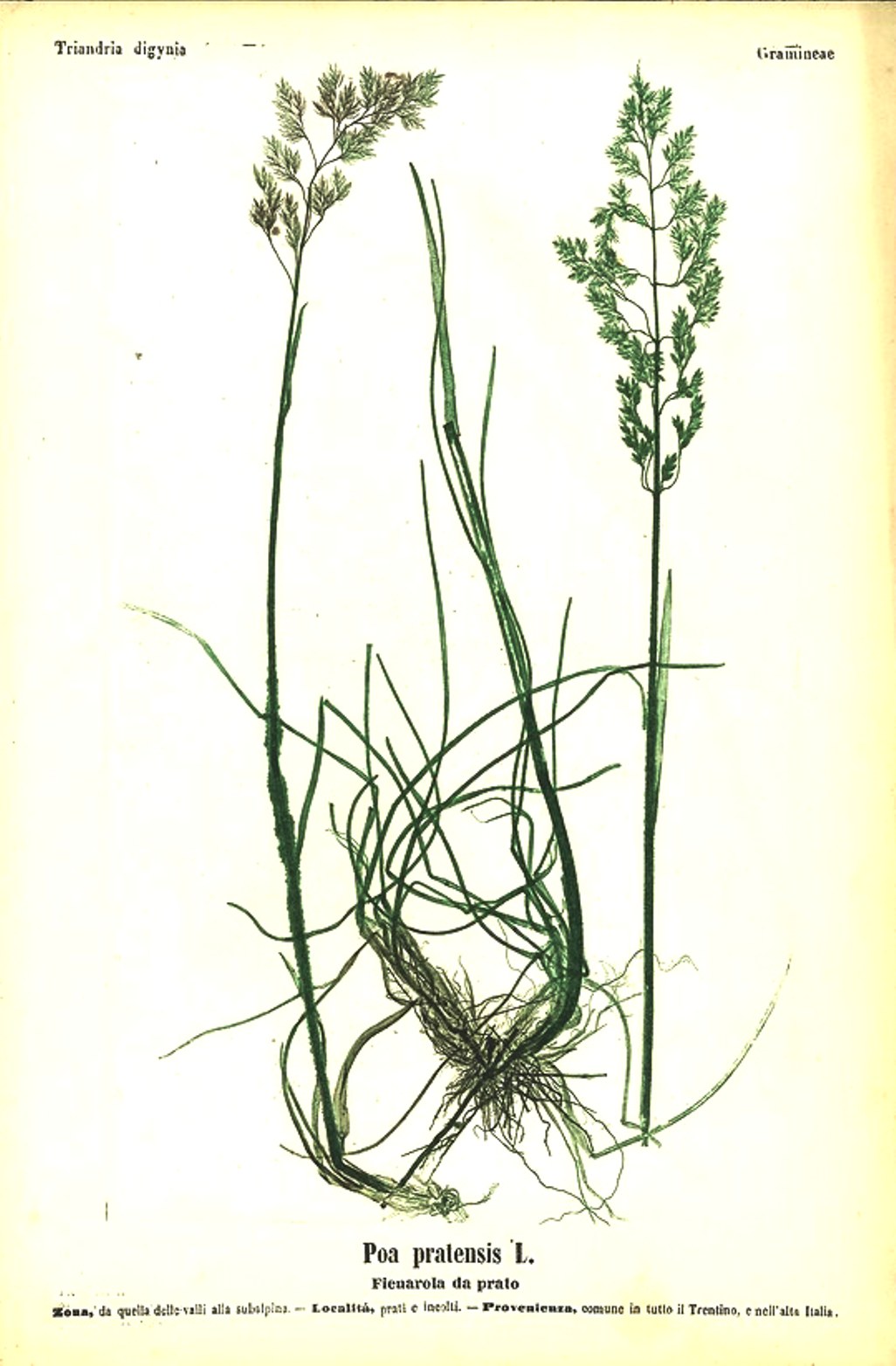 Description –
The Poa pratensis is a perennial herbaceous plant 30-70 centimeters high. It has narrow, linear leaves, up to 20 centimeters long and 3-5 millimeters wide in the shape of a boat bow; these are smooth or slightly roughened, with a rounded and truncated ligule of 1-2 mm.
The root is creeping with the presence of rhizomes.
The fruit is an antecario with caryopsis with point-like hilum. Oblong or ovate spikelets, compressed, 3-5 floras of 1.5×4 mm, which are disarticulated under each fertile flower. Persistent glumes shorter than spikelets. Spreadly hairy lemmas, wrapped at the base by a spiderweb fluff.
The anthesis is from May to September.
Cultivation –
Poa pratensis is a species with a wide spectrum of adaptability, being able to grow both in transition zones and in cold-humid regions. In addition, over time various ecotypes have been selected that are characterized by greater resistance to drought in the summer periods or to harsh climates.
For cultivation, the Poa pratensis meadows require some maintenance in some aspects, while for others they require very little care. This species, in fact, is characterized by its great resistance to wear and trampling and to the rhizomatous habitus: as a consequence, very thick lawns are created and they recover any damage caused by use in a short time. For this reason we opt for the sowing of this plant in areas of intense passage, where other types of grass are easily damaged.
In general the Poa pratensis, in sports facilities, forms a lawn of great aesthetic value suitable for all areas of Italy. Resists well to winter colds and moderate dryness. Resistant to trampling and excellent for sports facilities and public parks; it grows luxuriant even in shady places. It must be considered, however, that germination and turf formation are a bit slow. It is sown at the rate of 3 kg per 100 square meters of land.
Uses and Traditions –
The Smooth Meadow Grass is a species used for sports turf but is also a good fodder. In general, the Poa pratensis is a grass that is used in lawn mixtures capable of creating a dense, persistent turf with excellent recovery capacity.
As said the wide genetic variability of this species has allowed to select types that adapt very well also to hot and dry areas, with capacity for summer dormancy in the most extreme climates and for rapid recovery of the vegetative activity at the first signs of autumn.
Poa pratensis requires a certain level of maintenance as it takes a lot of nitrogen and does not tolerate low cuts, it also struggles a little to settle for sowing, which is why it is sown in mixtures with ryegrass and fescue.
Preparation Mode –
The Smooth Meadow Grass is a plant widely cultivated for the formation of lawns, especially for sports use but also used as a forage plant. It has no particular uses in the human food sector or for pharmaceutical purposes.
Guido Bissanti
Sources
– Acta Plantarum – Flora of the Italian Regions.
– Wikipedia, the free encyclopedia.
– Treben M., 2000. Health from the Pharmacy of the Lord, Advice and experiences with medicinal herbs, Ennsthaler Editore
– Pignatti S., 1982. Flora of Italy, Edagricole, Bologna.
– Conti F., Abbate G., Alessandrini A., Blasi C. (edited by), 2005. An annotated checklist of the Italian vascular flora, Palombi Editore.
Attention: Pharmaceutical applications and food uses are indicated for informational purposes only, do not in any way represent a medical prescription; therefore no responsibility is assumed for their use for curative, aesthetic or food purposes.