Trifolium squarrosum
The Squarrosum clover (Trifolium squarrosum L.) is a herbaceous species belonging to the Fabaceae family.
Systematics –
From the systematic point of view it belongs to the Eukaryota Domain, United Plantae, Magnoliophyta Division, Magnoliopsida Class, Fabales Order, Fabaceae Family, Faboideae Subfamily and then to the Genus Trifolium and the T. squarrosum Species.
The term Trifolium panormitanum Presl is synonymous.
Etymology –
The term Trifolium is composed of the three-prefix and fólium leaf: for the leaves composed of three leaflets. The specific epithet squarrosum comes from squarrōsus, covered with pustules or crusts: crust, tignosa, pustular.
Geographical Distribution and Habitat –
Trifolium squarrosum is a species with an area centered on the Mediterranean coasts, but with extensions to the north and east (area of ​​the Vine).
Its habitat is in dry pastures, sometimes even in disturbed environments along the roads, from sea level to about 600 m, with optimum in the Mediterranean area.
It is widespread in some areas of central and southern Italy; further north, although a good resistance to cold (up to -10 ° C) is reported, the crop is often seriously damaged by frost.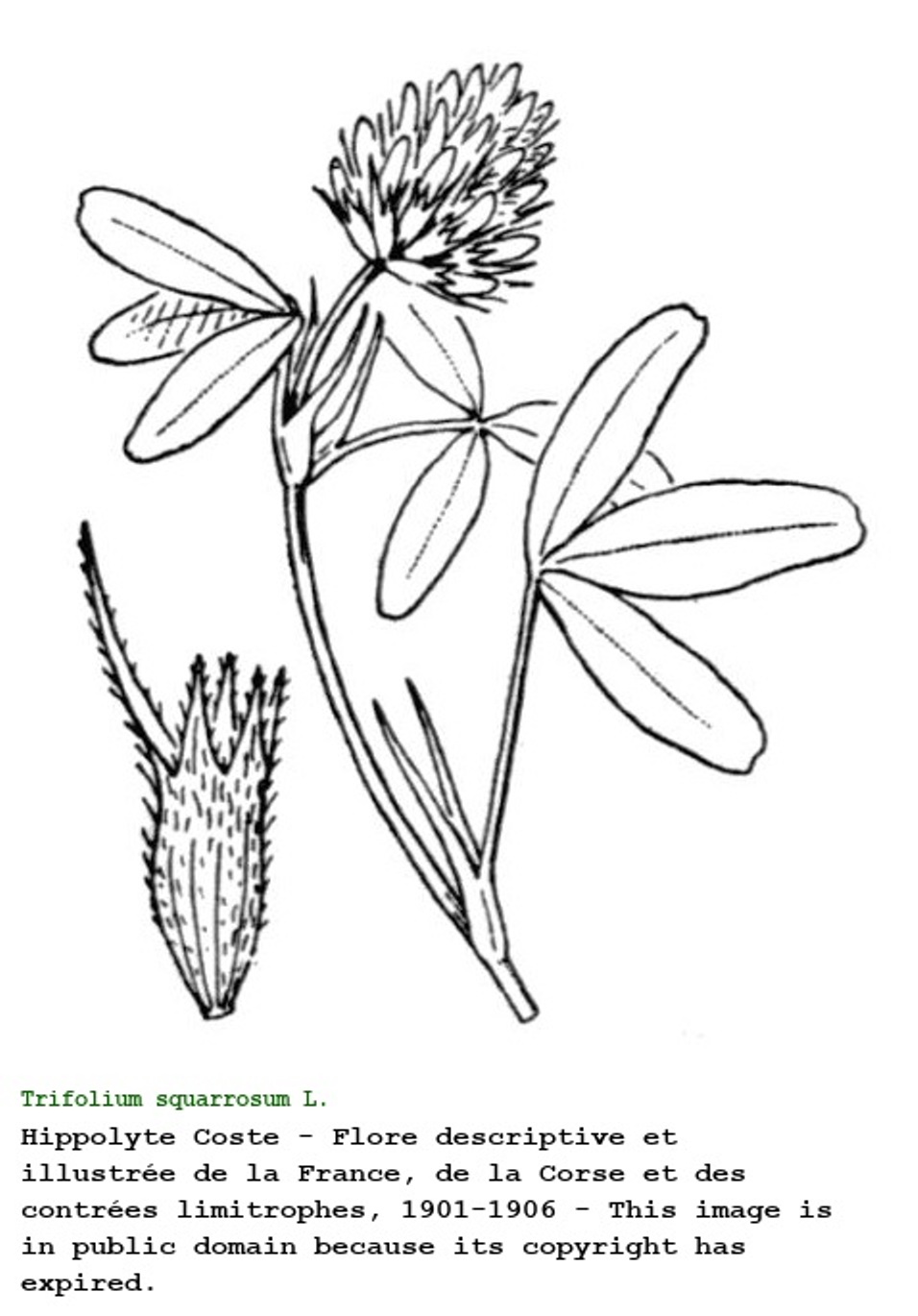 Description –
The Squarrosum clover is recognized for having leaves composed of leaflets and a larger size than the incarnate clover. The flowers are yellowish white or red, with 10 stamens, diadelfi and a persistent corolla, which adheres to the androceum. The flowers are gathered in inflorescences to head.
The fruit is a diclesio, an indehiscent camara included in the calyx, with a membranous pericarp and a smooth, yellowish seed of 1.8-2.7 mm.
The anthesis is in the period between April and June.
Cultivation –
The Squarrosum clover is a legume that has characteristics and possibilities of use very similar to those of the clover but more demanding in nutritional and environmental terms.
The Squarrosum clover is in fact well suited to both clayey and sandy soils, but it does not tolerate damp and limestone ones.
For the preparation of the seed bed a not very deep processing is sufficient with subsequent refinement. The sowing is carried out in autumn both mechanically and broadcaster, at a seeding depth of about 1-2 cm. With recommended sowing rates of 30-40 Kg / Ha in purity, and 15-25 Kg / Ha for polyphite lawns.
The productions can also reach 40-50 t / ha of grass to be mown to mow possibly beyond flowering due to the coarseness of the stem.
Squarroso trefoil is a plant that does not shrink and produces only one crop. Compared to the embodied clover, in addition to being of higher size, it is more leafy providing a greater yield in quantity of green mass.
Uses and Traditions –
Trifolium squarrosum is an annual plant with a Euro-Mediterranean distribution present in all regions of central, southern and insular Italy (long since no longer found in Piedmont and Friuli Venezia Giulia, of doubtful presence in Emilia-Romagna).
The most suitable use for this fodder legume is the grass for direct consumption, as long as the cut is made at the beginning and during flowering. It can also be used as a green manure plant and the cut, in this case, must be made in full bloom.
Preparation Mode –
Squarrosum clover is a fodder plant but without particular applications for human nutrition or pharmaceutical uses.
Guido Bissanti
Sources
– Acta Plantarum – Flora of the Italian Regions.
– Wikipedia, the free encyclopedia.
– Treben M., 2000. Health from the Pharmacy of the Lord, Advice and experiences with medicinal herbs, Ennsthaler Editore
– Pignatti S., 1982. Flora of Italy, Edagricole, Bologna.
– Conti F., Abbate G., Alessandrini A., Blasi C. (edited by), 2005. An annotated checklist of the Italian vascular flora, Palombi Editore.
Attention: Pharmaceutical applications and food uses are indicated for informational purposes only, do not in any way represent a medical prescription; therefore no responsibility is assumed for their use for curative, aesthetic or food purposes.