Trifolium incarnatum
The crimson clover (Trifolium incarnatum L.) is a herbaceous species belonging to the Fabaceae family.
Systematics –
From the systematic point of view it belongs to the Eukaryota Domain, United Plantae, Magnoliophyta Division, Magnoliopsida Class, Fabales Order, Fabaceae Family, Faboideae Subfamily, Trifolieae Tribe and then to the Genus Trifolium and to the T. incarnatum Species.
Etymology –
The term Trifolium derives from the three-word prefix and from fólium foglia: for the leaves composed of three leaflets. The specific epithet incarnatum comes from incárno incarnare, taking on a flesh color, due to its pinkish flowers.
Geographical Distribution and Habitat –
The crimson clover is a species with Euro-Mediterranean distribution with extensions to the north and east (area of ​​the Vine), native to most of Europe. It has been introduced in other areas of the world up to the United States and Japan
In Italy it is present in the spontaneous state, or as an escapee to cultivation, in all regions of Italy except perhaps in the Valle d'Aosta.
It is sometimes cultivated as fodder on decalcified clay soils, sub-acid and fresh and appears in the sub-spontaneous state even in the uncultivated, from sea level up to the subalpine belt. Its habitat is represented by grasslands, fields, uncultivated, especially on siliceous soils, from the plain up to 2,200 m.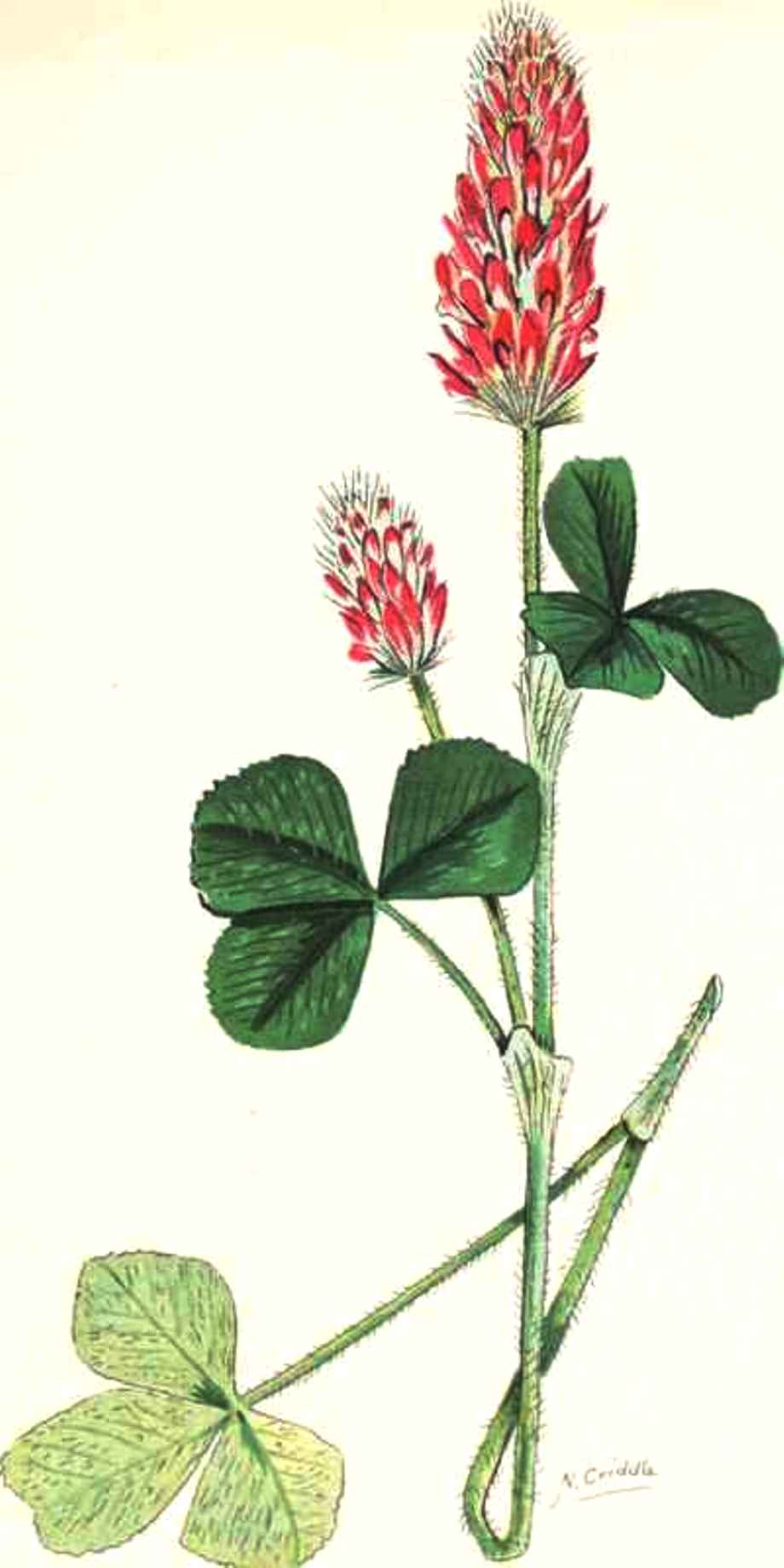 Description –
Trifolium incarnatum is an annual herbaceous species characterized by robust stems, erect 15 – 20 (50) cm, covered with patent hairs in the lower part and appressate in the upper one.
The leaves are typically divided into three leaflets about 2 cm long, obcordate, dentate in the apical half, fringed or truncated, hairy on both surfaces, they are alternate and are carried by a long hairy petiole of 2-4 cm, with the base ovate, toothed, obtuse or truncated stipules, membranaceae, hairy, red-stained, enveloping the stem with two orecchiette.
The inflorescence is at the apex of the stem, in the shape of a dense, spiciform, ovate or ellipsoid head to the anthesis and sub-cylindrical to the fructification, carried by a long and hairy peduncle, has no envelope or bracts, and is composed of numerous hermaphrodite flowers with actinomorphic, hairy, bell-shaped calyx, urceolate to fruiting, with 5 herbaceous teeth, subequal, as long as the tube or slightly more, triangular, wide in the fruit and hairy on the outside. Corolla typical of the family formed by a banner, wings and hull, with petals surmounted by lacinias calicine, welded to the base, bright red, glabrous, persistent or noticeable to fruiting.
The androceo is presented with 10 diadelfian stamens (9 welded to form a tube and 1 free) and the gynaeceum with ovary which has a stylus that passes inside the tube formed by the stamens.
The fruit is a legume called camara, included in the persistent calyx, with a membranous pericarp and a single yellowish seed at the bottom.
The anthesis is between April and June and pollination is autogamous or entomogamous.
Cultivation –
The crimson clover is a prevalently forage plant that resists well to the cold, but in the northern regions and in the clayey soils, above all if sown late, it can suffer serious damages due to eradication from frost. The crimson clover adapts well to loose, dry and poorly limestone soils, where the vetch and pea generally provide rather poor productive performance.
In pure cultivation it is sown in early October with 25-35 or more Kg / ha of seed, in rows 18-20 cm apart. The harvest must be carried out with plants in bloom; later collections can cause animal disturbances due to numerous bristly hairs that the calyx of flowers is provided for. A good ingrown clover can produce 25-30 t / ha of green fodder.
Uses and Traditions –
Crimson clover is a very important forage species due to its protein and fat content. Its most frequent use is that of the mixture in culture with the ryegrass and in some cases also with cereals, but it is also cultivated in purity.
In southern regions it can also be used for good grazing in winter and for seed production in spring.
The embodied clover includes different shapes and types that differ from each other due to the different precocity, the production and also the color of the flowers.
In some parts of the world, such as in the United States, this clover is grown for human consumption. Its flowers are edible, together with its buds, which are similar to alfalfa sprouts but, in fact, more nutritious.
100 grams of Trifolium incarnatum sprouts contain 23 calories, 4 g of protein, 2 g of fiber and have a good supply of vitamin K and vitamin C. also has extremely reduced amounts of calcium, iron, phosphorus, zinc, selenium and magnesium. But be careful because like all raw sprouts, they can be contaminated with Escherichia coli, Salmonella, Listeria and Bacillus cereus.
Preparation Mode –
The crimson clover is a legume from which an excellent fodder can be obtained and in some countries it is also cultivated for human nutrition. The buds and flowers of this plant are used and added as an ingredient in salads, sandwiches and other dishes, prepared for herbal teas, and can be dried and ground into flour.
Guido Bissanti
Sources
– Acta Plantarum – Flora of the Italian Regions.
– Wikipedia, the free encyclopedia.
– Treben M., 2000. Health from the Pharmacy of the Lord, Advice and experiences with medicinal herbs, Ennsthaler Editore
– Pignatti S., 1982. Flora of Italy, Edagricole, Bologna.
– Conti F., Abbate G., Alessandrini A., Blasi C. (edited by), 2005. An annotated checklist of the Italian vascular flora, Palombi Editore.
Attention: Pharmaceutical applications and food uses are indicated for informational purposes only, do not in any way represent a medical prescription; therefore no responsibility is assumed for their use for curative, aesthetic or food purposes.