Lolium multiflorum
The Italian Rye-grass, or Loglio maggiore or Loiessa (Lolium multiflorum Lam., 1799) is a herbaceous species belonging to the Poaceae family.
Systematics –
From the systematic point of view it belongs to the Eukaryota Domain, United Plantae, Magnoliophyta Division, Liliopsida Class, Cyperales Order, Poaceae Family and therefore to the Genus Lolium and the L. multiflorum Species.
The terms are synonymous: Lolium multiflorum subsp. gaudini (Parl.) Schinz & Thell., Lolium multiflorum subsp. gaudinii (Parl.) Schinz & R. Keller and Lolium gaudinii Parl.Lolium italicum A. Br ..
Etymology –
The term Lolium comes from the Latin name of loglio, a plant that was considered harmful to sight in Virgil and Pliny. The term multiflorum derives from multus molto and flos floris fiore: with many flowers.
Geographical Distribution and Habitat –
Lolium multiflorum L. is a grass of Mediterranean origin. This crop was introduced precisely in Italy, in the Po Valley, from which it subsequently spread to Europe and also to other continents, becoming one of the most widely used grasses.
Its habitat is that of the ruderalized meadows, at the edge of roads, in landfills and uncultivated, on rather cool loamy-clay soils, rich in bases and nitrogen compounds, from sea level to about 1300 m; it is the main component of the turf of Lombard meadows where it is used as an excellent fodder.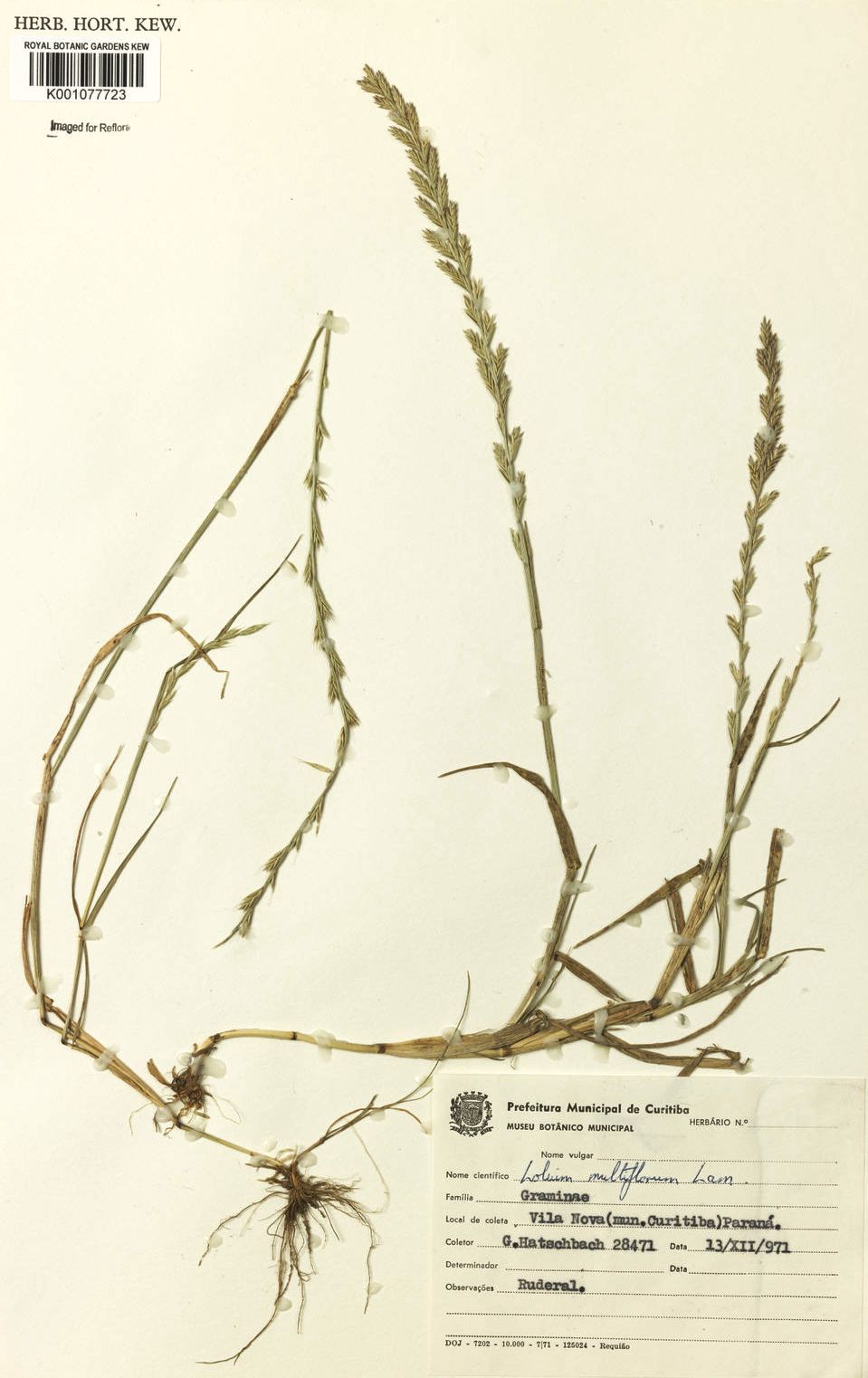 Description –
The Italian Rye-grass is an annual or biennial herbaceous species, with a growth in height between 40 and 100 cm; it has erect tufts that do not form a carpet and with greater vigor than the perennial ryegrass.
The leaves are wider than the latter and have more pronounced orecchiette and ligules, and spiked aristates.
The fruit is an antecar with 2.5-5 x 0.7-1.5 mm caryopsis, dorsally compressed, oblong, longitudinally furrowed. Spikelets 8-22flore of 0.8-3 cm, which are disarticulated above the glumes and under the flowers; lanceolate glumes 12-14 mm with 5-7 veins, membranous margin; oblong lanceolate limbs of 7-8 mm, with 5 veins, normally aristate; palee equal to the lemmas, ciliate along the keels.
Cultivation –
The Italian Rye-grass is cultivated above all for its salient characteristics which are: the rapidity of settlement and its aggressiveness which lead it to dominate in the mixtures, precociousness of production. In any case, the plant has poor resistance to cold, an ability to repeatedly explain with consequent ease of dissemination to the benefit of the persistence of the crop.
In some crops it is associated with the purple clover; more often in irrigated meadows, with white clover, but generally tends to get the upper hand over legumes. For this reason, in polyphite mixtures, where the ryegrass is usually used to reinforce the first production cycle, it is better to limit it in quantity.
Lolium multiflorum is less suitable for grazing than English Loietto.
However, alongside the typically annual forms indicated for herbaceous plants, there are two-year forms suitable also for short-term lawns.
There are annual varieties like the var. westervoldicum, typical from an herb, and two-year and three-year varieties such as Lolium multiflorum var. italicum to which the loietti of the Lombard meadows belong. The former are suitable for herbaceous plants, while the latter are found in the mixtures used in polyanual polyphite meadows. Sowing does not present difficulties and is carried out in autumn (September-early October). As mentioned, some varieties are sensitive to frost. The pure grass requires a greater supply of nitrogen to the plant and then in coverage.
The numerous varieties available today (about 250 in Europe, of which 54 are in the Italian Catalog) come from the most disparate countries, cover a range of earliness of about 2 weeks, and are divided into alternatives rather than alternatives. Some are tetraploid.
The most established Italian varieties are: "Asso" alternative, biennial and early; "Crema" and "Menichetti".
Uses and Traditions –
Lolium multiflorum is a typically mowing essence: the first mowing takes place in mid-May, then every 5 weeks (re-flowering). The good quality of the ryegrass fodder can be eaten fresh, hay, or siled. The crop is also used, especially in central Europe, for grazing.
Preparation Mode –
Italian Rye-grass is a typically mowing species for animal feeding while it has no human or pharmaceutical food stuffs.
Guido Bissanti
Sources
– Acta Plantarum – Flora of the Italian Regions.
– Wikipedia, the free encyclopedia.
– Treben M., 2000. Health from the Pharmacy of the Lord, Advice and experiences with medicinal herbs, Ennsthaler Editore
– Pignatti S., 1982. Flora of Italy, Edagricole, Bologna.
– Conti F., Abbate G., Alessandrini A., Blasi C. (edited by), 2005. An annotated checklist of the Italian vascular flora, Palombi Editore.
Attention: Pharmaceutical applications and food uses are indicated for informational purposes only, do not in any way represent a medical prescription; therefore no responsibility is assumed for their use for curative, aesthetic or food purposes.