Lolium perenne
Perennial ryegrass (Lolium perenne L.) is a herbaceous species of the Poaceae family.
Systematics –
From the systematic point of view it belongs to the Eukaryota Domain, United Plantae, Magnoliophyta Division, Liliopsida Class, Cyperales Order, Poaceae Family and therefore to the Genus Lolium and to the Perennial L. Species.
Etymology –
The term Lolium derives from lolium, the Latin name of the ryegrass, a plant that was considered harmful to sight in Virgil and Pliny. The perennial specific epithet is attributed to it for the longevity of the plant.
Geographical Distribution and Habitat –
Lolium perenne is a grass native to western Asia and the Mediterranean basin and is one of the most widespread plants in temperate regions and also the one introduced first in culture (in 1600 in England). It is a species sensitive to drought and low temperatures.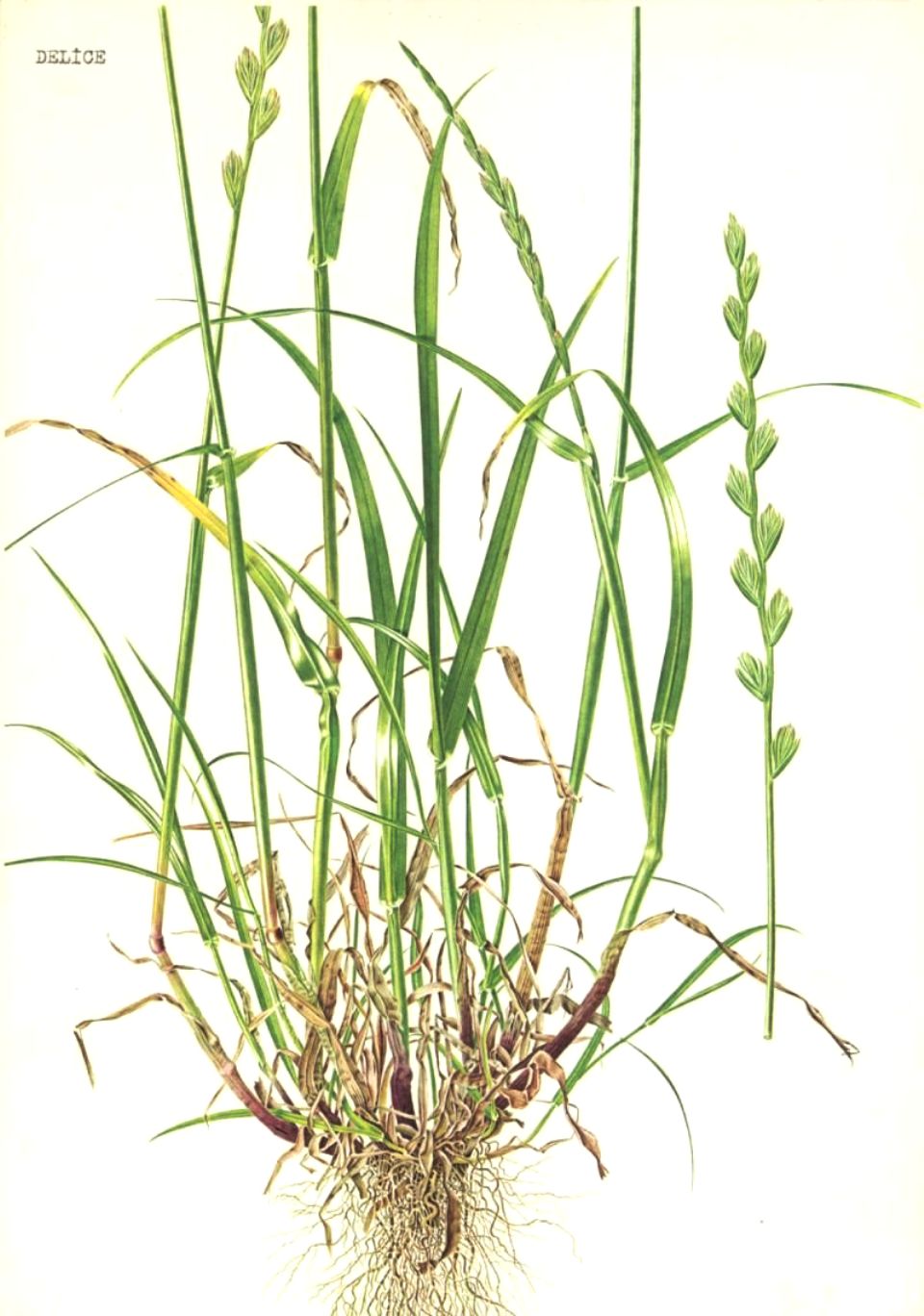 Description –
Lolium perenne is a tuberous herbaceous species, between 50 and 80 cm in size, with a superficial root system, erect culms, which often have a red pigmentation at the base, shiny leaves on the lower side, provided with short ligules and orecchiette.
The fruit is an antecario with oblong or elliptic caryopses of 3-5.5 x 07-1.5, dorsally compressed, longitudinally streaked. The spikelets are composed of 5-7 (10) flowers, 11-17 mm long; lanceolate glumes of 7-9.5 mm, with 3-9 veins; herbaceous lemmas, oblong of 1.5 x 6-7 mm, with 5 veins, smooth, generally mutic; palea cigliata as long as the headword.
Cultivation –
Perennial ryegrass is a species that has a high settlement speed; it is sown or in spring, if it is associated with leguminous plants or at the end of summer (no later than mid-September) if in purity. It benefits from azoate fertilizers or from the presence of optimal quantities of well-humified organic substance in the soil.
The duration of the crop is 3-4 years, but it can be prolonged even in favorable conditions, and with particular precautions that provide for optimal irrigations, fertilizations and frequent cuts, a technique that is adopted for the constitution of ornamental or sports lawns. While ensuring a prompt birth and an abundant yield from the first year, its productivity is not exceptional, but the quality and palatability of the grass are very good and the abundant preparation and the rapidity of regrowth give it an excellent adaptability at pasture, which however, when insistent, tends to make the culms prevail.
The negative aspect of the meadows sown with ryegrass is that they have low resistance to drought, even if there is no lack of types of Mediterranean adaptation, for this reason it lends itself well above all to fresh lands, also characterized by water excesses. In Mediterranean areas with a mild climate, it remains leafy even in winter. Not too aggressive towards other species, it is suitable for intercropping with legumes, especially with white clover.
Uses and Traditions –
Numerous varieties have been created on perennial Lolium that stand out for their ability to graze or mow, alternativity, resistance to adversity and earliness, with a very wide range. Currently there are more than 600 European varieties; in the Italian catalog there are 46 of various origins (United States, Holland, Denmark, Germany, Poland). Among the 12 Italian cultivars enrolled they are to remember, for adaptation and productivity: "Pamir", very early mowing type, resistant to drought; and "Vejo", of medium precocity.
The perennial ryegrass finds a remarkable application in the preparation of sports fields where in mixture with Poa and Festuca varieties it succeeds first of these species to germinate and to quickly cover the sown fields. Subsequently the Poa and above all the Festuca can take the upper hand because of a higher capacity of preparation.
Also in sports, Lolium perenne also has less resistance to trampling and the sporting use of turf.
Recently, the research on the extract of the Loglio flower, Pangenine Lolium (INCI Lolium perenne flower extract) is interesting, being a new anti-aging active ingredient containing vitamins, trace elements and amino acids; is a complex of active ingredients essential for the start-up of cellular energy processes.
The components of this extract provide energy to the metabolism of skin cells, enrich the dermis with essential amino acids and protect the skin structure against daily external aggressions such as pollution, oxidizing agents and chronic inflammatory factors.
The results of in vitro and in vivo tests demonstrate a series of beneficial properties for the skin and lead to a reduction in the visible signs of progressive skin aging. This extract (Pangenine lolium) soluble in the aqueous phase, solvent-free, preservative-free and hypoallergenic, is obtained through a particular and innovative certified procedure. It shows excellent compatibility with most cosmetic ingredients and has a slight floral odor.
Preparation Mode –
Lolium perenne is a species for grazing and for ornamental use or for the construction of turf in sports facilities. It has no particular applications in human nutrition, while recent studies show some interesting applications in the therapeutic or pharmaceutical fields.
Guido Bissanti
Sources
– Acta Plantarum – Flora of the Italian Regions.
– Wikipedia, the free encyclopedia.
– Treben M., 2000. Health from the Pharmacy of the Lord, Advice and experiences with medicinal herbs, Ennsthaler Editore
– Pignatti S., 1982. Flora of Italy, Edagricole, Bologna.
– Conti F., Abbate G., Alessandrini A., Blasi C. (edited by), 2005. An annotated checklist of the Italian vascular flora, Palombi Editore.
Attention: Pharmaceutical applications and food uses are indicated for informational purposes only, do not in any way represent a medical prescription; therefore no responsibility is assumed for their use for curative, aesthetic or food purposes.