Tuber brumale
The black winter truffle or black trifola or brumale (Tuber brumale Vittad.) Is an underground fungus of the Tuberaceae family.
Systematics –
From the systematic point of view it belongs to the Eukaryota Domain, Fungi Kingdom, Ascomycota Division, Pezizomycotina Subdivision, Pezizomycetes Class, Pezizales Order, Tuberaceae Family and therefore to the Genus Tuber and the T. brumale Species.
Etymology –
The term Tuber comes from túber tubero, the name of the truffle already in Pliny and other authors. The specific epithet brumale as belonging to the winter solstice: winter, due to its growing or flowering season.
Geographical Distribution and Habitat –
The black winter truffle is a fungus that grows in the deep soils, also of clayey texture and with respect to other species of truffle it tolerates soils with water stagnation and more acids, such as those under coniferous forests. It is a mycorrhizal fungus, which means that it needs a host tree, and saprophyte, because it feeds on the organic matter of the decomposing vegetation; it is found in symbiosis with oak, hazel, pine and linden trees, and others.
It is a species of northern Europe but is found in southern Europe: in Spain, in southern France and in Italy alongside the Tuber melanosporum. In Italy it is present in Piedmont, Liguria, Tuscany, Trentino, Veneto, Lombardy, Emilia Romagna, Marche, Umbria, Abruzzo. Mouse, Lazio, Campania, Calabria and Sicily.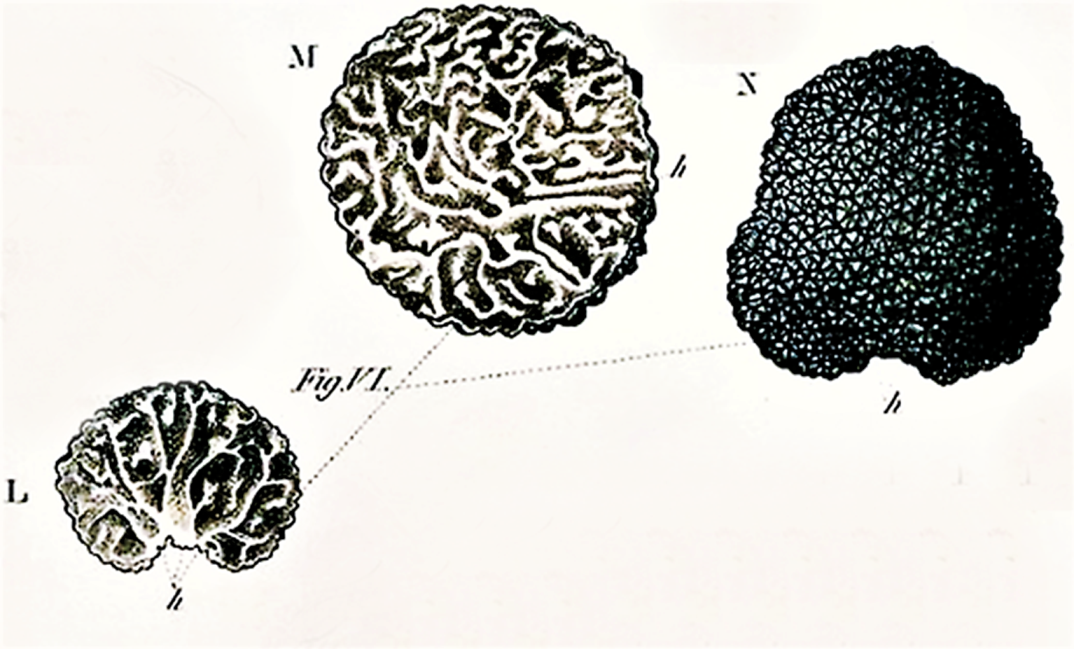 Recognition –
The Tuber brumale is recognizable by its fruit-like body of globular or sub-globular shape, with dimensions varying between 2 and 8 cm in diameter.
The peridium is thin, consisting of large irregularly polygonal, brown-blackish warts, sometimes rusty-brown at the base, 2 ÷ 3 mm in diameter, slightly raised, slightly depressed in the center and sometimes radially fissured.
The gleba has a gray color, tending to brown or smoke, with a marbled appearance, crossed by sparse sterile veins, white-cream, of variable thickness, frequently anastomosed, joined to form areoles with irregular margins. Fertile part gray-brown, gray-blackish. Distinct, pleasant smell with a herbaceous and at the same time spicy component.
It has a strong, pleasant smell of immature hazelnut similar to that of the bark of Cornus sanguinea L., in mature specimens it resembles that of turnip.
At the microscope we can observe ellipsoidal spores, ocher-colored, of (15) 20-42 x 15-30 µm, smaller than those of the other truffles, covered by 4 µm long spines.
The axes are globose or sub-elliptic, briefly pedunculant or sessile, of 65 – 90 x 55 – 65 µm, from mono to esasporici.
Cultivation –
The ecological needs of the Tuber brumale have not been the subject of specific research but are certainly ample, as shown by its vast range. However, it is a species of northern Europe which, being able to tolerate low temperatures more than anything else, moves further north, for example, to Tuber melanosporum.
The Tuber brumale is a truffle that adapts to an infinite number of environments; it is found indistinctly in the mountains, on the hills and in the plains. It has no particular needs in terms of climate, but wants averagely deep soils, so as to have the name of "field black" and with a certain clay content. In addition, this truffle also tolerates soils with a certain humidity. Also the symbiont vegetation to which it is associated seems to reveal these needs: in fact, although it can be found associated with the downy oak (Quercus pubescens) or the black hornbeam (Ostrya carpinifolia) on the mountain-hill slopes (Mannozzi Tonni, 1976), its main symbiotic species they are the linden trees (Tilia cordata, Tilia platiphyllos and Tilia x vulgaris), the English oak (Quercus peduncolata), and the hazel (Corylus avellana), all plants of quite deep and medium fresh soils. Generally the development of Tuber brumale in natural truffle grounds indicates a worsening of ecological conditions and a decline in the production of more valuable species; for example, the Tuber brumale appears in the tuber melanosporum truffle grounds, when the burned area becomes green and becomes too rich in organic matter and litter; in Tuber magnatum truffles it appears above all when the soil shows symptoms of asphyxia, signaled by the presence of abundant moss. The development of Tuber brumale seems favored when the pH of the soil approaches neutrality or even falls to values ​​below pH 7. Less demanding of light than T. melanosporum but more demanding than T. magnatum, it is mainly localized on the edges of the woods and in the gardens.
Uses and Traditions –
The black winter truffle is to be considered of good-excellent edibility and is considered of "intermediate" quality between the common "scorzoni" (Tuber aestivum) and the "precious black of Norcia" (Tuber melanosporum).
For the correct recognition of this species the characteristic intermediate warts must be taken into account, in their size and height compared to those of Tuber aestivum and Tuber melanosporum, of the veins wider than the species mentioned above and of the general color of the glebe that appears in greyish brown maturity not very dark.
Among the similarities to other species and varieties we recall the Tuber brumale Vittadini form moscathum (Ferry) Montecchi & Lazzari, which is distinguished from the type species by a more intense "musky" odor and a gleba that often appears with more markedly brown-hazel tones. Apart from this distinguishable form for what has been said, any other doubts can be dispelled by a careful microscopic analysis.
This mushroom does not have a great commercial value, but is often consumed mixed with the prized black truffle.
Preparation Mode –
For the consumption of the black winter truffle it is necessary to cook to be able to fully appreciate its qualities, its use is recommended as an aromatic addition and not as a unique base in the preparation of a truffle-based dish.
Guido Bissanti
Sources
– Wikipedia, the free encyclopedia.
– Cetto B., 2008. The mushrooms from life, Saturnia, Trento.
– Pignatti S., 1982. Flora of Italy, Edagricole, Bologna.
– Conti F., Abbate G., Alessandrini A., Blasi C. (edited by), 2005. An annotated checklist of the Italian vascular flora, Palombi Editore.
Attention: Pharmaceutical applications and food uses are indicated for informational purposes only, do not in any way represent a medical prescription; therefore no responsibility is assumed for their use for curative, aesthetic or food purposes.