Festuca ovina
The sheep fescue (Festuca ovina L.) is a herbaceous species belonging to the Poaceae family.
Systematics –
From the systematic point of view it belongs to the Eukaryota Domain, United Plantae, Magnoliophyta Division, Liliopsida Class, Poales Order, Poaceae Family and therefore to the Genus Festuca and to the F. ovina Species.
Etymology –
The term Festuca comes from festuca, gambo, fuscello, stem. The specific epithet of sheep comes from ovis, sheep: which therefore concerns sheep, probably because plants like sheep forage.
Geographical Distribution and Habitat –
The Festuca ovina is a perennial species widespread in almost all temperate Europe and part of the northern one, from France to Ukraine.
It is a spontaneous species also in Italy, with the exception in peninsular Italy and the south of the Balkans and of the Iberian peninsula.
This species has also been exported to North America.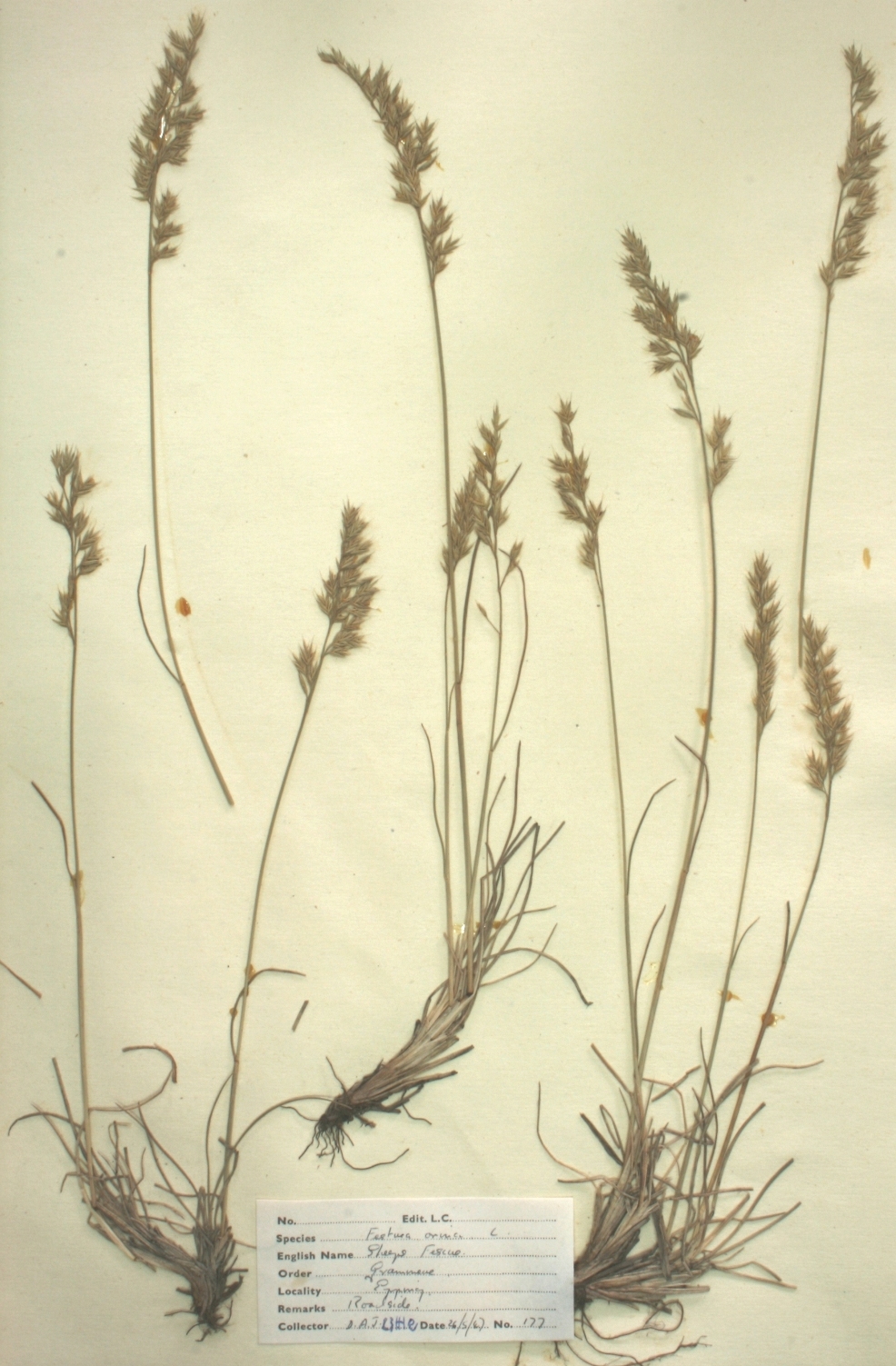 Description –
The sheep fescue is a perennial herbaceous species of low size that grows up to 20-40 cm, with compact tufts and thin leaves of greyish-green color. It has no rhizomes.
It has panniculus inflorescences, slightly feathered and a little unilateral.
Antesis is from May to June and pollination is anemophilous.
Cultivation –
The Festuca ovina is a very rustic species, which needs little nourishment, and it grows even in poor soils and in cold and dry climates.
It is therefore suitable for cultivation in extreme soil and climatic conditions where it can be used only in complex pasture mixtures.
Productivity and forage value are still mediocre.
From the different species that make up this group, cultivars have been selected, especially in the United States but also in Europe and New Zealand, which are mainly used for non-feed uses.
Uses and Traditions –
The Festuca ovina is known with the names of sheep fescue, paleo of the rams, paleo capillary and festuca setaiola.
The characteristic of this plant is essentially that of adapting very well to poor soils, thanks to mycorrhizae which allow the absorption of water and nutrients to be increased and strengthen this species in plant consociations. The symbiosis with mycorrhizal fungi increases the absorption of minerals, nitrogen and phosphate, thanks to the fungal hyphae that expand deep into the soil covering the plant roots, increasing the exchange surface. This type of symbiosis also establishes a nutritional collaboration between plants, making it possible to exchange nutrients between plants even far apart.
This species, rather than for crops for forage use, finds good use as an essence for turf. More colorful garden and lawn varieties with gray-blue foliage are available. It tends to form a very dense carpet, excellent for ornamental purposes. It stands up to trampling with good tolerance to drought and grows well even in poor and shady soils as long as they are not damp or poorly drained. However, it does not tolerate frequent and too low cuts. For ornamental or sports use it should be sown in the quantity of one Kg. For every 100 square meters of land.
Preparation Mode –
The Festuca ovina is a grass that is used above all in the ornamental or sports field and less as a forage or grazing plant. However, there are no uses for human nutrition or pharmaceutical purposes.
Guido Bissanti
Sources
– Acta Plantarum – Flora of the Italian Regions.
– Wikipedia, the free encyclopedia.
– Treben M., 2000. Health from the Pharmacy of the Lord, Advice and experiences with medicinal herbs, Ennsthaler Editore
– Pignatti S., 1982. Flora of Italy, Edagricole, Bologna.
– Conti F., Abbate G., Alessandrini A., Blasi C. (edited by), 2005. An annotated checklist of the Italian vascular flora, Palombi Editore.
Attention: Pharmaceutical applications and food uses are indicated for informational purposes only, do not in any way represent a medical prescription; therefore no responsibility is assumed for their use for curative, aesthetic or food purposes.