Tuber melanosporum
The prized black truffle (Tuber melanosporum Vittad., 1831) is an ascomycete fungus of the Tuberaceae family.
Systematics –
From the systematic point of view it belongs to the Eukaryota Domain, Fungi Kingdom, Ascomycota Division, Pezizomycotina Subdivision, Pezizomycetes Class, Pezizales Order, Tuberaceae Family and therefore to the Genus Tuber and the T. melanosporum Species.
Etymology –
The term Tuber comes from tuber tuber, a term already used by Pliny and other authors for truffles. The specific epithet melanosporum comes from the Greek μέλας -ανος mélas –anos, black and from σπορά sporá, seed, spore: for the black color of the spores.
Geographical Distribution and Habitat –
Tuber melanosporum is a symbiotic, hypogean fungus, which grows in association above all with downy oak and holm oak, but also with black hornbeam and hazel. Its habitat is represented by sedimentary soils, permeable, coarse and calcareous in hilly and mountainous environments, between 400 and 700 meters above sea level. The period of fruiting starts from September to mature in full winter, with a period that goes from the beginning of December to the beginning of March.
It is a truffle present in a vast area between the 40th and 48th parallel of north latitude; it is found in Portugal, Spain, France, Germany, Poland, Czech Republic, Slovak Republic, Switzerland, Croatia, Serbia, Bulgaria, Romania, Greece, Turkey. In Italy it is present in Piedmont, Lombardy, Veneto, Trentino Alto Adige, Friuli Venezia Giulia, Liguria, Emilia Romagna, Tuscany, Marche, Umbria, Lazio, Abruzzo, Molise, Campania, Basilicata, Sardinia.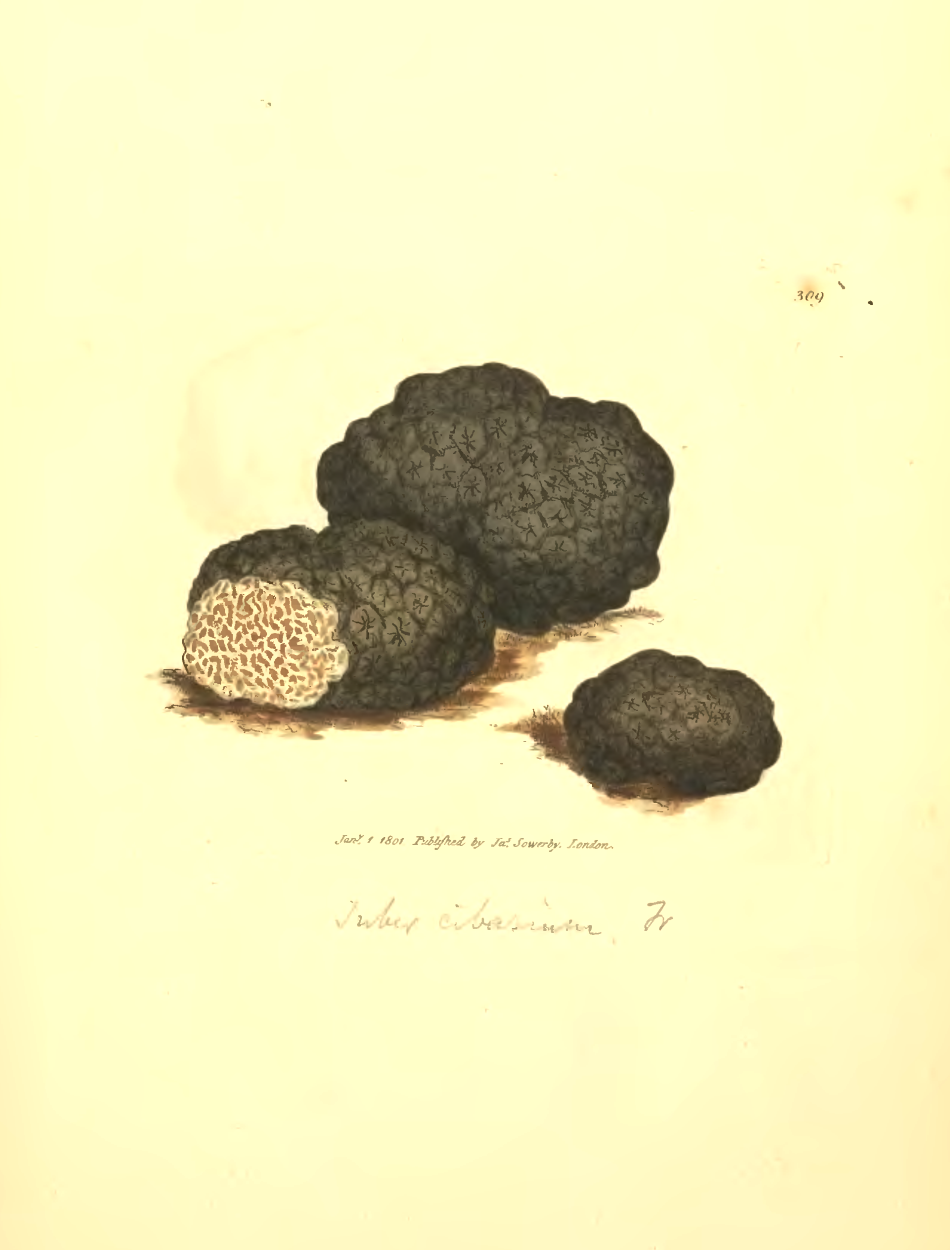 Recognition –
This truffle is recognized for having a rather rounded fruiting body which, at times, appears irregular and lobed, of variable dimensions also as a function of the habitat, the climatic trend and the plant on which it develops.
The peridium is characterized by pyramidal warts with a depressed apex, 3–5 mm large, very adherent to the gleba, black in color, sometimes with ferruginous nuances which, in immature specimens, tend to take a red-burgundy color.
The gleba is black-brownish with a tendency to become purple or reddish; this has veins of whitish color, dense and thin, with well-defined contours and accompanied by two brown bands, translucent on the sides.
At the microscope we can see saccular asks with or without a short peduncle and a maximum size up to 70 µm, a sporadic number (1) 2 ÷ 5; the spores have a brownish-black color, ellipsoidal, densely aculeate, distinct spines, 2 ÷ 4 µm high, sometimes with a curved apex. The statement of the sporal dimension must take into account, as often happens in the Tuber, that the spores of the axes which contain from 1 to 2 are on average much larger, so it may be useful to define it in two intervals: aschi with 1-2 spores 39 ÷ 42 x 24 ÷ 26 µm, axes with 3-6 spores 25 ÷ 30 x 17 ÷ 22 µm.
Cultivation –
In order to grow and develop, Tuber melanosporum needs calcareous soils derived from the decomposition of rocks from the Secondary Era (Cretaceous, Jurassic, Triassic), but also from the Tertiary and Quaternary Era. The clay content must not exceed 40%, with the presence of Fe, microelements and scarcity of N, P, K, surface, but not necessarily; the soil must be well aerated, permeable, porous, sandy, even stony, very sunny, rarely in the North, sloping, with pH values ​​between 7.5 and 8.5, with 1.5-8% of humus, for mostly at the depth of 5-15 (-30) cm.
Consider also that this truffle grows mostly gregarious from 100 m up to 1100 m s.l.m., with an optimum, also as a function of latitude, between 400 and 700 m s.l.m. and requires a well-distributed rainfall throughout the year: which in general should be characterized by rains in spring and June, thunderstorms in summer, rains in autumn and moderate rainfall in winter.
Uses and Traditions –
Tuber melanosporum is a truffle with a good distribution on Italian territory and that takes various names also depending on the geographical location where it is appreciated. The main common names of this truffle are: Precious black truffle, Norcia and Spoleto black truffle, Acqualagna black truffle.
It is a truffle of excellent edibility, particularly "sought after" in various Italian languages.
For the correct recognition of this species, in order to avoid confusion with other less valuable "black truffles", it is useful to observe on the peridium the small, flattened, slightly depressed warts in the center, and carry out the excoriation test with the nail, to put highlight the underlying brown-rusty layer. Finally, check the blackish-brown gleba from the first stages of maturation, the sterile and thin veins and appreciate the characteristic aroma.
In any case, it can be confused, especially by buyers, with a summary visual examination, with Tuber indicum Cooke & Massee 1892 which is imported from the East and sometimes used for food fraud and passed off as our prized species. Basically it is morphologically similar to Tuber melanosporum but with colors both on the peridium and in the gleba lighter and with brown-rust shades, the smell is mild, very different fungus from the intense and penetrating scent of ours. Any doubt can still be solved by carrying out a careful microscopic analysis.
Preparation Mode –
The black truffle, thanks to its unmistakable scent, is highly sought after in the kitchen.
It is a truffle that, among other things, is perfect to be eaten raw. In Umbria, it is used as a finishing touch for a good bruschetta with extra virgin olive oil.
If instead you prefer to use it in cooked dishes, this type of truffle is perfect to perfume first and second hot dishes: pasta, risotto, game, timbales.
True truffle enthusiasts also love it in the form of preserves and sauces and flavored oils. Very precious but little known is the truffle honey, delicious on its own, in combination with cheese or used instead of the classic honey in dessert recipes.
Furthermore this truffle goes well with good wines. Its sweet but intense flavor makes it perfect to accompany full-bodied wines with a round and fruity taste.
Guido Bissanti
Sources
– Wikipedia, the free encyclopedia.
– Cetto B., 2008. The mushrooms from life, Saturnia, Trento.
– Pignatti S., 1982. Flora of Italy, Edagricole, Bologna.
– Conti F., Abbate G., Alessandrini A., Blasi C. (edited by), 2005. An annotated checklist of the Italian vascular flora, Palombi Editore.
Attention: Pharmaceutical applications and food uses are indicated for informational purposes only, do not in any way represent a medical prescription; therefore no responsibility is assumed for their use for curative, aesthetic or food purposes.