Russula violeipes
The Russula violeipes (Russula violeipes Quél., 1898) is a basidiomycette fungus belonging to the Russulaceae family.
Systematics –
From the systematic point of view it belongs to the Eukaryota Domain, Fungi Kingdom, Phylum Basidiomycota, Class Basidiomycetes, Russulales Order, Russulaceae Family and therefore to the Genus Russula and to the Species R. violeipes.
Etymology –
The term Russula is the diminutive of russus red: a little red; characteristic coloring of most of the mushrooms of this family. The specific epithet violeipes comes from violet, violet, violet and pes pedis foot, stem: with a violet colored stem.
Geographical Distribution and Habitat –
Russula violeipes is a not very common mushroom, it prefers broad-leaved woods, but it is also found under conifers (spruce and white). However, its preferred habitat is under hornbeam, chestnut, beech and oak.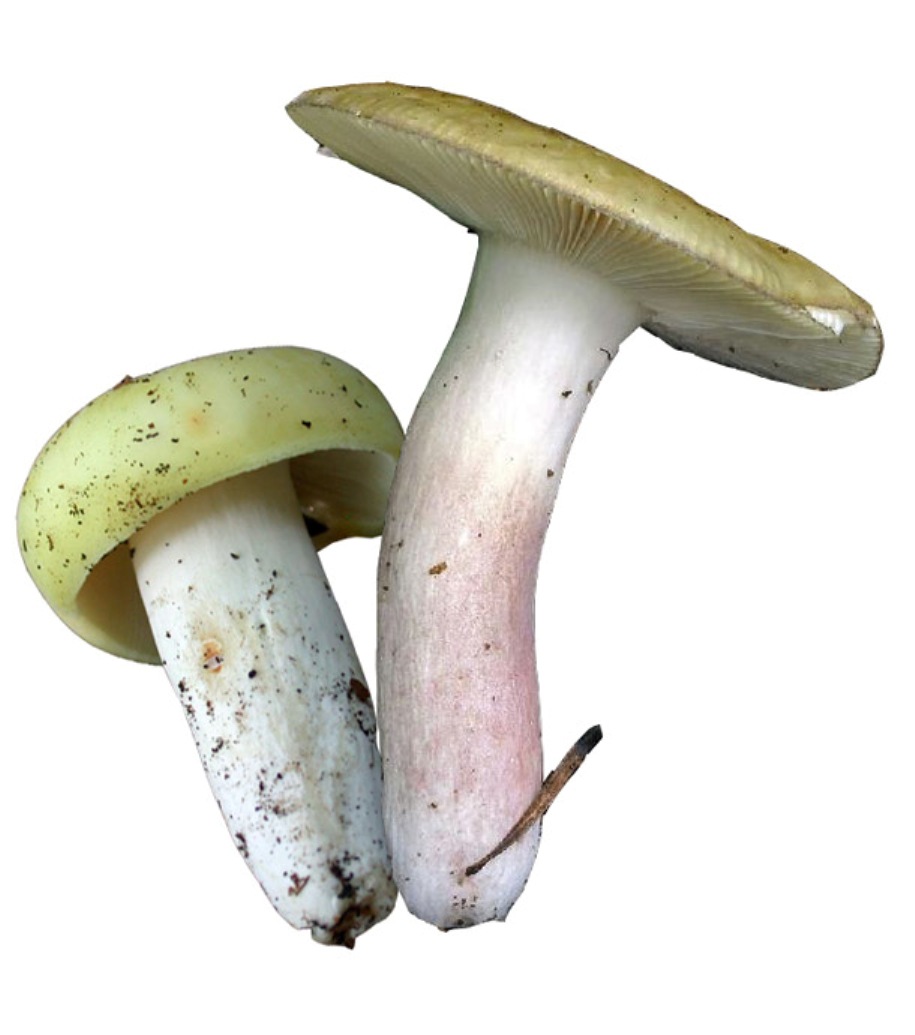 Recognition –
The Russula violeipes is recognized by the hat of the size of 5-10 cm in diameter, subglobose, then convex, finally flattened-depressed, with cuticle difficult to separate (only 1/3), smooth, brilliant, velvety at the margin, with coloring very variable ranging from yellow-green to purplish-purple, completely lemon-yellow in the citrine form.
The margin is thin, regular, not furrowed. The lamellas are dense, subdecurrent, sometimes forked, lardaceous in youth then more friable, with color ranging from white to cream.
The stem is quite firm, long, cylindrical, attenuated at the base, smooth, dry, white in color, with a violet nuanced maturity, while it is all white in the citrine form.
The meat is white, hard, compact and with a smell: first subnullo, then fish or shrimp and sweet taste.
Under the microscope, spores of 7-9 x 6-8 µm are observed, subglobose, crested-reticulated, with sparse warts, cream-colored in mass.
Cultivation –
Russula violeipes is not a cultivated mushroom.
Uses and Traditions –
Mushrooms similar to this Russula, due to the color of the cap, are R. ochroleuca and R. fellea. Russula violeipes is however an edible but not very valuable mushroom. However, in the younger specimens, which have a more compact flesh and a faint smell of fish, edibility is better also due to the compactness of the meat.
Preparation Mode –
Russula of mediocre edibility which, however, exclusively for young specimens, lends itself well to being consumed in the mixture with other mushrooms of good edibility.
Guido Bissanti
Sources
– Wikipedia, the free encyclopedia.– Cetto B., 2008. The mushrooms from life, Saturnia, Trento.– Pignatti S., 1982. Flora of Italy, Edagricole, Bologna.– Conti F., Abbate G., Alessandrini A., Blasi C. (ed.), 2005. An annotated checklist of the Italian vascular flora, Palombi Editore.
Attention: Pharmaceutical applications and food uses are indicated for informational purposes only, do not in any way represent a medical prescription; therefore no responsibility is assumed for their use for curative, aesthetic or food purposes.