Tilia tomentosa
Silver-colored lime (Tilia tomentosa Moench) is an arboreal species belonging to the Tiliaceae family.
Systematic –
From the systematic point of view it belongs to the Domain Eukaryota, Kingdom Plantae, Subarranean Tracheobionta, Superdivisione Spermatophyta, Magnoliophyta Division, Magnoliopsida Class, Subclass Dilleniidae, Order Malvales, Family Tiliaceae and then to the Genus Tilia and to the Species T. tomentosa.
Etymology –
The term Tilia comes directly from tilia, the Latin name of the lime tree in Virgil and Columella. The specific epithet tomentosa derives from toméntum peluria: covered with down.
Geographic Distribution and Habitat –
Silvered lime is a species with origins in south-eastern Europe and in Asia Minor, with particular reference to the area of ​​the Carpathian-Danube region. This plant was imported into Europe around the middle of the eighteenth century and today is one of the most widespread trees in city parks and in the city's road trees.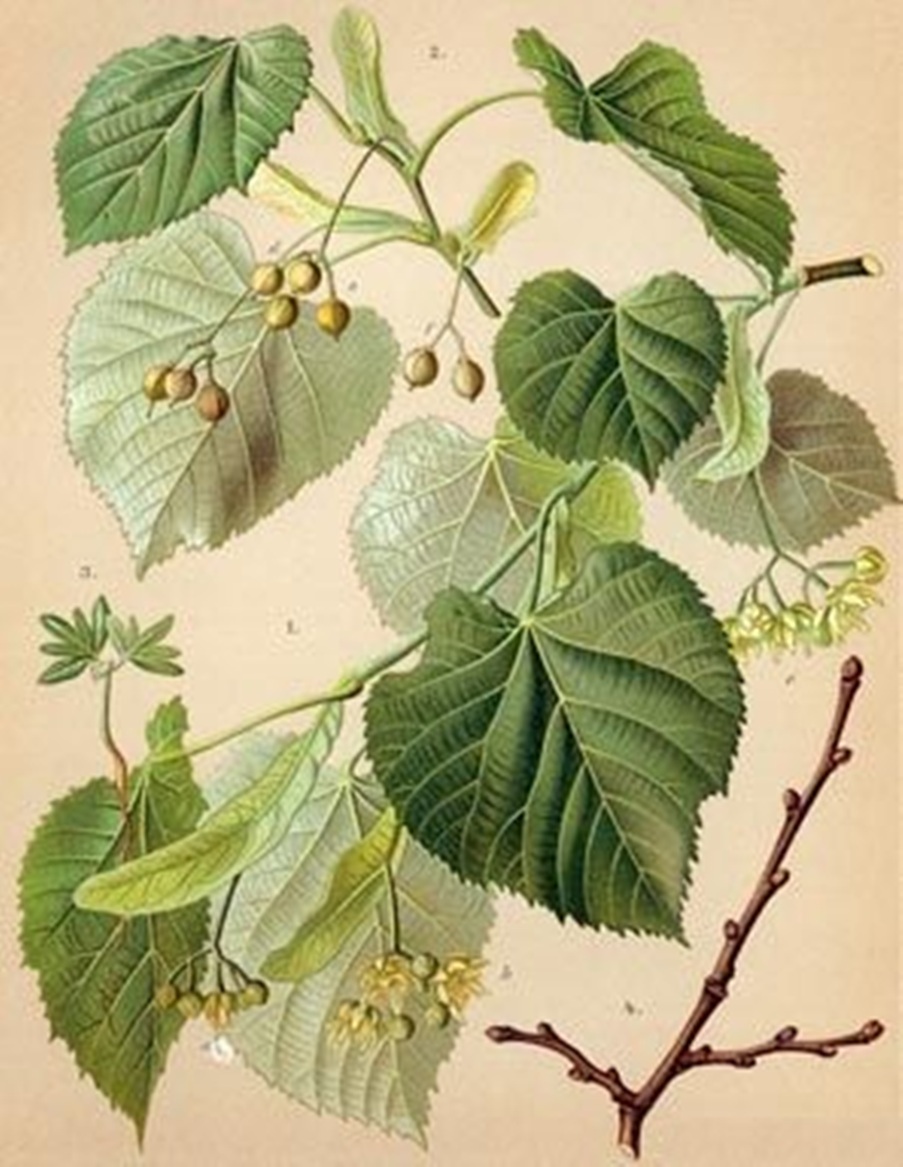 Description –
Tilia tomentosa is an arboreal species that can reach 30 meters in height, with a regularly pyramidal and cupular foliage. The trunk is straight with an initially smooth, gray-brown rind, with age cracked and fissured longitudinally, with young twigs and shoots that are tomentose. The leaves are deciduous, simple, alternate, with petiole; this has the base roped and the apex acuminate and have margins (often with the exception of the basal ones) more or less regularly serrated; the upper page of the lamina is green-glossy and glabrous, while the lower one has greyish-green shades and is tomentose for stellar hair particularly in young leaves. The flowers are white-yellowish, very fragrant, hermaphrodite, gathered in pendulous inflorescences at the end of a common stalk for about half welded to a membranous wing-shaped bract that contributes to the anemophilous dispersion of the fruits. The fruit is a pseudosamara with indehiscent fruit (nucule or carceriuli) ovoid or subglobose of 6-8 mm, with 1 (2) seeds, with pericarp with 5 ribs, woody, fragile, light brownish when ripe, carried by a broad peduncle to wing (bract).
Cultivation –
Silvered lime is propagated by seed after acid scarification, followed by vernalization (one month at high temperatures followed by 3-6 months at low temperatures). The plant can take place a year later on soils of medium texture and well drained, with bare root seedlings. Alternatively, you can use successive transplants, grown on substrates composed of peat and pumice in equal parts, 2-4 years of age, usually at the end of winter. After the planting and rooting usually does not require frequent irrigation, since on average it is sufficient 2 or 3 per year.The fertilization of this plant should be done at the time of implantation directly into the pit with well humified organic substance and , later, in the period of late winter, always with organic substances to be mixed with the first states of land. It is a plant that does not require ordinary pruning, if not in the juvenile phase in case it is necessary to help the plant to take a globular, pyramidal or ovate shape according to the needs.
Uses and Traditions –
Tilia tomentosa is a plant that, thanks to its resistance to pollution and drought and frost, is very popular in road trees and city parks. Wood is suitable for carving, inlay, sculpture, parts of musical instruments and for the realization of various objects. Furthermore, attracting bees a lot, it could cause problems in areas frequented by children. It also drops very large buds and pollen, so the areas under its foliage should be cleaned pretty often in the spring. Among the varieties of silver lime tree are reported:
– Tilia tomentosa "Brabant" with conical crown and very resistant trunk. Very used in road contexts and citizens;
– Tilia tomentosa "Sashazam" (or "Satin Shadow ™"). Symmetrical and uniform growth plant, suitable for urban contexts. The crown is pyramidal and reaches 15 m in height and 12 in width. Very resistant to diseases and pests;
– Tilia tomentosa "Sterling Silver" (also called "Sterling"). Very large plant, it reaches 27-28 m in height, with dense foliage and upward branches. The lower page of the leaves remains of the same initial silver tone without diminishing. Very resistant to pollution and pests. Silver Lime is a popular medicinal plant: from the buds Tilia Tomentosa is obtained, one of the most effective natural remedies against anxiety; It is also ideal because it acts positively on the mood, fights insomnia, relieves irritable bowel symptoms.In addition, the hydroglycerohydric macerate of tilia tomentosa buds has properties: sedative, antispasmodic, hypnoinducent. Tilia tomentosa gemmoderivato is particularly useful for people who tend to somatize anxiety and worries, which may be due to: cardiac erethism, arterial hypertension, irritable bowel, excessive stress, insomnia. The antispasmodic and sedative properties of Tilia tomentosa are attributed to the presence of farnesol, a terpene that has neurosedative properties. This component acts at the serotonin level and is thus able to improve the mood and perform natural anti-anxiety activity, without side effects. The glycerine macerate of Tilia tomentosa, according to some studies, also performs a purifying activity: it would be useful in restoring the balance of cholesterol and uric acid.
Preparation Mode –
The drops of the Silver Linden extract can be taken 2-3 times a day, with different concentrations, both for adults and for children; for adults on average 40 drops 2/3 times a day, while for children, 10-20 drops 2 times a day. The drops should be taken preferably away from meals, dissolved in a glass of water or in a natural fruit juice. Regarding the contraindications, there are no specific contraindications regarding the use of Tilia tomentosa.
Guido Bissanti
Sources
– Acta Plantarum – Flora of the Italian Regions.- Wikipedia, the free encyclopedia.- Treben M., 2000. Health from the Pharmacy of the Lord, Advice and experience with medicinal herbs, Ennsthaler Editore- Pignatti S., 1982. Flora d 'Italia, Edagricole, Bologna.- Conti F., Abbate G., Alessandrini A., Blasi C. (edited by), 2005. An annotated checklist of the Italian vascular flora, Palombi Editore.
Warning: Pharmaceutical applications and alimurgical uses are indicated for informational purposes only and do not in any way represent a medical prescription; there is therefore no liability for their use for curative, aesthetic or food purposes.