Imleria badia
Bay Bolete (Imleria badia (Fr.) Vizzini, 2014) is a basidiomycete mushroom of the Boletaceae family.
Systematic –
From the systematic point of view it belongs to the Eukaryota Domain, Kingdom Fungi, Basidiomycota Division, Basidiomycetes Class, Order Boletales, Boletacea Family and then to the Genus Imleria and to the I. Badia Species.
The term is synonymous: Boletus badius (Fr.: Fr.) Fr. 1821 and Xerocomus badius (Fr.: Fr.) E.-J. Gilbert 1931.
Etymology –
The term Imleria was attributed in honor of the Belgian mycologist Louis Imler (1900 – 1993). The specific epithet has been given to him for the color of the reddish brown carpophore.
Geographic Distribution and Habitat –
Boleto badio grows in acid soils, near stumps, in coniferous forests and more rarely in broadleaf woods; it is a fairly common mushroom in northern Italy and bears fruit in the period between summer and autumn.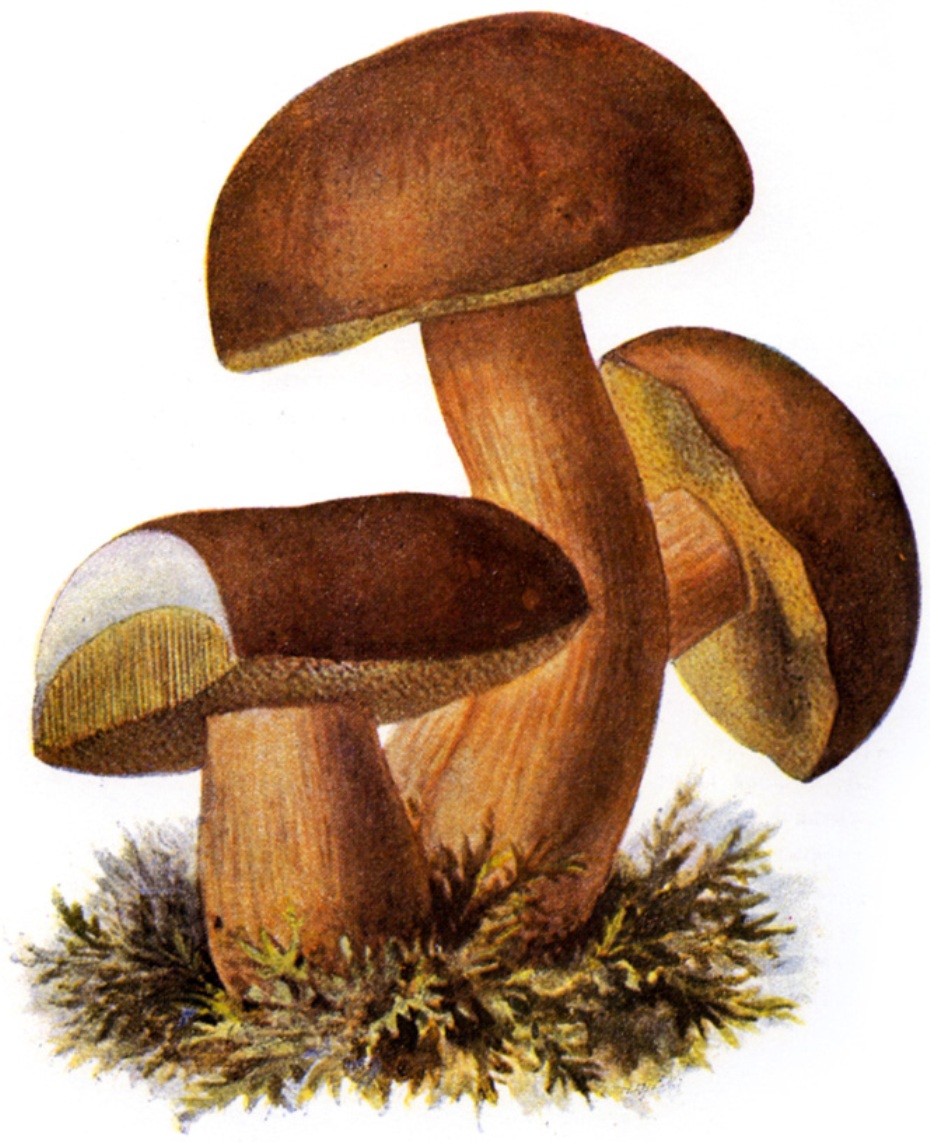 Recognition –
L 'Imleria badia is recognized for the hat of 6-15 cm in diameter, first convex and then a little flat and fleshy, with a velvety, dry cuticle, which becomes slimy with wet weather, brownish-brown-reddish in color; the margin is involved, slightly exceeding and regular.
The tubules terminate in pale-yellow angular pores that frequently become blue-green in color when pressed. The color change is sudden and more pronounced in the mature specimens, and when you touch the pores release an intense blue stain on the hands. They are up to 12 mm long, adnate. Pores are round, pale yellow, turning blue if compressed. The stem is 12 x 4 cm, fibrous at the base, cylindrical, slightly ventricose, attenuated at the base, sometimes curved, of dirty yellow or hazel, lighter at the apex. The meat is compact, of off-white or yellowish, reddish-brown under the cuticle of the cap, also slightly turning to blue at the touch and with a light, fruity smell and a mild and sweetish taste. The microscope shows spores measuring 11-14 x 4-5.5 μm, fusiform, brown-olivasters in mass.
Cultivation –
Bay Bolete is not a cultivated mushroom.
Uses and Traditions –
The term Imleria badia is a scientific name recently attributed by mycologist Alfredo Vizzini in 2014; previously it was considered belonging to the genus Xerocomus or also to the genus Boletus. Among the similar species we remember some Boletus of the Edulis group, from which it differs, however, by the wider pores and which turn to the green-blue to the touch. The Bay Bolete is endowed with discrete edibility, even if not at the level of the porcino proper, with which it can be exchanged, given the remarkable resemblance of appearance. Although of medium quality it is a locally appreciated mushroom.
It should be noted that in areas at risk of radioactive contamination, it has been reported as a species that accumulates radioactive elements; in fact, in laboratory analyzes conducted in France, the quantity of cesium 137 was measured which was found to be below 60 becquerel in the comparison samples of Boletus aestivalis, while in Imleria badia a very high value appeared, over 1000 becquerel .
Preparation Mode –
Bay Bolete can be eaten raw and is a fungus that lends itself to be kept dried as it dries very easily for storage if it is first cut into thin vertical slices; alternatively, it can be cut into pieces, cooked and then frozen for later use.
Whichever way it is prepared it is advisable to discard the stem too fibrous. It has a pleasant taste and sometimes slightly acidic.
Guido Bissanti
Sources
– Wikipedia, the free encyclopedia.
– Cetto B., 2008. Real mushrooms, Saturnia, Trento.
– Pignatti S., 1982. Flora d'Italia, Edagricole, Bologna.
– Conti F., Abbate G., Alessandrini A., Blasi C. (edited by), 2005. An annotated checklist of the Italian vascular flora, Palombi Editore.
Warning: Pharmaceutical applications and alimurgical uses are indicated for informational purposes only and do not in any way represent a medical prescription; there is therefore no liability for their use for curative, aesthetic or food purposes.