Zelkova carpinifolia
Elm of the Caucasus or Zelkova crenata (Zelkova carpinifolia (Pall.) K. Koch) is an arboreal species belonging to the family of the Ulmaceae.
Systematic –
From a systematic point of view it belongs to the Eukaryota Domain, Kingdom Plantae, Magnoliophyta Division, Magnoliopsida Class, Rosales Order, Ulmaceae Family and therefore to the Zelkova Genus and to the Z. carpinifolia Species.
Etymology –
The term Zelkova derives from the word tselkwa that the Caucasian name of Zelkova carpinifolia. The specific carpinifolia epithet comes from Carpinus, in turn derived from the Sanskrit root kar being hard and from the Latin pínus pino and from folium leaf: that is, with leaves similar to the hornbeam.
Geographic Distribution and Habitat –
Elm of the Caucasus is a plant native to a region between the Caucasus and Iran. This tree was introduced in Europe around the mid-eighteenth century for ornamental purposes.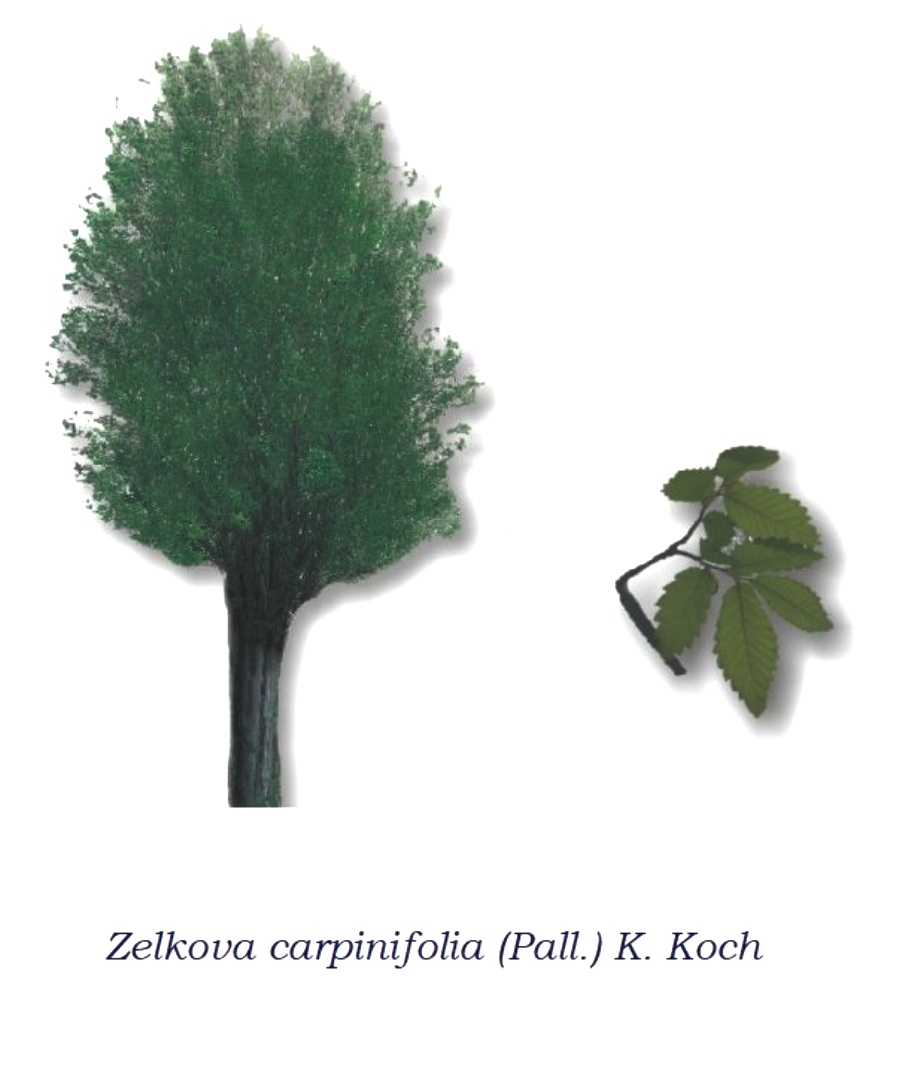 Description –
Zelkova carpinifolia is a tree that can reach 30 meters in height with an imposing appearance and with a thick crown that reaches almost to the ground. The trunk is very branched with scaffolding a short distance from the base; this is deeply grooved and covered with a matt, wrinkled, greyish and peeling rind in small irregular plates. The leaves are deciduous, alternate, elliptic, 5 to 9 cm long, with acute apex and toothed margin, which in autumn take on a beautiful orange-red color.
It is a monoecious plant with male flowers arranged in sessile, axillary, yellow-green glomeruli and isolated, solitary, axillary and greenish female ones. The fruit is a woody, subglobose, asymmetrical, apiculate achene of 5-8 mm.
Cultivation –
Zelkova Carpinifolia is a rustic plant with no special requirements even if it prefers mild climate and, due to its size, it must be grown in parks and gardens with large spaces. However, it requires a pH of the soil that is between 5.5 and 7.5, with exposure in full sun and half shade and withstands temperatures down to -30 ° C. but we must know that young trees can be susceptible to frosts. As far as maintenance aspects are concerned, the tendency is to develop branches inserted with a very acute angle, with consequent problems of structural stability and to produce little aesthetic suckers at the base which must be periodically cut. It resists pollution and also for this it can be used along the roads.
Uses and Traditions –
The Elm of the Caucasus is a plant that, in the ornamental sector becomes attractive especially in autumn, when the leaves assume a golden-yellow hue. Its use is still today to be considered predominantly ornamental. It is a species characterized by slow growth is long-lived essence and has the advantage of resisting the elm's graphiosis.
The brownish-yellow wood is similar to that of the elms, but the shortness of the trunk limits its use.
Preparation Mode –
Zelkova Carpinifolia has no particular uses for food or pharmaceutical purposes; also the characteristic of the trunk limits the use of wood for carpentry or special works. Instead, it has an interesting use in the ornamental garment, also for its chromium of the autumn period.
Guido Bissanti
Sources
– Acta Plantarum – Flora of the Italian Regions.
– Wikipedia, the free encyclopedia.
– Treben M., 2000. Health from the Pharmacy of the Lord, Advice and experience with medicinal herbs, Ennsthaler Publisher
– Pignatti S., 1982. Flora d'Italia, Edagricole, Bologna.
– Conti F., Abbate G., Alessandrini A., Blasi C. (edited by), 2005. An annotated checklist of the Italian vascular flora, Palombi Editore.
Warning: Pharmaceutical applications and alimurgical uses are indicated for informational purposes only and do not in any way represent a medical prescription; there is therefore no liability for their use for curative, aesthetic or food purposes.