Valerianella locusta
Valerianella locusta, known as Soncino (also Songino) or simply Valeriana (Valerianella locusta (L.) Laterr.) Is an herbaceous species belonging to the Valerianaceae family.
Systematics –
From the systematic point of view it belongs to the Eukaryota Domain, Kingdom Plantae, Magnoliophyta Division, Magnoliopsida Class, Dipsacales Order, Valerianaceae Family and therefore to the Genus Valerianella and to the Specie V. locusta.
Etymology –
The term Valerianella is the diminutive of the genus Valeriana), perhaps in the sense of a small plant that maintains good health. The specific epithet locust comes from locus place, place, place: which grows in a small place; or, according to some, from locust: similar to a grasshopper, due to the tendency to infest. The common term soncino or songino comes from the Greek sonchus, that is soft, delicate.
Geographic Distribution and Habitat –
The Valerianella locusta is a plant that grows throughout the Mediterranean territory, and is present in all its zones with a temperate climate. According to some French botanists, the territories of origin of the valerianella are the major Italian islands, Sicily and Sardinia. According to other French studies of the last century, the valerianella, would originate from Sicily and Sardinia and would then spread from cultivations throughout Europe. Besides being a common vegetable, it can be found spontaneously, in spring, in fields, in gardens and on old walls.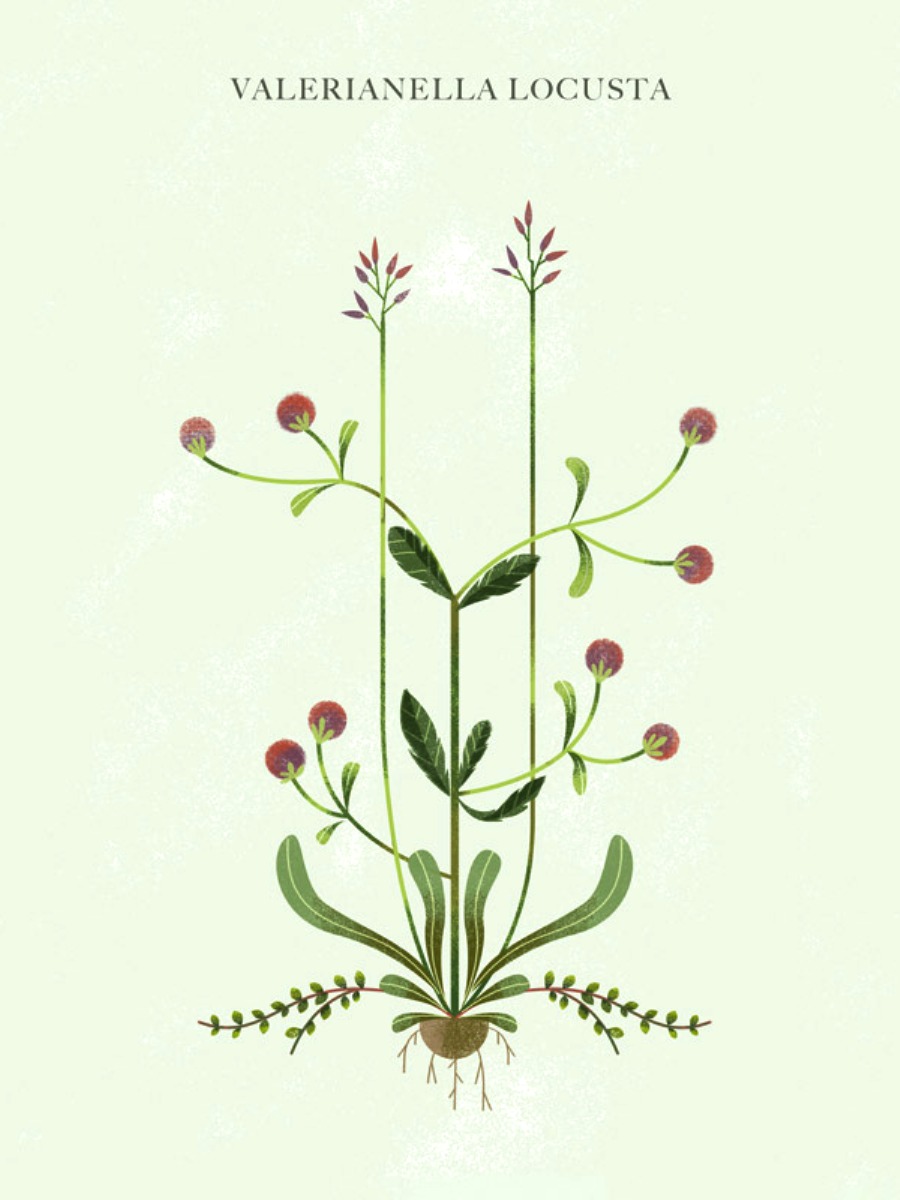 Description –
The Valerianella locusta is an annual or biennial herbaceous species depending on the sowing period (it is annual with sowing in winter) which reaches 30-40 cm in height. Initially produces a rosette of spatulate leaves, asessils of glossy green color, 8-10 cm long; in the period from April to June it emits an angular flower stem with dichotomous ramifications ending with small bunches of small funnel-shaped blue bench flowers; pollination is entomophilous. The fruit is a smooth light or dark gray globular achene, which is used for sowing.
Cultivation –
Soncino is considered a rustic plant that adapts to different types of soil, even heavy, provided they are well drained and endowed with organic substance. The ideal climate is the temperate climate because, during the winter, in the northern regions it must be protected from frost. For the cultivation technique you can consult the following sheet.
Uses and Traditions –
Valerianella locusta is a vegetable that can be eaten in salads, similar to lettuce and chicory (radicchio).
This plant is often indicated for those who are weak in the stomach, because it has a high digestibility. The best organoleptic characteristics are found in young plants and its soft leaves; close to maturation, the plant stretches for flowering and seed production, reducing its foliar mass and developing portions less palatable to the palate (stem and flowers); adult valerianella plants are consumable after cooking.
This plant has a discrete content of vitamins A, B and C, potassium, calcium, phosphorus, iron which make it a very important food of balance in growth; it also helps to defend against infections and benefits the skin.
The main properties of this plant are: purifying, emollient and laxative.
Preparation Mode –
The soncino is a plant that must be consumed quickly as it quickly meets decay. In fact, it can be stored for a couple of days in the refrigerator, in the compartment dedicated to fruit and vegetables. It can be eaten as a salad, in all possible variations but also as cooked vegetables. Usually the leaves are used in the kitchen: pay attention that they are not yellow or withered. The soncino is excellent to eat raw as a salad. It is ideal to combine it with other vegetables, whether leafy or not, such as fennels and radishes. Also possible to experiment with other couplings such as cheeses, fresh fruit (for example, mandarin) or dried fruit. For those who prefer to cook it, there is the possibility of preparing a cream. This plant can also be used to make the pesto to be used as a condiment.
Guido Bissanti
Sources
– Acta Plantarum – Flora of the Italian Regions.
– Wikipedia, the free encyclopedia.
– Treben M., 2000. Health from the Pharmacy of the Lord, Advice and experience with medicinal herbs, Ennsthaler Publisher
– Pignatti S., 1982. Flora of Italy, Edagricole, Bologna.
– Conti F., Abbate G., Alessandrini A., Blasi C. (edited by), 2005. An annotated checklist of the Italian vascular flora, Palombi Editore.
Warning: Pharmaceutical applications and alimurgical uses are indicated for informational purposes only and do not in any way represent a medical prescription; there is therefore no liability for their use for curative, aesthetic or food purposes.